Google Business Reviews
Published: November 12th, 2021
Last Updated: February 27th, 2023
As a business owner, you'll already know just how powerful a positive reputation is.
Perception of your business will have a strong influence over whether a potential customer makes a purchase or not. It also plays a part in turning a first-time customer into a loyal fan of your brand.
One of the best ways to build and boost your reputation online is through Google business reviews.
Although Google isn't the only place you can receive this kind of feedback, it's undeniably the most commonly-used tool for finding information online. This means it should always be your first port of call when building your reputation or managing your online reviews!
Google Reviews For Business
Google reviews are left by customers on your Google Business Profile.
You, as the business owner, then have the option to respond to this feedback. Doing so is a fantastic way to demonstrate that you're engaged with your audience and that their feedback is valuable to you.
These reviews are important for a number of reasons, which we'll explore further later!
Giving a Google Business Review
To leave a Google business review, a customer must give a star rating out of five—with five being the highest mark and one being the lowest.
Based on this, Google allocates an overall star rating to your business, which is then visible alongside your Google Business Profile (GBP) listing. The more stars you have, the more confidence potential customers will have in your business.
While giving a review, users also have the option to write in detail about their experience and to add photos:
Photos added during a review of your business will automatically feature in your GBP listing. You won't have any control over which photos get shown, or in which order they appear, but you can flag a photo for removal if you feel it violates the Google Photo Guidelines.
Once a review is submitted by a customer, it'll become visible on your business listing. Each review will feature the name and profile photo of the person who wrote it, which helps potential customers assess the legitimacy of each recommendation.
Anyone can click through to a user's profile and read all of the reviews they've left on GBP listings. Being able to check previous reviews can help a user trust in the validity of a person's experience. 
Google Local Guides
As well as getting reviews from regular users, you may also get them from Google Local Guides. Involvement in the Google Local Guides program requires contributors to submit reviews and photos of local businesses, as well as to make edits to business information, answer questions, and check facts on Google Maps.
Guides are rewarded for their contributions with special perks and badges—read more about Google Local Guides here.
If you're a Local Guide, Google may ask you to expand on your business review with what is sometimes referred to as 'sub-review' content. Additional prompts (seen below) might focus on specific products purchased or ask you about local business facilities.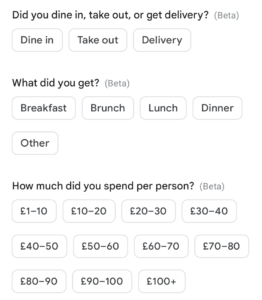 These are then displayed on the published business review to provide helpful snapshots for other users.
Where do Google reviews for businesses appear online?
The Local Pack
When a user searches for a local business in Google, they'll usually be presented with the best three results at the top of the page. These three results are separate from the additional organic listings, and this section is known as the Local Pack.
Within the Local Pack, the average star rating from reviews will be shown within the listing:
Google Maps
When a user is searching for local businesses in Google Maps, the reviews will appear within each result as a star rating:
When a user makes a specific search for a particular business within Google Maps, they'll be presented with comprehensive information from the GBP listing to the left of the map.
Users can scroll down through this area to find the review summary with an overall star rating, followed by photos and snippets from reviews. These reviews can be filtered by keywords, or sorted according to relevance, recency, and rating: 
Review Justifications
When a searcher provides specific intent for a local search, such as 'vegetarian cafe', then Google will take information from reviews to provide the most relevant results.
As you can see in the image below,  part of the search term appears in bold where mentioned—these results are known as review justifications:
Encouraging your customers to use specific keywords when leaving reviews can help you to improve your search visibility for relevant terms.
Your Website
As well as appearing in various places in Google Search and Maps, Google reviews can also feature directly on your business website. You'll definitely want to show yours off so that prospective customers can better understand the benefits and value of your business.
Our Showcase Reviews widget is an easy-to-use tool that enables you to display your Google reviews on your website. This tool also allows you to showcase your customer feedback from more than 80 other review sites!
Why are Google reviews for businesses important?
As many as 96% of consumers will read responses to their reviews, with many expecting a prompt reply as standard. This expectation means that responding to reviews has become a normal aspect of good customer service. 
Earning a consistent stream of positive reviews from past and present customers will encourage others to have trust in your business. Amplifying your online reputation through reviews is a free way to increase sales and grow your future profits. 
What's more, research has determined review responses to be a Google ranking signal, meaning you can easily give your brand a boost by simply taking the time to reply.
How to Set Up Google Reviews For Your Business
If you don't have a Google Business Profile for your business, then you'll need to set one up before you can start collecting reviews. Read our step-by-step guide on setting up a GBP listing to get started.
Once your listing is set up, you should spend some time optimizing it before you move on to thinking about reviews. For full details on how to optimize GBP, check out our Google Business Profile Learning Hub.
In Google Business Profile, managers of single listings now manage their profiles—and their reviews—directly within Google Search and Google Maps. 
Simply type the name of your business into the search bar, and you'll bring up the GBP control panel. From here, you can navigate to the 'Customers' section, where you'll find the 'Reviews' area. Here you can view and reply to customer feedback:
How to Get More Google Reviews For Your Business
Requesting feedback from your customers might not always be as easy as it sounds.
Check out Brian Barwig's guide to asking for reviews for some simple tips on getting started, as well as an expansion on the many benefits of getting more reviews.
For more in-depth guidance on getting reviews specifically on Google, check out this dedicated guide.
How to Respond to Google Business Reviews
Responding to your customer feedback is essential for building and maintaining an amazing reputation.
You'll be notified by Google whenever a customer leaves you a new review—making the monitoring process practically effortless. However, once you receive a notification email, you shouldn't put off providing a response.
Types of reviews can be broken down into three categories:
Regardless of the sentiment or legitimacy of a review, it's still important that you respond!
Always responding in a timely and professional way can be tricky. Fortunately, we've taken the hard work out of it for you with these review response templates.
How to Respond to Positive Google Reviews For Your Business
You've received a positive review—great! You now have an opportunity to build upon your relationship with the reviewer and hopefully turn them into a repeat customer.
Begin by thanking the customer (by name) for taking the time to leave their comments. You should then address the feedback in a personable way. Make sure to reference any specific points that they have raised to avoid a 'cookie cutter'-sounding response.
It's a good idea to always end your reply by inviting the customer to visit your business again soon.
How to Respond to Negative Google Reviews For Your Business
Negative reviews are not only disheartening, but can also be damaging to your reputation.
Whenever you receive negative feedback, avoid the urge to immediately reply. Instead, take some time to absorb this feedback and to craft an appropriate response. You may have an opportunity to turn this situation around, and to repair the relationship with the unhappy customer.
A negative review response should still begin by thanking the customer for sharing their thoughts. Continue by apologizing for the negative experience, and invite the customer to share further feedback on what went wrong.
Make sure you supply contact details should they wish to discuss the matter further. You should also always make it clear that you'd like the opportunity to put things right.
How to Respond to Fake Google Business Reviews
Fake reviews can be just as harmful to your reputation as negative ones…and even more frustrating to deal with. 
If you receive a review and you believe it to be fake, then stay calm and refrain from responding immediately. Take some time to figure out if the feedback has come from a genuine customer or not. If you think it's fake, then politely respond by asking the customer to get in touch directly. You can then decide if you want to report the incident to Google or not.
Google has created a tool specifically for requesting the removal of fake reviews which also helps business owners to track and manage the escalation process. Getting to grips with this tool will help you to understand how to delete Google business reviews. 
A BrightLocal study revealed that a shocking 82% of consumers will have read a fake review in the last year, demonstrating just how prevalent this problem is.
Trust in Online Reviews
Word-of-mouth advertising has long been recognized as one of the most powerful methods of marketing, and this is still true today.
For example, we know that 92% of consumers would trust a product or service recommendation from someone they know over any other type of advertising. 
In the digital age, online reviews are effectively word-of-mouth recommendations between strangers. Although these reviews don't have the same personal touch as those from friends or family, they are generally perceived as a trusted source of information by consumers. 
Research has shown that 84% of people trust online recommendations just as much as they trust those from their peers. This highlights the importance of establishing and maintaining a positive reputation online.
This can be achieved through:
impeccable customer service;
high quality products/services; and
responding to every review you earn.
Conquered Google Business Reviews?
When you've conquered the process of getting Google business reviews, responding to them, and using them to your business advantage, you'll be asking yourself "what's next?"
Depending on the size of your to-do list, you'll be pleased to know there are many other places online that you can source customer feedback and enhance your reputation.
Ready to discover the next steps in your customer satisfaction journey? Let's go!