How to Harness Reviews on Social Media for Local Businesses
Today's consumers don't just turn to Google and traditional review platforms to share their recommendations about local businesses. In fact, these often aren't where they go first. Social media plays an intrinsic role, with platforms such as Instagram, Facebook, TikTok, and Twitter filled with reviews and feedback about local businesses and service providers.
Requesting reviews on social media, finding reviews and feedback, and sharing those reviews with your social audiences isn't quite as straightforward as you may expect. The reason? Many social reviews take the form of user-generated content rather than formal star ratings or recommendations.
Mastering this aspect of your reputation management can yield rich rewards, thanks to social media's increasingly important role in the decision-making process.
Handling user reviews on social platforms works a little differently than your standard review management. So we're going to give you tips to get back to basics.
What are Social Media Reviews?
In its simplest form, a social media review is feedback given about a particular business, product, or service posted on a social media platform.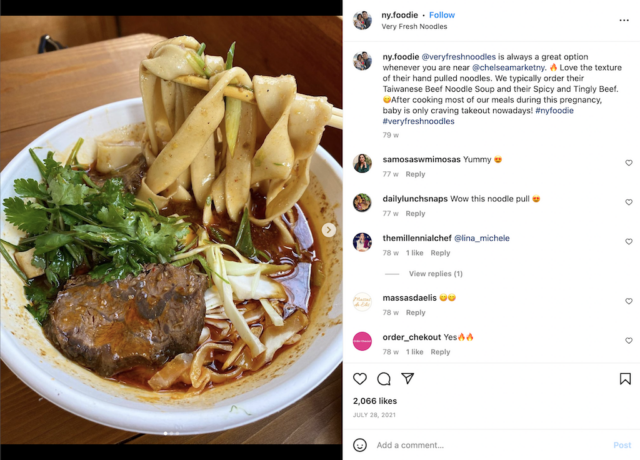 However, that isn't quite the full picture. One of the challenging characteristics of social media reviews for local business owners is the wide range of formats this feedback can take.
Some sites have a specific review option where users can rate or recommend a business or local service provider. One familiar example of this is the Facebook Reviews and Recommendations tab on Business Pages. Other popular sites, such as Instagram, Twitter, TikTok, and LinkedIn don't offer this clear review functionality.
That doesn't mean that users don't share reviews via their favorite social channels. Instead, it means reviews are shared in the formats they do have available to them. This could include detailing their experiences in a comment, sharing multimedia such as images or tagging local business profiles. 
How do reviews on social media differ from reviews on traditional review sites?
If you've been handling review management for any period of time, you'll be familiar with how traditional review sites work and how to ask for reviews in a traditional manner. There's a set structure and format which often takes the form of a star rating plus comment system. That's not the case when dealing with many reviews on social media.
Only a very small number of the major social media networks have formal review structures in place (Facebook and YouTube which has a thumbs up/thumbs down system are the two notable exceptions). 
Due to this lack of infrastructure, most consumers share reviews in the same way they share their regular content on social media. That means reviews may take the form of comments, status updates, or tags.
The result is consumer feedback on local businesses that's not always clearly marked as a review. This makes life difficult for local businesses asking for reviews on social media or seeking out consumer feedback which their clients are organically leaving independently across their preferred social networks.
You may find reviews for local businesses shared as:
A status update posted on an individual consumer's own profile or feed

A comment left on a third-party post (such as a post by a friend asking a question or requesting recommendations from their network)

A comment or reply left in response to an update from the business itself on their official page

A picture or gallery of pictures, in a feed or as a temporary story

A video

A tag

A retweet or reshare

A thumbs up or down or star rating on a network which enables more traditional reviews

 

In the form of a direct message to the business via one of their official social profiles
That's a lot, and often people won't even tag you, so you could miss valuable information or feedback.
How do you find social media reviews?
Social media reviews can be particularly powerful. That's because globally, online consumers spend 2.28 hours per day on social media.
Finding inspiration for things like products and services is among the top 10 reasons consumers spend so much time each day scrolling their social feeds. Pinterest, for example, is used by people to find ideas they particularly like the look of, including travel itineraries, local restaurants, or ways to improve their homes. Likewise, finding similar information is the second most common reason Instagram users log on. It's a similar story on LinkedIn, Reddit, and Twitter.
Local business owners simply can't afford not to know what their customers are saying about them socially.
The bad news is finding social media reviews isn't as straightforward as monitoring traditional review platforms. Predominantly taking the form of user-generated content (UGC), sniffing out reviews across the social media ecosystem requires some manual research and a platform-specific approach in certain cases.
So let's have a look at how to do it across different social platforms.
Finding reviews on Facebook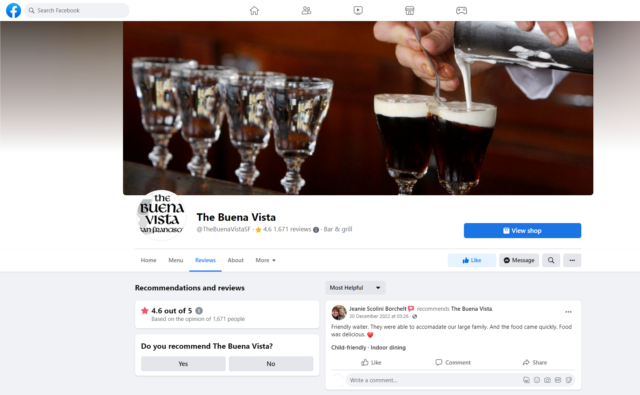 Finding reviews on Facebook is more straightforward than on many other social networks thanks to the star rating and recommendations system. If you're already in the habit of asking for reviews on social media, you may already have a series of ratings and recommendations stored up. Finding them is easy. Just go to the Reviews tab at the top of your Page. You'll see an overall star rating and then comments left by consumers who have opted to add a comment alongside their recommendation.
It's important to keep in mind that not all consumers will leave a comment when recommending your business. Some may offer feedback and reviews on your main page rather than via the Reviews tab. There are a couple of ways this can be done.
A local consumer could comment on a recent post you shared and provide feedback about their experience, for example. You should already be regularly reading and responding to comments left by followers on your Page. If not, you'll need to get into the habit of reviewing comments so you can pull out any review content.
A second way that a Facebook user may review your business would be to write a post on their own profile and tag your business Page. When your Page is tagged in a post, you'll see an alert appear on the Notifications bell. Review these regularly so you don't miss any reviews.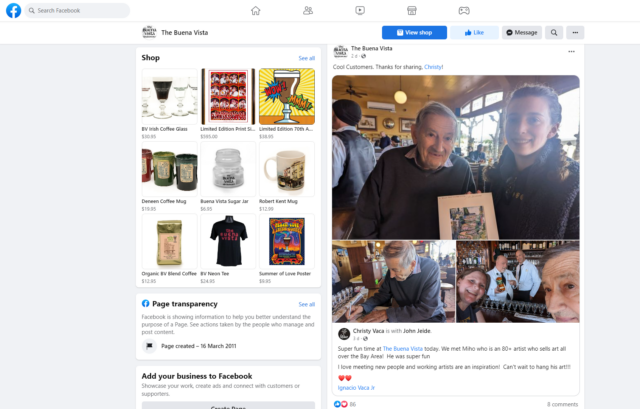 Many people may share a photo on their own feed and write something without tagging your business. Unfortunately, these can be nearly impossible to find. You may be able to come across them with some searches, but it may not be worth the time and effort.
Finding reviews on Instagram
Unlike Facebook, Instagram doesn't have a formal review or ratings system for local businesses. That means you're most likely to find customer feedback in the form of comments on your posts, tags in Stories or Reels, via direct message, or as comments made during live streams.
Instagram users also have the option of posting images, videos or captions to their own page and then tagging your business. When your profile is tagged, you'll receive a notification via the alert icon.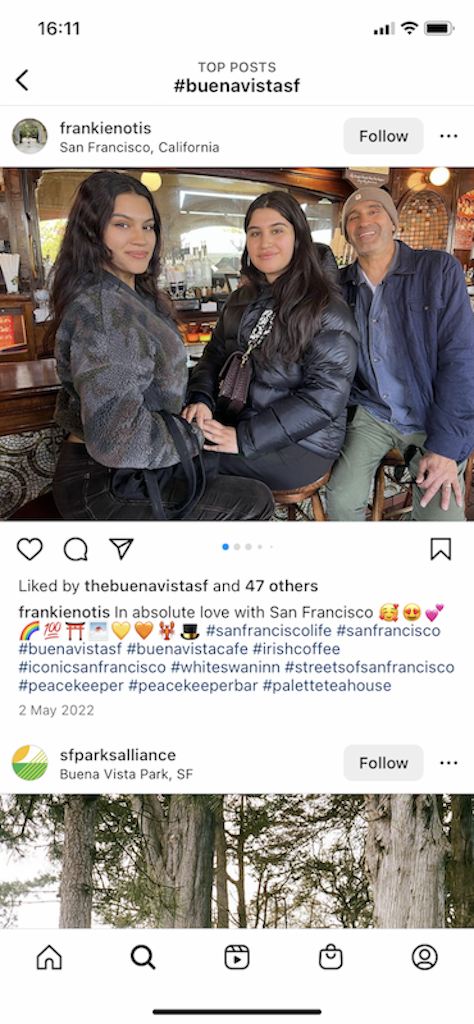 Instagram content discovery is heavily dependent on hashtags. Some users may not @tag your profile when sharing their experiences of your local business but will use your brand name as a hashtag. You can manually search for brand-related hashtags using the search bar within the Instagram app.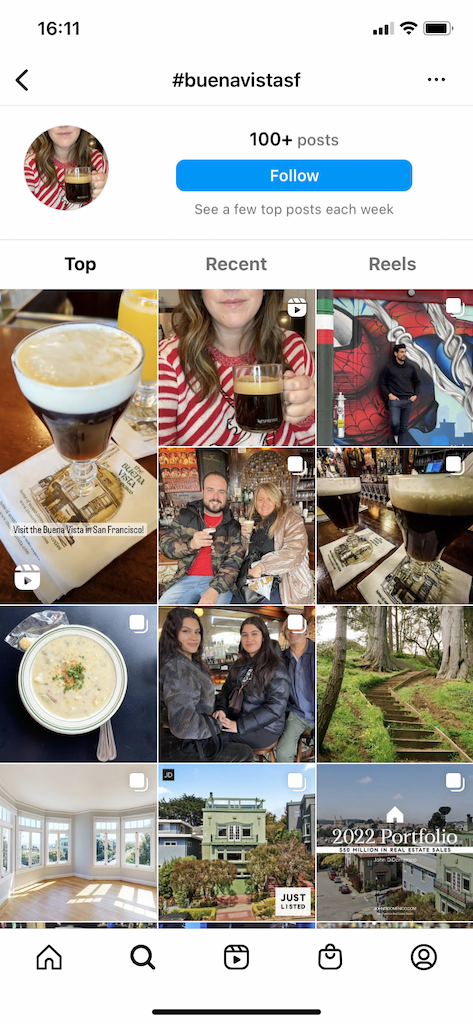 In some instances, if users have uploaded a Story or post about your business, they may tag the location instead of the Instagram account. These physical locations won't be connected to your account and you won't receive a notification.
You can, however, still view all the posts from a location tag by searching your business name in the search bar and clicking on the pin. You'll then be able to select a particular location from the list and view all the media uploaded that tagged that location.
Finding reviews on TikTok
Similar to Instagram, the process of finding reviews made on TikTok requires some research.
With no formalized review or ratings system (though the testing of one has been rumored), you're left to find customer feedback in the form of comments on your posts (including any livestreams you may do), videos tagged with your location, and mentions/tags of your business account in video captions. You should be notified of any tags of your business, so keep an eye on your notifications.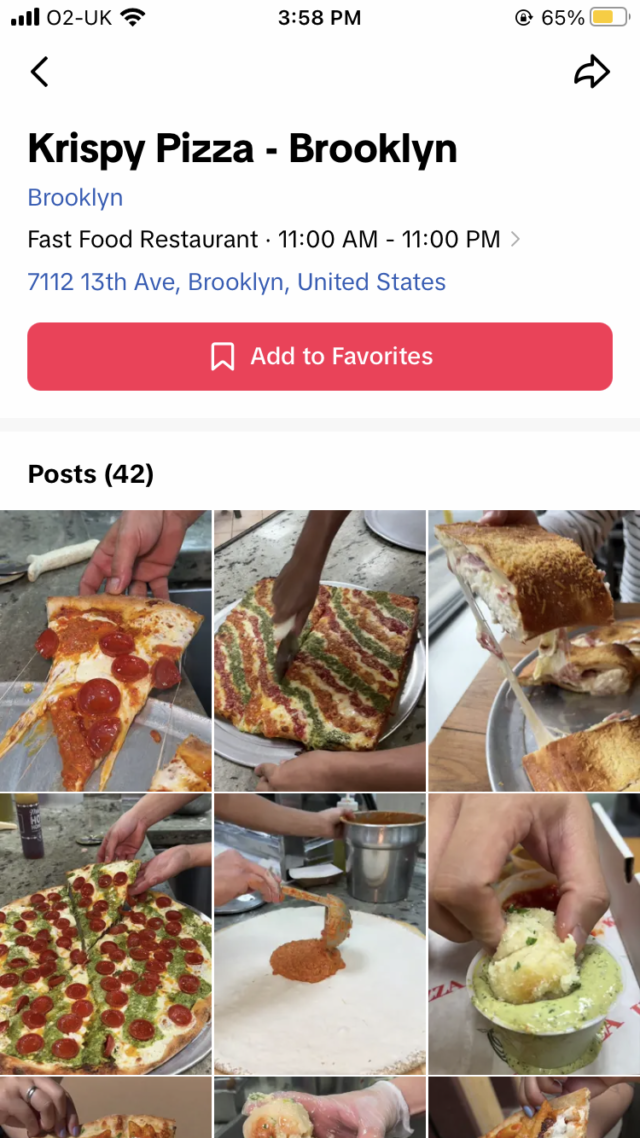 Like Instagram, TikTok has a certain reliance on hashtags. It's worthwhile to take the time to check the hashtags related to your brand. You will have to search this manually in the app as there's no way to follow hashtags.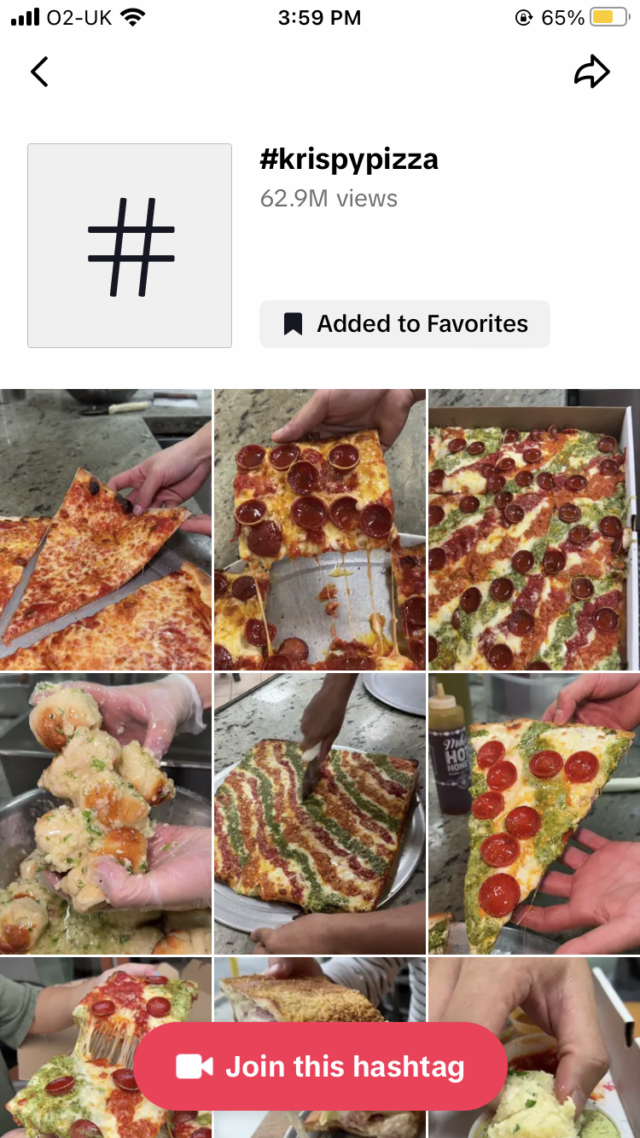 However, you can add a hashtag to your favorites, which can then be accessed by going to the saved icon on your profile and scrolling to the far right to hashtags, creating a shortcut to all the hashtags you may want to keep an eye on.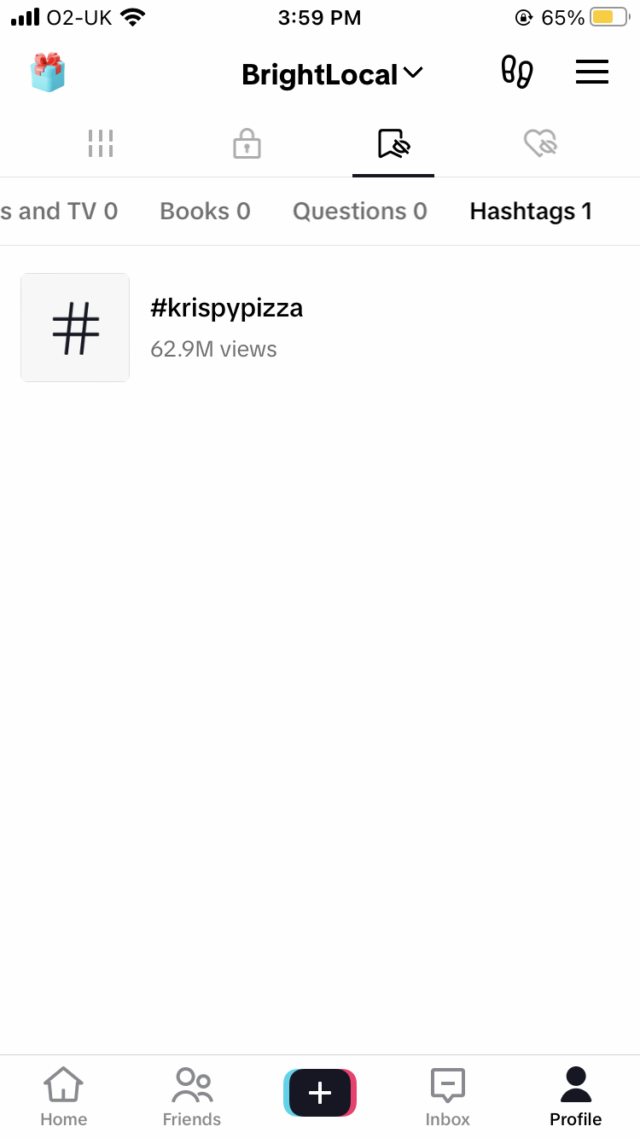 Finding reviews on Twitter
Posting reviews on social media isn't always straightforward for consumers, who'll often find there is no formal mechanism for sharing their feedback with local businesses. Twitter is one of those platforms.
With no structured public rating and review system in place, you'll instead need to monitor the platform for Tweets that mention or tag your business. Typing your business name into the search box enables you to see posts, photos, or images which talk about your business, even when the original poster hasn't tagged your profile.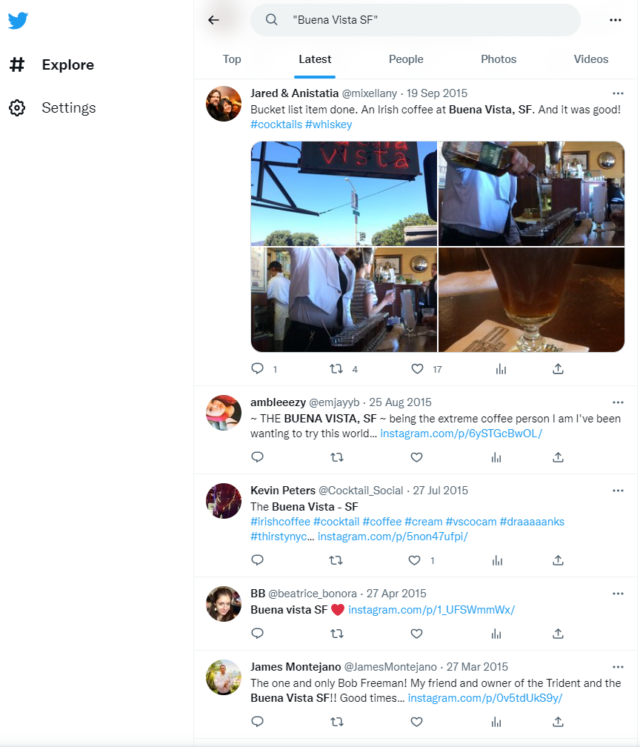 Finding reviews on Pinterest
Pinterest is a top destination for local consumers in search of products and services. That means it's an important one to consider when searching for reviews on social media.
You'll need to manually search for comments and imagery about your business on Pinterest as there's no means of tagging other profiles or pages. Once you've entered your business name as the search term, you'll need to click on each image to view any associated comments. From here, you can also click through to any linked third-party content such as blog posts or magazine articles for additional context.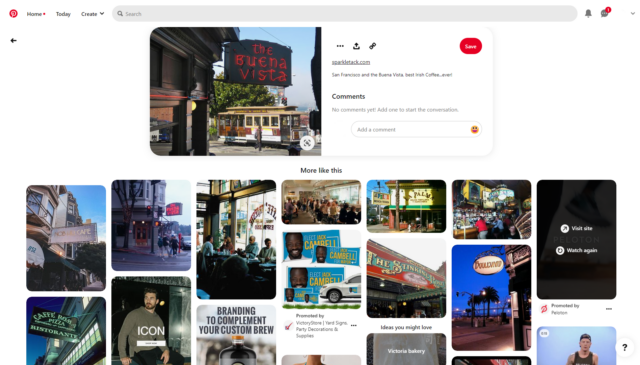 General tips for finding reviews on social media
Don't forget that users can send direct messages via social media. These can be a treasure trove of review content, especially if your clients prefer social channels for customer service.
Get into the habit of checking your notifications and alerts regularly for each of your social profiles. This will ensure you don't miss new comments, DMs, posts to your pages, or tags.
If you find monitoring your social media profiles manually is too overwhelming or time-consuming, a social media marketing tool such as Hootsuite or Sprout Social can be used to automate the task. Our top social media tools resource is a great starting point. 
Tips for Responding to Reviews on Social Media
Because social media is a popular source of product discovery and business information, reviews on social media can be particularly helpful for local consumers. Research suggests that recommendations and product reviews are incredibly impactful and can turn browsers into buyers.
Your own responses to those reviews can add additional value and help to turn a negative review into a more positive customer experience.
With 98% of consumers in total reading online reviews for local businesses, feedback shared via social networks is something you can't afford to ignore.
Knowing how to respond to online reviews is a core skill for any local business owner. Luckily, many of the tips you're already familiar with as a result of your existing review management strategy are transferable to social media.
1. Respond as promptly as you can
Speed matters when responding to reviews. A fast response clearly demonstrates that consumer feedback is important to your business and something that you value.
Responses that take days or weeks to materialize signal to the original reviewer (and anyone reading the review later) that the customer experience isn't a priority for your business. To speed up your response timeframe, try one of our handy review response templates.
2. Personalize your response
A personalized response shows that you have taken the feedback on board and appreciate the effort made by that local consumer.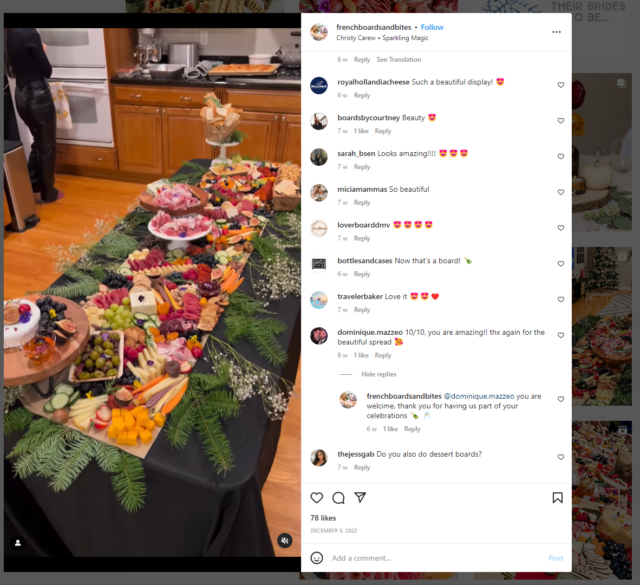 Use the poster's name or social media handle where possible and try to reference some aspect of their review in your reply. This shows both the original reviewer and other readers that you've taken time to digest the feedback and value your clients. 
3. Be authentic
Your review responses should read as if they came from a person, are genuine, and are authentic. If necessary, edit your review response template so the content is more in line with your own brand identity and tone of voice.
4. Recognize that engagement is key to social media success
Engagement and interaction matter to social media users. More and more, today's consumers expect to receive a response when reaching out to brands via their social channels. 18% of US consumers say they expect a brand to respond to a comment within an hour while 76% expect engagement from that business within 24 hours. Taking the time to like, share and respond to comments, both good and bad, can help your business to meet consumer expectations and forge stronger connections with prospects.  
5. Have a plan to deal with negative reviews
There's no getting away from the fact that sooner or later, you'll have to respond to negative reviews.
Having a plan in place to deal with those reviews can make the experience less stressful and anxiety-inducing while also ensuring that you remain professional, polite, and offer a productive response.
When dealing with negative reviews, it's even more important that you acknowledge the review quickly. Begin by thanking the customer for their feedback, apologize for their experience, and where possible, outline a suggested course of action to resolve the issue.
Those leaving a negative review may be tempted to continue the conversation in the public domain. Don't be afraid to take the conversation offline after your initial response by inviting the reviewer to get in touch via phone, email, or direct message. Be sure to share the appropriate customer service telephone number or contact information to demonstrate your willingness to speak further in a more private setting.
Generating Reviews on Social Media
If you know how to ask for reviews on social media, you can gather valuable comments and opinions about your business from a range of new sources. What's more, generating reviews socially means your Facebook, Instagram, and other social platforms can begin to play a direct role in conversions.
Develop platform-specific posts
An easy way to begin requesting reviews on social media is to develop a few platform-specific posts inviting your customers to share their experiences in the comments.
Image requirements, caption lengths, and the use of hashtags can vary considerably from platform to platform. It's always advisable to tailor your review request post to suit each network's recommended dimensions and format to get the best possible response.  
With your chosen platform's guidelines in hand, you'll need to select an eye-catching image and create a clear caption inviting previous customers to share their feedback. Don't forget to add relevant hashtags where appropriate. To make life easier, you could also request that your audience uses a specific hashtag in their review – this will help you find those comments later if your page isn't tagged.
On Facebook, provide instructions for locating the Reviews tab at the top of the page. For other social media networks, you'll need to ask for replies to be left in the comments or for users to tag you in their feedback posts.
If you're a Twitter for Business user, you can request feedback from consumers directly after they interact with you via a Customer Feedback prompt. 
Experiment with formats 
The nice thing about asking for reviews on social media is that you have plenty of scope to be creative. In addition to standard in-feed posts, consider what other post formats your chosen network offers. 
On Instagram, try sharing your review requests as a Story or creating a Reel. On Facebook, you could create an image carousel of previous reviews and invite your Page fans to share their own experiences. For LinkedIn, you may want to keep things more professional and share a link to a feedback form or invite your followers to share their thoughts in the comments below.
Send an email or SMS
Most consumers are happy to leave a review when asked to do so. The issue is that not all businesses know how to ask for reviews. This prevents them from following up with their clients after a store visit or purchase to request feedback.
53% of local consumers say that they would be 'highly' or 'very likely' to leave a review for a local business if they received an email or SMS request.  Try these tips for using email to request reviews and this advice for sending review requests via SMS.  
Don't offer incentives for reviews
Don't be tempted to offer incentives for reviews, such as discount codes, free samples, or competition entries. Incentivized reviews can be looked on unfavorably by local consumers, who may suspect whether a review is genuine or has been created for financial benefit.
Read more: Review Gating and Risky Review Schemes to Avoid
How to Showcase Your Reviews on Social Media
79% of consumers trust reviews as much as personal recommendations, recommendations made by influencers, and articles written by topic experts. It makes sense then, to showcase your best reviews as much as possible across your social media channels. You can showcase all your reviews on social media, not just those originating on Facebook, Instagram, and similar.
Share to your Stories
You can share a stream of your best new reviews in real-time via Stories (available on both Instagram and Facebook). You can either take screenshots of the review, clip the review box, or use a tool such as Canva to create a custom graphic. Sharing via Stories means that your post will only be visible for a temporary period, so you'll need to combine this method with other options. The benefit of sharing to Stories is that this content format has higher levels of engagement and interaction.
Create a Highlight
Create a Highlight spot on your Instagram feed dedicated to reviews. Each time you've shared a new review to Stories, just click to add it to your Highlight. Over time, you'll build up a store of reviews, easily accessible in one location directly from your profile.
Upload a carousel post
Many social media platforms allow you to upload multiple images and videos as a single post. Viewers can then cycle through your slides, without having to scroll through multiple different posts. With research showing that these carousel-style posts tend to generate more engagement and reach than a single image, this can be an effective way to draw attention to your most glowing reviews.
Repost and reshare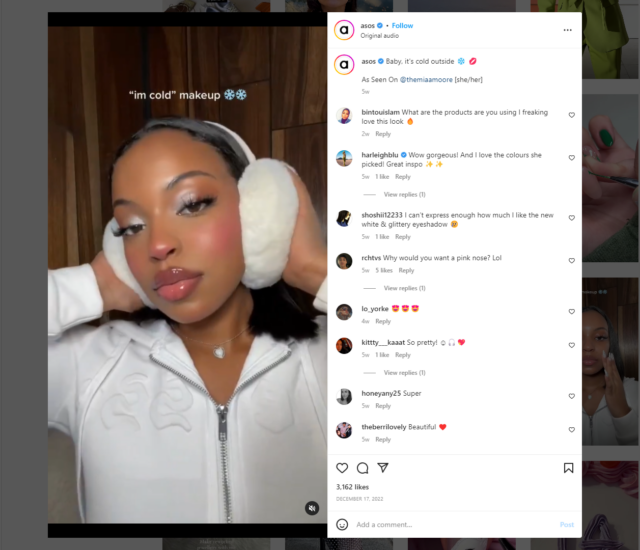 Research has found that 85% of people consider user-generated content to be more influential than content created by brands directly. That makes positive images, posts, and experiences shared by consumers inherently valuable on social media.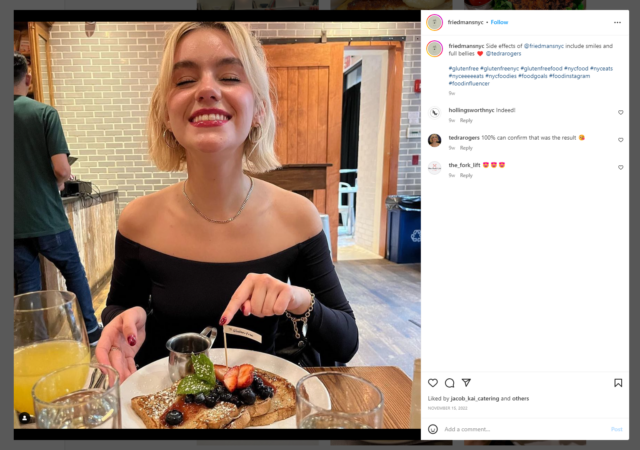 When you come across images, videos, comments, and posts from consumers, you can repost and reshare that UGC to your own feed. This is easy to do on most platforms and allows you to fill up your content calendar without having to create new posts yourself. 
Pin to the top of your feed
When posting customer reviews on social media, you may find they quickly slip down the feed as new content is shared. You can ensure that your most valuable reviews remain at the top and highly visible by pinning them. Several platforms offer this feature, including Instagram and Twitter. Once pinned, that post will stay at the very top of the feed until unpinned.