It's a question asked time and time again: how do I rank in a place that I don't have a physical location in? Or, to put it more bluntly, how do I rank outside "my area"? 
Let's think about the types of businesses that would want to do this: businesses that are located in one city but trying to expand their reach into another area, and service-area businesses. Unfortunately for both groups, ranking outside of your area is a bit of a unicorn… a magical thing of myth and legend, not likely to be found in your backyard. 
That being said, there are certain things you can do to help. Like with our beloved unicorn, it just takes a bit of imagination. Let's run through the ins and outs of ranking in areas beyond your physical location.
Well, I want to, so why can't I?
It does make sense that Google would want to keep their local results, well, local. We can't fault them for that. They presume that a local query ought to return the most local results, and that does make sense.
What they fail to realize is that, at times, businesses are more than happy to operate 30 minutes (or more, depending on the geography of that area) from their address.
For example, a Service-Area Business (SAB) could be forced to use its home address. Or a catering business can provide top-tier desserts to parties across the Southeastern quarter of the state.
As per usual, all we can do is learn how to work within the framework that they've defined. So, in this case, that requires getting creative and, sometimes, being happy with ranking in the organic results versus in the local pack.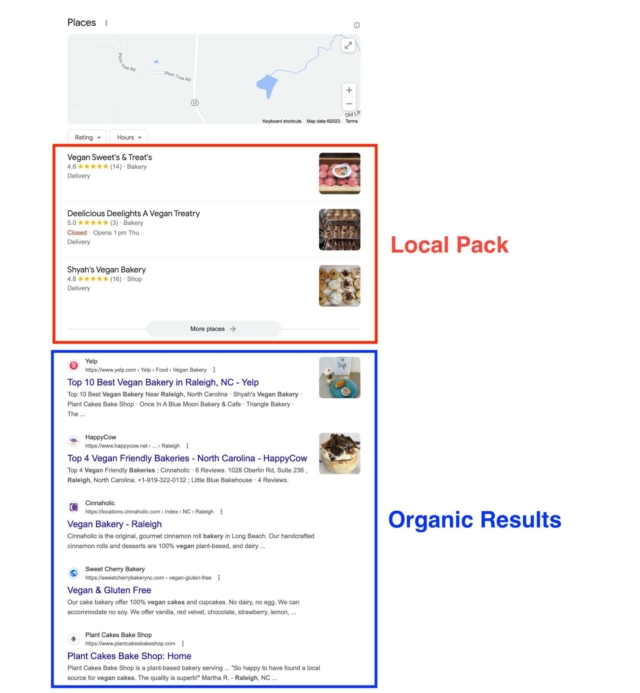 So, what can you do?
Optimize the Google Business Profile (GBP) You Do Have
You can't expect to rank in a new area if you're not even ranking in your own immediate geographic area. As such, it's important to make sure your Google Business Profile is optimized and that you're following all the best practices to ensure that you keep it that way. Prove to Google that your business is worth showing in the first place, and take it from there.
SABs, Take Extra Care
Just like any other business, SABs need to make sure that their Google Business Profile is fully optimized. However, that may take a slightly different form.
One element that SABs need to take special care to stay on top of is their service areas. Once upon a time, SABs had to define an address and then had the option of setting a radius of service around that address.
Now, Google allows SABs to enter specific service areas by city or postal code. SABs can have up to 20 service areas, with the main caveat being that the boundaries of the areas they defined must not be more than a 2-hour drive from where the business is based. You can read Google's guidance here.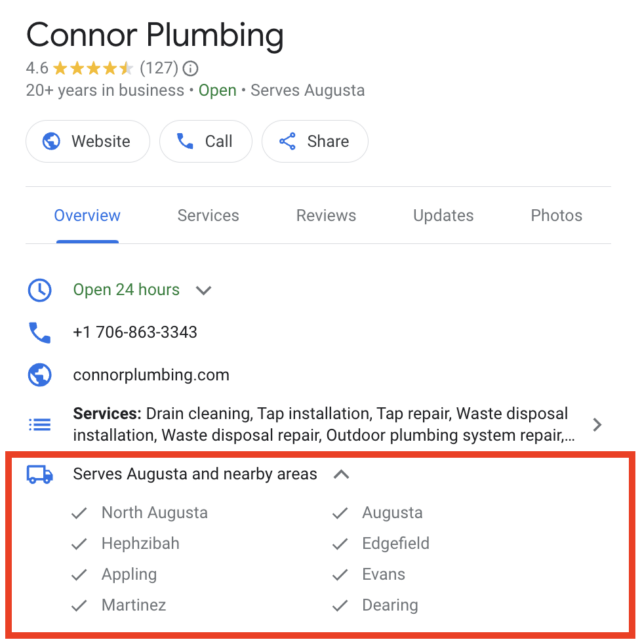 Note: Google emphasizes that "If you don't serve customers at your business address, do not enter an address under the "Info" tab in Business Profile Manager. Leave the "business location" field blank."
The service areas you add won't affect how you rank, but they might encourage your potential customers to click on your listings as they'll see that you have said that you serve their area.
Double Down on Prominence and Relevance
There are two main reasons that a customer would be willing to patronize a business that's outside their area: they know exactly what they want and only want the best of it, and/or the proximity doesn't really matter, because the business comes to them. 
Either way, to make an impression on both customers and the algorithm, it's important to make sure that your business is showing high relevance and high prominence. Both speak to a worthwhile business that knows what they're doing and is worth exploring.
After all, if you've just found a bee's nest in your home, are you more likely to hire a pest control specialist who is known for safe, ethical, and effective bee hive removal, or the general pest control company down the street with little to no online presence? 
Put in the work to prove your expertise and history of happy customers. This will paint you kindly in the eyes of both patrons and Google. 
Rack Up Those Reviews
This goes back to prominence. The better and more reviews a business has, the higher its prominence. To prove that your business is worth the trip to customers and worth ranking to Google, make sure that you're regularly collecting good reviews from across all the geographic areas that your business services.
Reputation management tools can come in handy as you're trying to get more reviews and stay on top of the ones you do have.
Create Geo Pages (but Be Careful)
Geo pages, sometimes known as city pages, are pages on your website that detail an area that you work in but do not have a physical address in. It can be difficult to create unique value on these pages given the lack of a physical address and the associated elements to accompany it (think hyperlocal content like parking instructions, location staff bios, etc…) 
It's important to remember that ranking geo pages is difficult. Don't jump in with dozens of new geo pages and hope that some will rank. Start with a few, 3-5, and test the waters.
Be warned!
Geo pages run the risk of being marked by Google as doorway pages—a type of spam that reiterates the same content in slightly different framing on hundreds of pages in the hopes of ranking for the many variations of a single query. Make sure that the content you have on your geo pages is unique and valuable, such as testimonies from customers you served in that specific area, case studies of the work you have undertaken in that area, and any other geo-specific content that will be useful to your potential customers.
Get a (Real) Address There
Say you've been keeping a close eye on search terms in an area, know that the need isn't being met, and your other attempts just aren't enough. Consider cutting out the middle person and opening a physical address there. While it is a big step, if you have the data and confidence to back up the fact that your business will thrive there, the best way to make sure that you're seen—both by local customers and by Google—is to put yourself forward in a big way. 
Notice, however, that I say real address. I'm talking about a brick-and-mortar office space that you can staff and sign. Unfortunately for many, a PO box or coworking space won't cut it. More on that in a moment. 
Myths
We've got some more unicorns to talk about. While these all may seem like very real, whimsical ways to get yourself ranking outside your area, once we take a closer look… we're talking about a horse with an ice cream cone on its head. Maybe not quite as magical as it seemed at first glance.
Myth: Geo Pages Will Make You Rank
I know, I know. "Didn't you just say that this is one of the few things I can do?" Yes, yes I did. But, as ever, it depends… 
A plumber operating in a metropolitan area with 2 competitors on their block alone may not have the best success with this, so it is a myth in the sense that city pages are the sure-fire solution to ranking across areas. For many businesses, this will be the case.
However, a small business with a niche offering might do very well to make city-specific pages. A florist who offers gothic-style wedding bouquets across Northern Utah could find themselves ranking for the query by creating city pages for Tremonton, Brigham City, and Logan, with examples of weddings that they've serviced in each city… bulk those pages out with reviews from happy newlyweds, and it makes a case for Google to show them in the organic results at the very least, and the local pack at best! 
Myth: A PO Box Will Do
Not only will a PO box not do, you'll likely be penalized for the effort. Google explicitly prohibits the use of PO boxes or "mailboxes located at remote locations." While it may seem like a clever way to get your hands on a new GBP, assume that Google is way ahead of you and say NO to PO! 
Myth: Virtual Offices Are The Way
Many companies offering virtual office spaces will claim that the practice is Google-approved, but no matter how many times they promise you low-cost access to ranking in a new area, resist the temptation.
Google has expressly said that "if your business rents a physical mailing address but doesn't operate out of that location, also known as a virtual office, that location isn't eligible for a Business Profile." 
The same goes for coworking spaces—even though they may seem like a quick fix to the problem unless you can prove that you keep the coworking space fully staffed during your opening hours, are actively meeting clients there, and have clear, permanent, and fixed signage for your business displayed, then a coworking space is out of the question.
Expert Opinions
As we all know, SEO is ever-changing. So, to check up on the latest thinking, we went ahead and reached out to the experts. Here are some of their top tips and tricks on ranking outside your area—or, at least, trying to.
Showing up at the top of search results for areas far from your actual location is challenging and requires a mix of strategies. Search results prioritize businesses based on how close they are to the searcher. This is especially true for the local pack. A business may never be able to show up in the local packs outside their city address, but they can put forth efforts into achieving top rankings in local organic results and in paid ads. 
Prior to jumping into your strategy, ask yourself these questions: How competitive is my product/service/industry? How many local businesses am I trying to outrank? How difficult will it be to rank outside of the target area and is it worth the time/energy/dollars? Paid ads are one quick and easy way to rank outside the service area and if your competitors are doing it then you may need to also. If you are looking for an ongoing SEO strategy to help in local organic results then these strategies should be implemented: 
Local Listings – By adding your business details to online directories specific to the city you're targeting, you're telling search engines, "Hey, I'm here too!" 
City-Specific Web Pages – Create special pages on your website for each city you want to target. Make sure to add the city in the title tag, meta description and URL structure. Ensure your content is unique on each city page and is helpful. 
Blogging – Share stories or articles about the work you're doing in these other cities. 
Linking Strategies – On your website, connect your blog to the city-specific pages and city specific pages should be connected to service pages. 
Local References – Whenever possible, mention city events you may be sponsoring, landmarks or other city specific details on your city pages. Essentially, you need to tell your neighborhood and the neighboring ones, "I'm here, and I have something valuable to offer!"
If you're looking to gain organic visibility for locations beyond the reach of your physical location (and the ability of your Google Business Listing to secure three-pack and map pack visibility) then the organic local results are your best bet. Assess which listings or niche sites have visibility for your important search queries. If you can get a listing on them you'll be able to piggyback on their rankings.
If the SERP features competitors 'city' or 'regional' landing pages then it might be time to invest in your own unique, compelling, and useful content. Make sure that you understand both the opportunity and the level of competition, so you can pour your efforts into producing excellent content that can gain authority and that might (immediately or eventually) give you a chance of outranking those sites.
 Make your service area explicit on every single page you hope to rank. Describe it in the footer and in the main body of the page, linking to any "city" pages when applicable along the way. 
Un-silo your site. In many cases your "city" pages will be less likely to rank than your "service" pages or your homepage. The city pages should go heavy on service content, the service pages should go heavy on "service area" content, all should interlink generously, and all should get links from the homepage. 
Do what you need to do to get backlinks from sites geared to the farther-away reaches of your service area, or create (and optimize and embed generously) YouTube videos tailored to customers in those farther-away areas, or both.
If you want to rank outside of your service area, consider the scale of a topic. If your service area is a city, but you want to rank outside of it, consider widening your content's scope to the county or state to start including a wider audience.
Avoid using LocalBusiness schema on pages you want to rank for outside of your service area. That may send mixed signals if you want your targeting to be in a different area.
If you want a Google Business Profile to rank outside of a service area, ensure your profile's website link goes to something generic like a service page rather than a city page.
Bonus Tip: Consider if you should even rank outside of your service area at all. Traffic and leads from outside of a service area tend to be less engaged and be lower-quality leads.
I always advise taking a closer look at who is ranking in that area first. What categories are they using, do they have well-built out services, do they have their products listed? Optimizing your profile definitely gives you the best chance at improving your visibility. 
When it comes to ranking truly outside your service area, you have to first come to terms with the fact that the local pack isn't really where you're looking to rank, because you're up against businesses in that service area that are much more likely to occupy the local pack. In those instances, I recommend creating location-specific pages about your services and creating locally targeted blog posts to build relevance on a local level.
Summary
Ultimately, your course of action will be based on a variety of factors, including competition density, specialization, and business model. A family-owned HVAC company will have a different course of action than a small-chain catering business. While there's no sure-fire way to ensure ranking outside of your area, there are small steps that you can take. No matter what, analyze the situation and the needs and capabilities of your business before diving in, and let what you find inform your course of action.