Best Local Search Blogs 2013
Ross is the former Marketing Manager for BrightLocal. With 9+ years SEO and content experience, Ross spearheaded the marketing and...
Thankyou to everyone who voted in our poll to find your favourite local search blogs of 2013. We all know it's important to stay up to date with the latest developments, so it's great that we received so many votes to aid us in our search for the number one blog.
Everyone has their own personal favourites. But having scoured the web to compile a short-list of some of the most popular and well known, we hope we now can provide the definitive 'top list' of who to follow and where to go first for that all-important advice. We received a total of 847 votes to give us the final standings – the result of which reveals which one of our short-listed blogs you thought was the best of the year.
Announcing the winners!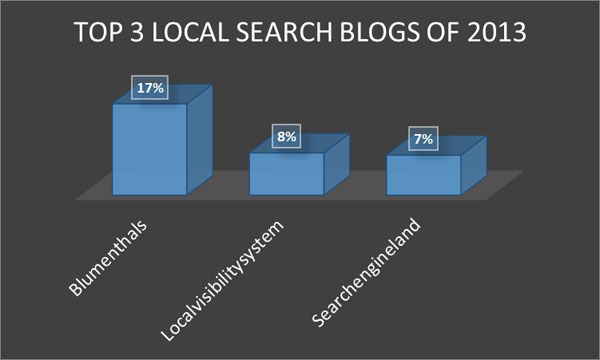 Overwhelmingly, Mike Blumenthal's popular local search blog came out on top with 17% of the votes. Mike is widely recognized as the leading Local Search expert in North America & it is of little surprise that his respected blog: Understanding Google Maps & Local Search, featured so highly.
To round up the top 3, Phil Rozek's 'localvisibilitysystem' followed in second, just ahead of the ever popular & invaluable Search Engine Land.
The Top 10 Local Search Blogs of 2013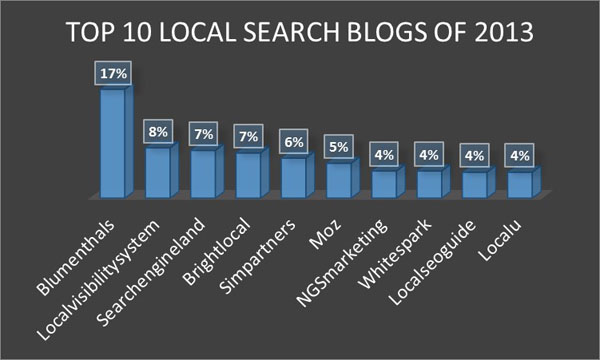 Of course, at BrightLocal we're a little sheepish about coming 4th due to the fairly biased readership! but we do appreciate all of your votes nevertheless!
Whilst Blumenthal's came out on top, the poll also served to highlight many other invaluable local search resources, providing us with a very useful list of sites to watch in 2014. So if any of these aren't currently in your bookmarks then now is the time to add!
The 20 most popular local search blogs of 2013:
---
Got a different viewpoint on this subject or some useful insights you want to share? We're interested in publishing unique content written by smart marketeers on our blog. Contact us with your details & ideas and we'll get back to you ASAP!