Having a good citation profile is a key building block to ranking high in local search.
The impact of citations has changed over recent years, as has best practice for building & maintaining citations. If you want a deeper understanding of these changes then take a few minutes to study the findings of our annual Expert Citation Survey – it's full of great advice from the best 'citation minds' in the industry!
In this guide I'm going to show you just how easy it is to use our CitationBurst(CB) service to improve your citations & get your business higher up valuable local search rankings.
This is exactly what I will show you:
---
Video Walkthrough
How to use BrightLocal to identify existing listings that need updating
When you create a CitationBurst (CB) campaign you provide us with your core business data (e.g. NAP) and also any old addresses & phone numbers.
We use this info to scan for your business on hundreds of citation sites & then display details of the listings we find.
Existing Citations
For all existing citations we find, we display these clearly in the 1st table on the 2nd page of campaign set-up steps (there are 3 steps in all)
You can click to view your listings & see the data each of these sites hold about you so you can determine the accuracy & completeness of your listing*.
You can then decide if you do or don't want us to update it for you – you have total control over this.

*Note – we will be adding full NAP data display to this table in due course. We're currently extending our NAP retrieval to cover hundreds of sites.
---
How to identify the best sites for your business to be submitted to
In the table underneath the Existing Citations you'll see a list of New Citations.
These are sites that are suitable for your business type & location. Some of the sites are well known, high authority sites (e.g. Yelp, Foursquare) and some are industry-specific site (e.g.thedentisthub.com) or local sites (e.g. chicagodirect.info).
All of these are valuable for your business to be listed on.

We automatically select the sites that we think are best for your business. But you can change this selection and handpick the exact sites you want.
We provide useful filters & data to help you choose –
Filters:
 

Client Verification = shows sites that require client to verify after initial submission is complete

 

Photos = shows sites that limit the number of photos that are shown on a listing

 

Yext = shows sites that are part of Yext network & we may struggle to update listings on

 

Quick Listing = shows sites which put your listing live quickly after we submit/update

Data Points:
 

Domain Authority (DA) = the ranking score for a site; higher the better (max 100)

 

Citation Value (CV) = BrightLocal score for a citation site (compiles multiple factors)

 

Type of Site = shows if a site is a General Directory, Vertical Directory, Local Directory etc

---
How to get your data updated/submitted to aggregators
Using BrightLocal you can choose to submit your business directly to some sites &/or submit your data to Local Data Aggregators for them to distribute to their networks.
If you're unsure what Data Aggregators are, here are 2 posts that you'll find very helpful:  
     

Data Aggregators Compared

     

Manual Submissions vs Data Aggregators
We believe in giving our customers complete control over their citation campaigns. So, you're able to select just Manual submissions (aka Direct to site) or just Aggregator submission or both.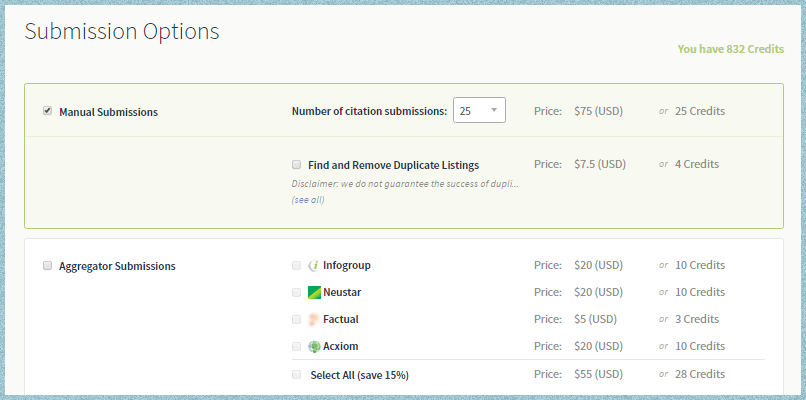 If you select Aggregator submissions, you can also decide which Aggregators you want.
In the US there are 4 big aggregators, but only 1 of these works outside of the US (factual.com).
For US businesses if you select All 4 aggregators to submit to there's a discount – the cost is just $55, which entitles you to free updates for a 12 month period*
*Localeze places some restrictions on what data point can be updated after an initial 30 day window post-submission.
---
How we approach manual submissions to deliver high quality results
For aggregator submissions we have an API connection into each of the aggregators so updates happen automatically.
For direct to site submissions we handle these manually.
Because each citation site is different they have different approaches to searching, submission & verification. Therefore, it's very hard to automate the process across the 1200 sites that we use.
In-House Citation Team
We currently have 50 people in our citation team which consists of –
 

30 submission agents

 

10 submission managers

 

2 pre-submissions data-checkers

 

2 customer service agents

 

2 citation researchers

 

3 live listing checkers

 

1 head of submissions
It's a big team with highly specialised roles.
4 Phased Citation Campaign
Having this team structure enables us to deliver a high quality service for each & every customer. Each campaign we work on goes through 4 phases –
Pre-submission checks

check that data aligns with Google & client website

If we suspect errors we'll contact you to confirm

Submission

Update & submit to selected sites

1 agent will handle all submissions for a campaign

Quality Assurance

Submission manager checks all submissions, listings & verification emails

Any issues found are quickly corrected

Live Listing Review

Live listing checkers scan citation sites for new/updated listings

This happens twice – at 2 weeks + 4 weeks post-submission
Phases 1-3 are completed within 7 days after you pay for your campaign.
Phase 4 is completed 4 weeks after submissions are made.
Using this specialised, stepped approach we ensure the highest level of accuracy & completeness for your campaigns.
---
How we handle listing verification & account creation
For each campaign we create a unique email account on an email server (called brite-mail.com) that we set up specifically for doing citations.
We give you the login details for this email & you have access to the account forever.
Most citation sites require a User Account to be created before we can submit. We use the brite-mail email to create these accounts* & we use a consistent password so it's easy to remember the details.
Email Verifications:
We handle all Email Verifications for your campaign so you don't have to worry about these.
Phone Verifications:
For sites that require Phone Verification the process we go through is as follows –
 

We submit business details to create listing on a site

 

We provide you the details for triggering Phone Verification (on your report)

 

You/client completes Phone Verification steps (usually entering a PIN)

 

Your listing goes live on the site

 

You confirm the verification is done & we update your report
For most sites that use phone verification we are not able to update existing listings – just submit new ones. So you may find that we're not able to deliver some sites because of this.
2 other things to be aware of –
1. Existing, claimed listings – if you have the login details for these then please provide them to us and we'll use to update your listings for you. If you don't then we can't update for you – sites will reject the update info we give to them.
2. Want to use your own email – we can use your own email to handle submissions. But we'll need access to it to respond to email verifications. If email is Gmail/Yahoo mail then we'll also need security/recovery details in case the account gets blocked.
*Google My Business – a gmail account is required when claiming/submitting to GMB so we create a new Gmail account, or can use a pre-existing gmail that you provide.
---
Detailed reporting for you & your clients
We always provide a detailed report on the progress of your campaign & the status of the sites used.
You can view the report in your BrightLocal account, and you can ask questions or report issues from within the report itself.
It's easy to share this report with your client; you can white label the report and share it online or as a PDF download.
Here is a CitationBurst sample report for you to see exactly how yours will look.
---
What are you waiting for?
Take control of your citations right now!
If you're new to BrightLocal you'll need to create yourself an account first. You get a risk-free trial so you can test BrightLocal out before you pay.
Sign-up for a Free Account & set-up up your Citation campaign.