After over a year of hard work, we're thrilled to announce the launch of Active Sync, our brand-new listings management API solution. Active Sync enables us to offer a unique hybrid approach to listings management.
Managing listings through an API is not a new concept. There are many established companies offering API listing management solutions, and we understand the appeal of this approach. APIs make it quick and easy to make bulk edits, such as updating holiday opening hours.
However, over the years, we have heard from customers who are looking to move away from a traditional API solution about its drawbacks.
They're expensive. Often exorbitantly expensive.
They effectively force you to "rent" your listings. This leaves you stuck in a painful cycle of paying over the odds to avoid your listings reverting to inaccurate data.
And these solutions often have a one-size-fits-all network based on the partnerships the company has built, rather than the specific needs of different types of businesses
Our Citation Builder service has long been a successful alternative for many businesses, offering a broader network of sites in different niches, control over site selection, and no recurring fees at a fraction of the cost. It has proved hugely popular with businesses and agencies of all sizes. Last year alone, our team handled over 1.4 million site submissions for over 72,000 locations.
Until now, businesses faced a trade-off when it came to managing listings. A trade-off between the speed of an API solution and the cost-effectiveness and flexibility of a manual submission service such as Citation Builder.
However, with the launch of Active Sync, we're happy to say that trade-offs are now a thing of the past.
The local listings landscape has evolved
Before diving into the details of Active Sync, let's take a step back to look at the evolution of local listings.
Watch our launch video and read on learn more.
Over the past decade, the local listing landscape has undergone a significant transformation. Previously, there were hundreds of sites where consumers could discover local businesses. But now just a few major players dominate consumer engagement. As a result, the listings landscape has split into two layers.
We call these the Engagement Layer and the Authority Layer.
The Engagement Layer
Our research found that just four publishers–Google, Apple, Facebook, and Bing–account for 92% of consumer engagement in the local listing space.
It's these dominant players that make up the "Engagement Layer", where consumers discover, evaluate, and interact with brands today. This layer expands beyond traditional listings to include voice search and smart devices. For instance, Amazon's Alexa uses Bing data to provide local business information to users.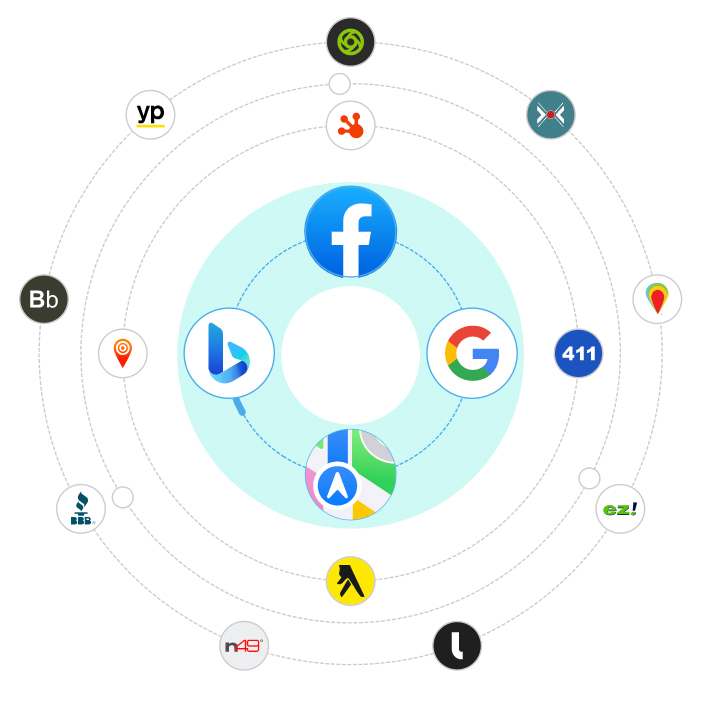 Think of these publishers as your digital storefronts. It's crucial to keep them up-to-date and protected from rogue edits to maintain your brand reputation and provide a superior customer experience.
The Authority Layer
The "Authority Layer", on the other hand, comprises hundreds of listing sites that contribute to building authority with search engines. These sites include Manta, Merchant Circle, Tupalo, Hotfrog, and Superpages, among others.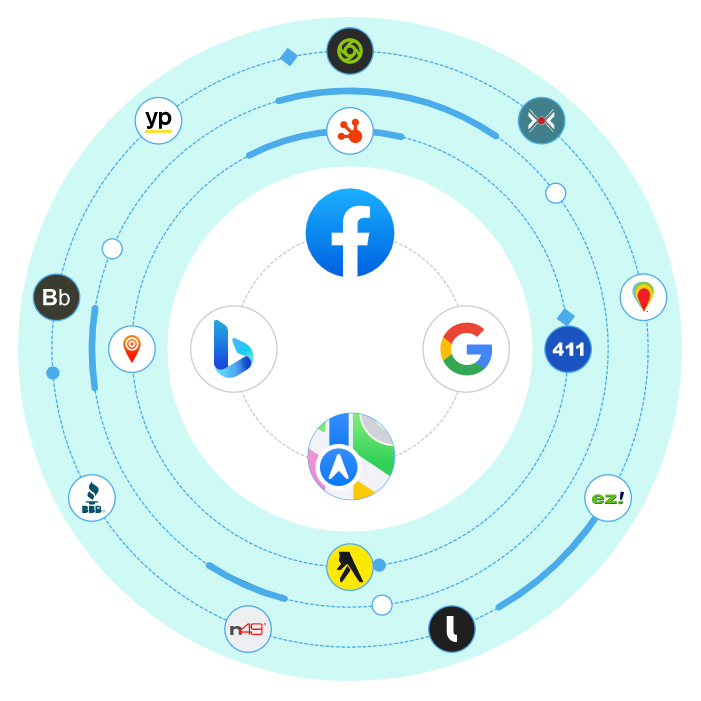 While customers rarely visit these sites directly anymore, the accuracy of basic information such as Name, Address, and Phone Number (NAP) is critical in establishing trust with search engines and enhancing your business's online presence.
The listings landscape evolved, but traditional listings management software didn't
Despite the shifts in the local listing landscape, most API solutions still treat all listings the same and charge you a premium for it!
These solutions don't deliver return on investment against the huge fees they command. And their "one-size-fits-all" approach only covers the sites they've built partnerships with, not the sites that actually matter to your business.
But it doesn't have to be that way…
The best of both worlds
We're pleased to reveal the first-of-its-kind, hybrid listings management solution:
Active Sync is our easy-setup API solution for the Engagement Layer that keeps your most important listings accurate and protected at all times. Updating information such as opening hours is a breeze–simply make the changes and Active Sync will push the updates to all listings in one go.
Citation Builder is our trusted managed service for the Authority Layer. Our team of experts will build and clean up your listings on the most relevant, authority-boosting sites, ensuring that your business gains the visibility it deserves. There are no recurring fees. The listings are yours to keep, forever. And if you need to make more significant changes down the line, our team is on hand to help.
The best part? They work together seamlessly to give you the best of both worlds. The speed of Active Sync with the flexibility of Citation Builder, at an unbeatable price.
How unbeatable?
Consider this: If you're a marketer working for a 100-location business and you go with Yext, Synup, or Moz, you could end up spending anywhere from $20,000 to $50,000 per year.
With BrightLocal, you'll pay just $18,000 in the first year (which covers a Citation Builder campaign), and only $6,000 each year after that.
Over the course of five years, you could save anywhere from $58,000 to $200,000–that's up to 75% saved.
Use our calculator how much you could save by switching to BrightLocal.
Ready to rescue your marketing budget?
Active Sync is the result of careful consideration and valuable feedback from both brands and agencies. Our team has shared our plans with many organizations in advance, and the response has been overwhelmingly positive.
With the potential to save up to 75% on listings management budgets, it's easy to understand the excitement. To accommodate this anticipated demand, we will be rolling out Active Sync in a phased approach over the next few months.
At present, Active Sync is exclusively available to brands or agencies managing 50+ locations as a brand-new Enterprise Listings Management offering.
If you meet this requirement and are eager to make significant savings on your listings management spend, we invite you to get in touch with our Enterprise team. They're eager to demonstrate the power and potential of our new hybrid approach.
Don't worry if you're not managing 50+ locations. We're dedicated to making Active Sync available to businesses of all sizes and types. Soon, every organization will have access to the listings management solution built for the web of today!
Take back control of your listings