There's no denying it: publishing updates (aka Google Posts) on Google Business Profile is a real pain.
You simply want to share all the cool stuff happening at your business (or your clients'), but the process is a major time suck. There's no scheduling option, so you have to keep logging in every time you want to make a post. And if you have multiple locations to update? Good luck, because you're stuck posting the same content over and over again to each location.
Thankfully, managing your Google Business Profile is about to become a whole lot easier and more efficient with our latest creation: GBP Post Scheduler.
This simple to use tool is a game-changer for scaling up Google Posts, offering effortless scheduling, multi-location distribution, and an exciting feature we can't wait to tell you about: AI content generation.
Effortless Post Scheduling
Save valuable time and ensure your GBP is always full of engaging content with scheduling.
No more manual posting every few days or last-minute rushes. Updates, offers, events—whatever you need to let customers know about—GBP Post Scheduler will have you covered.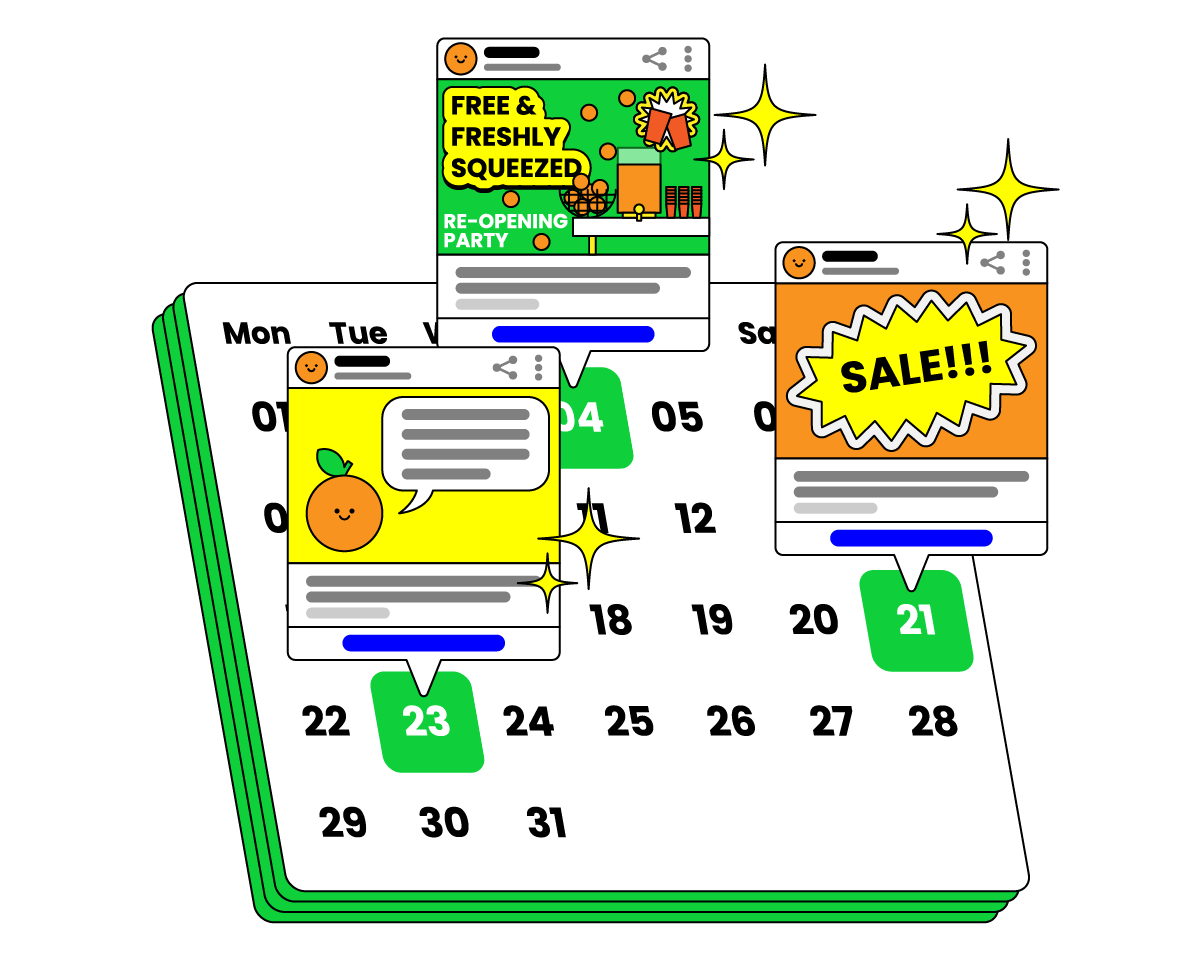 You can schedule each post to go out at the exact right time and set relevant expiry dates to ensure a consistent stream of content for potential customers to engage with.
You'll get full visibility of what's live, what's scheduled, and what's expired from a single dashboard. It's as easy as setting it and forgetting it! If you need to make changes, it's just a case of editing anything that's already scheduled or deleting anything that's live.
It's really that simple.
Multi-location Distribution
If you're working with a multi-location brand, there could be instances where you need to push the latest national promotions to every location at once. As we mentioned earlier, Google forces you to do this one location at a time. Yuck!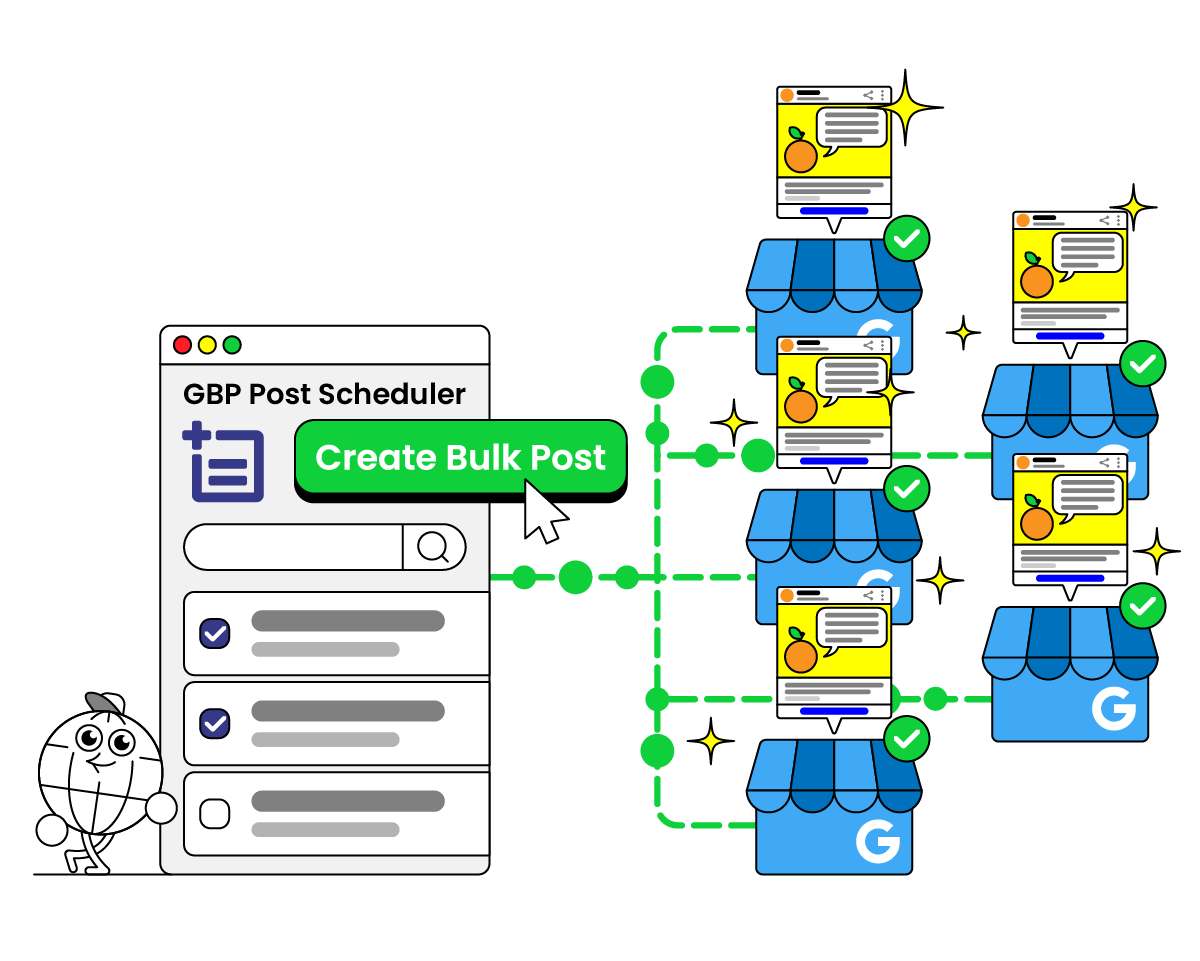 But GBP Post Scheduler was built with scale in mind. Now you can publish a post to multiple locations simultaneously, saving you potentially hours of tedium. Ensure consistent content across your entire network of locations (or just a select few) in a few clicks.
AI Content Generation: GBP x GPT!
Say goodbye to writer's block with our AI content generation feature. Our brand new integration with GPT ensures that you always have engaging and captivating content at your fingertips.
Simply give us a description of the message you want to put out, and in seconds, our AI writing assistant will give you caption ideas to run with and optimize.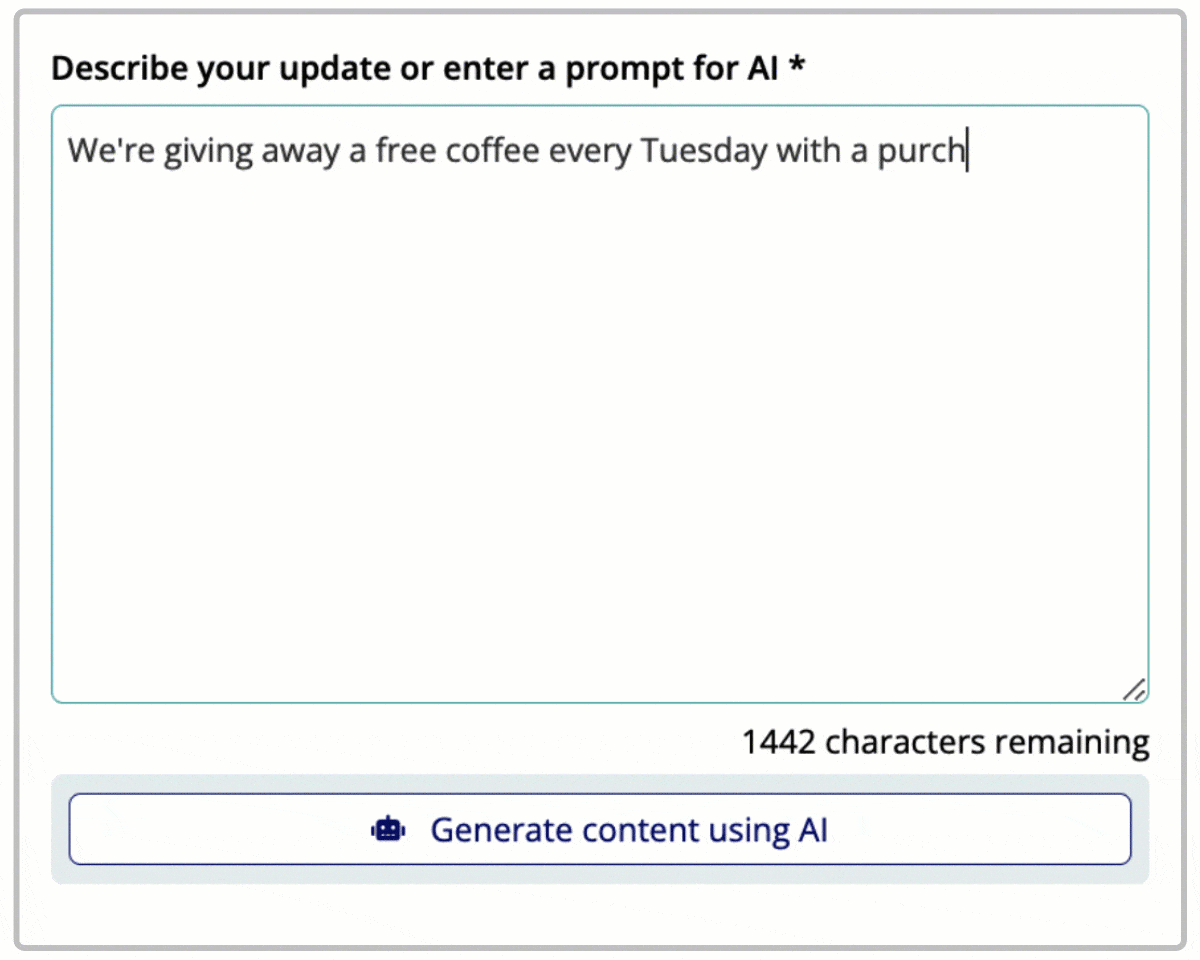 Watch as your posts maximize engagement and attract attention like never before. It's the perfect blend of human brilliance and AI wizardry!
GBP Post Scheduler is the first in a series of innovations that will harness AI to revolutionize the way you do local SEO, helping you save time, uncover valuable insights, and create highly effective marketing strategies. You can expect to see more AI-powered features hitting BrightLocal soon.
Powering up Listings Management
GBP Post Scheduler is now available as a brand-new Publishing Pack add-on for all subscribers.
Our Publishing Pack also includes our other latest tool, Active Sync, which allows you to sync your business information across Google, Bing, Facebook, and Apple. You can easily update information across each listing (like opening hours) and protect them from rogue external edits to ensure customers are seeing the most accurate and up-to-date information when discovering your business.
GBP Post Scheduler takes our listings management capabilities to the next level, but here's the good news: We're keeping the add-on price the same at just $8 per location. That's up to three times cheaper than the likes of Yext and Moz Local.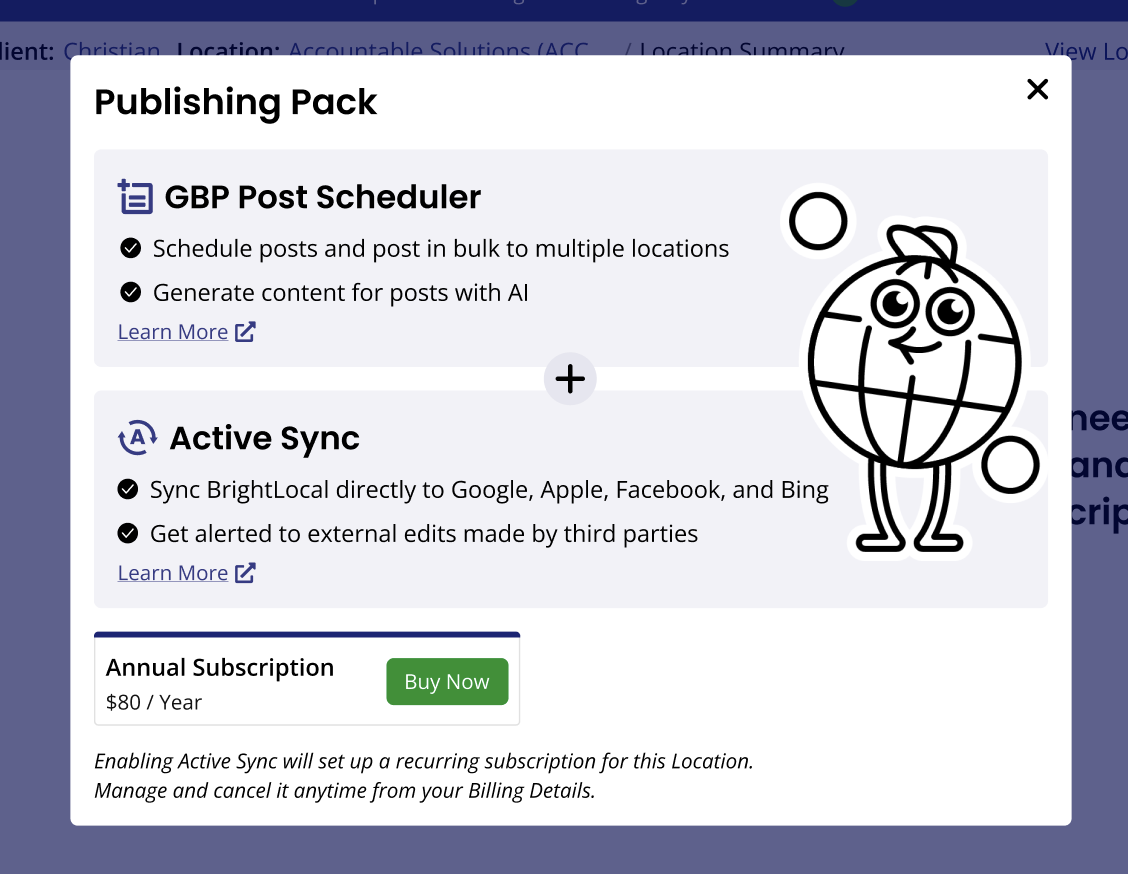 Both GBP Post Scheduler and Active Sync are also available as a standalone with our subscription-free account: Simply Listings.
Join our Listings Management webinar
We're excited to present GBP Post Scheduler and Active Sync in two upcoming webinars. We're running two sessions, one tailored for agencies and one for businesses.
In each webinar, we'll cover:
How the listings landscape has evolved.
The common challenges businesses and agencies face in listings management.
How our latest tools will save you time and money (and even drive more revenue!).
Agency webinar
Boost Your Agency's Revenue: Discover the Active Sync Advantage
July 12, 2023 at 9:00 am PT / 12:00 pm ET / 5:00 pm BST
Business webinar
Boost Your Online Presence: Drive Greater Visibility, Engagement, and Leads From Your Listings
July 19, 2023 at 9:00 am PT / 12:00 pm ET / 5:00 pm BST
How GBP Post Scheduler Works
Using GBP Post Scheduler is a breeze. Watch this short video tour or read on to learn more.
From the top navigation you'll be able to access the GBP Post Scheduler overview dashboard, where you can:
Easily navigate to the desired location to manage your Google Updates
Create bulk posts to publish across multiple profiles
Check which locations are connected to GBP
Gain visibility on live and scheduled posts for each location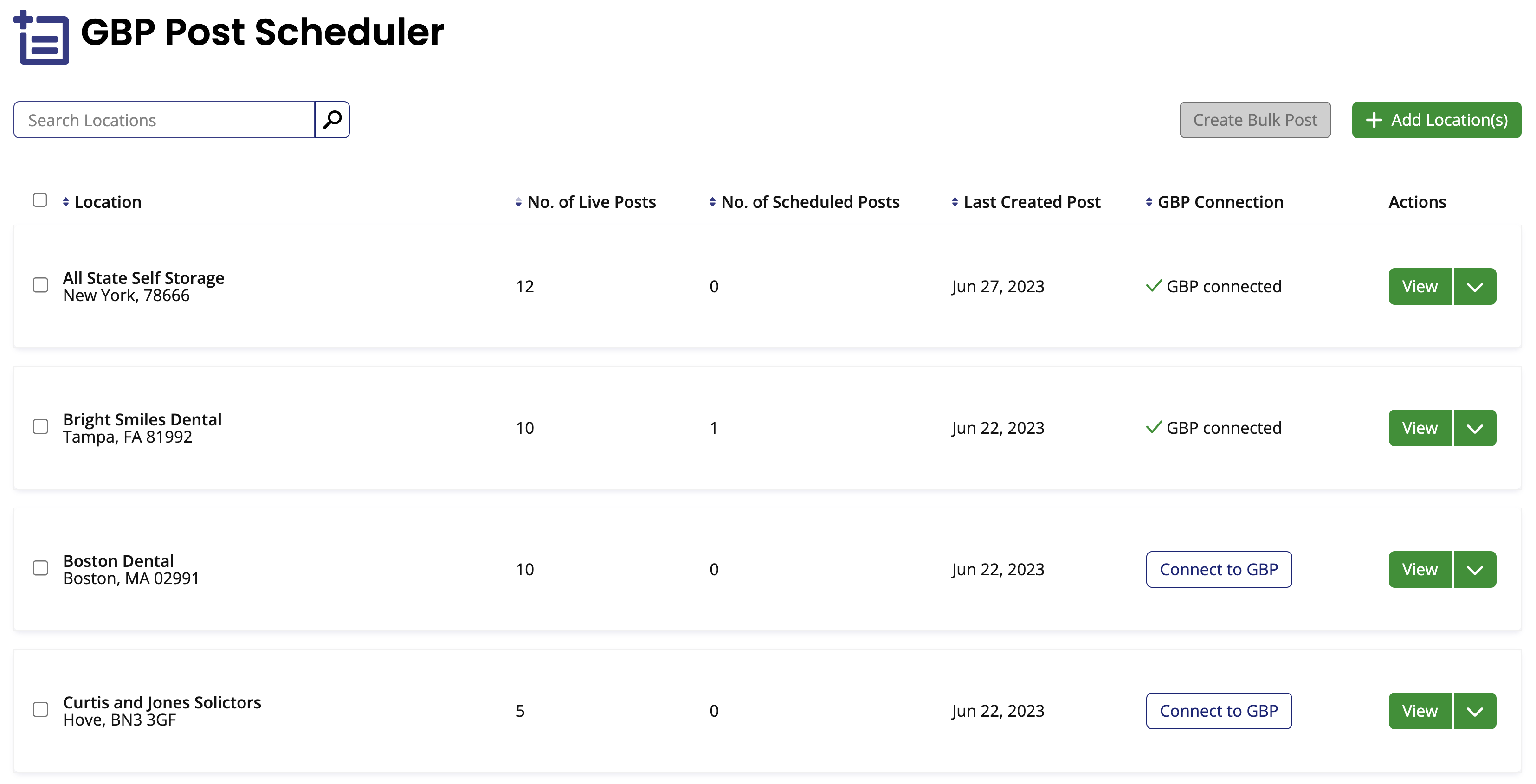 To use GBP Post Scheduler for a location, make sure you have purchased a Publishing Pack and set up the GBP connection. Once that's done, you're all set to efficiently manage your posting.
Posting to a Single Google Business Profile
To post to a single profile, you can either navigate to the relevant location via the GBP Post Scheduler dashboard by clicking 'View,' or you can find it in the left-hand navigation when you're in a location.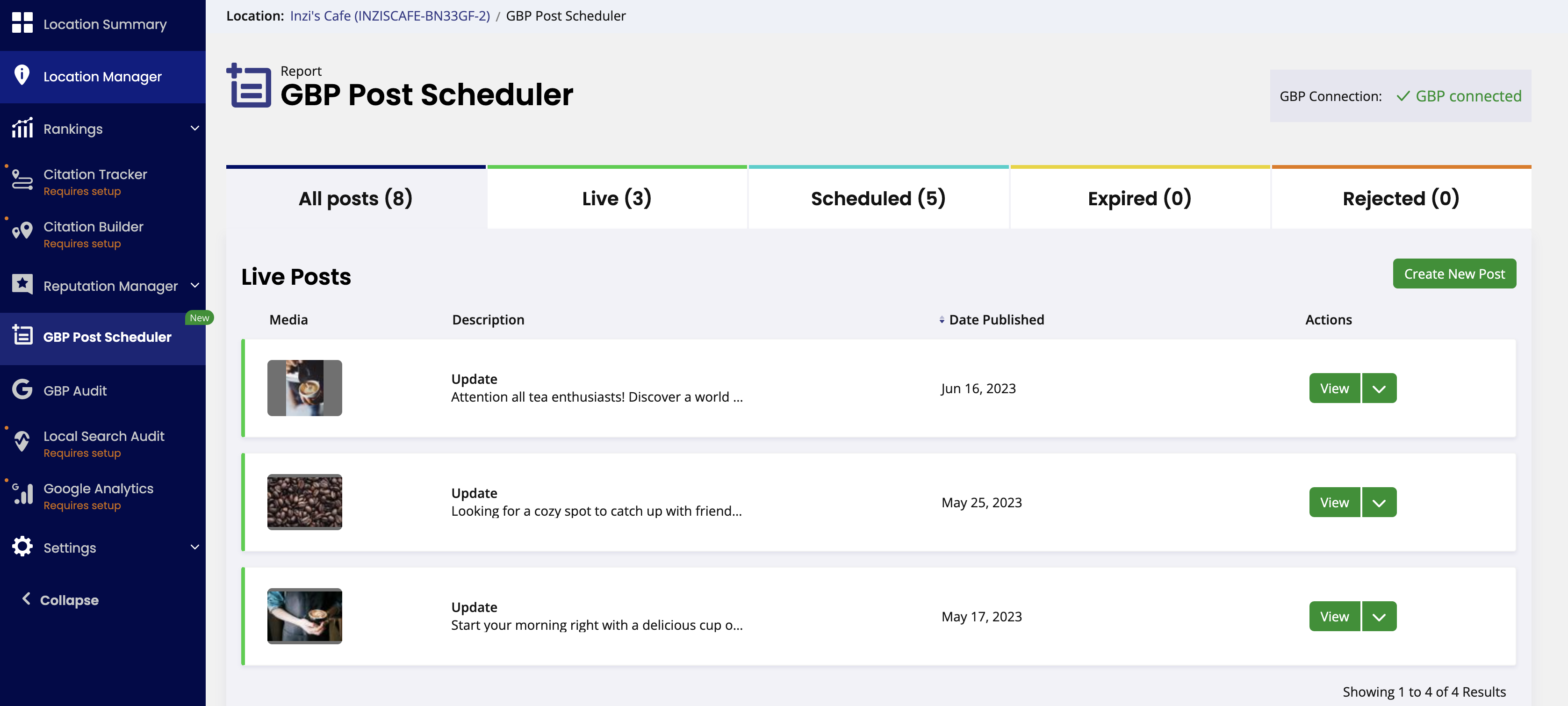 Once you're there, you'll be presented with a dashboard that displays all the posts for this particular Google Business Profile. You'll see what is:
Live: Posts that customers can currently see on your Profile
Scheduled: Posts that you've already scheduled to go out
Expired: Events or offers that have ended and are no longer live on your Profile
Rejected: Any posts you attempted to publish that were rejected by Google
Clicking 'Create a New Post' will open a modal where you can post an update, offer, or event. If you want to learn more about each post type, you can refer to our guide to Google Posts.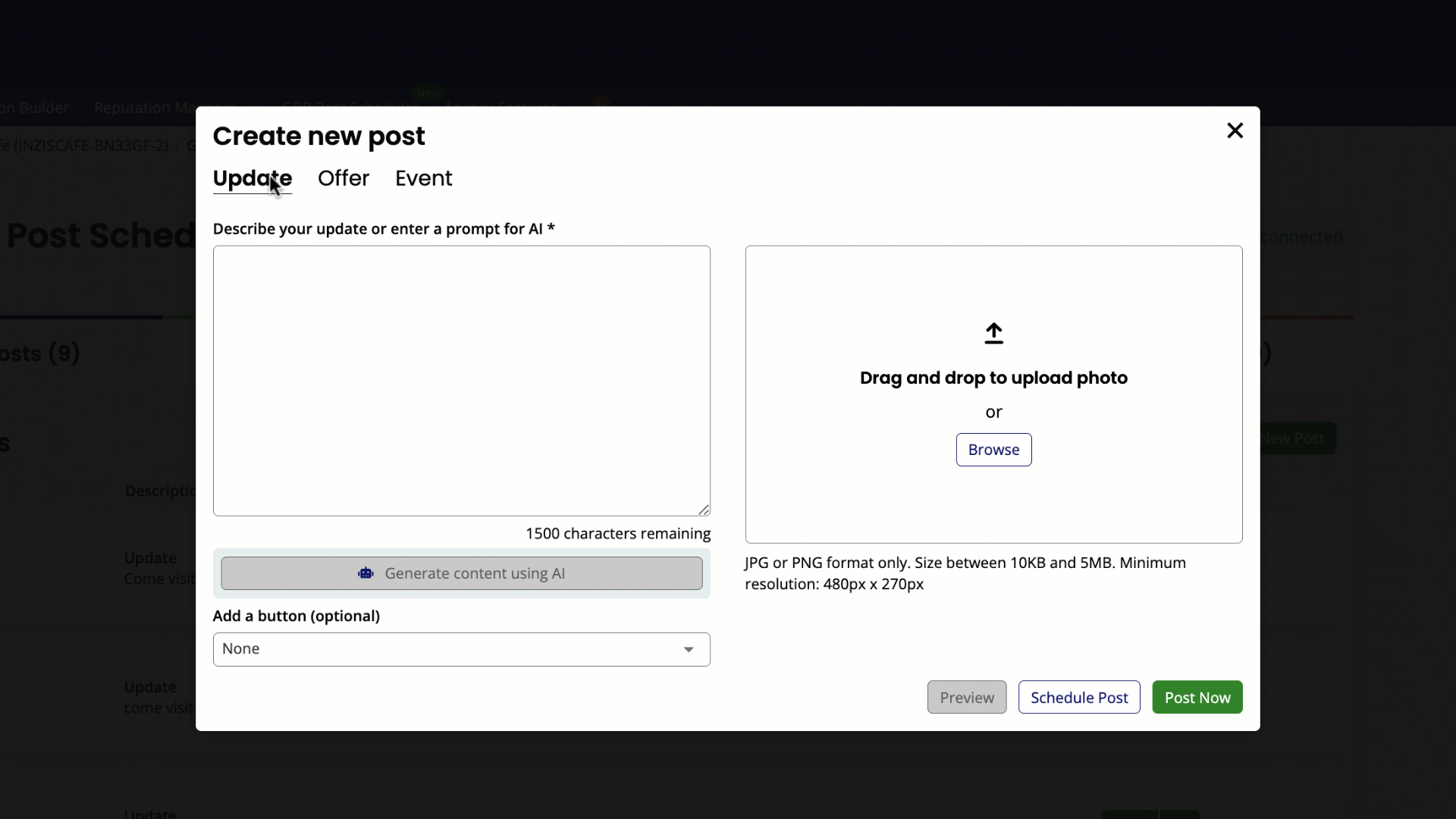 Everything you see in Google is recreated here to provide a seamless experience. You can add captions, images, buttons, start dates, and end dates, just like when posting directly from Google, but with the all-important added ability to schedule your posts.
Once you're satisfied with the content, you can choose the exact date and time for the post to go out.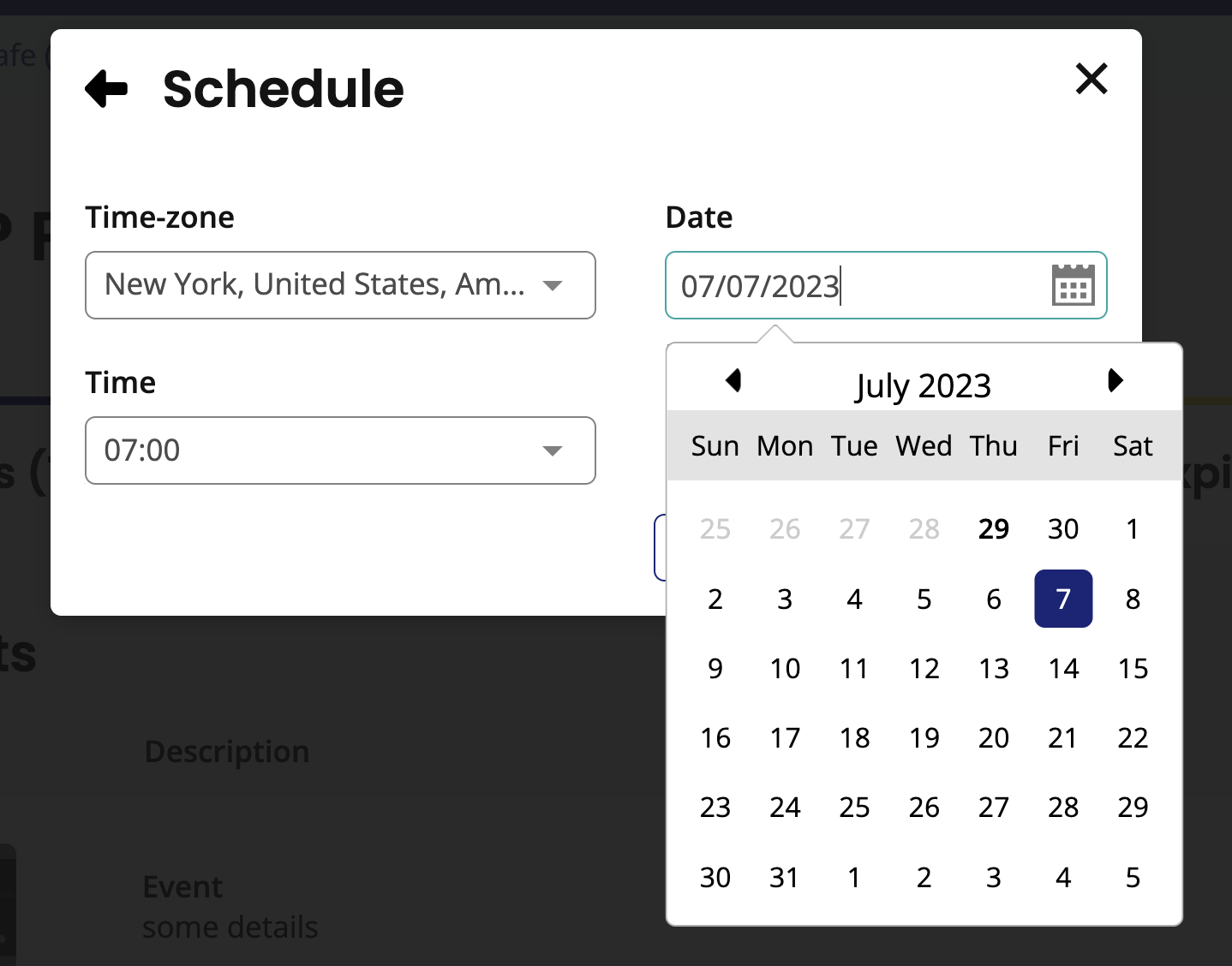 However, if you prefer to publish immediately, you can simply click 'Post Now.'
Generating Content with AI
Generating AI content is incredibly simple and efficient with our AI writing assistant. Instead of manually crafting the title or caption for your post, you can provide us with information about the update, offer, or event, and then click the 'Generate content using AI' button.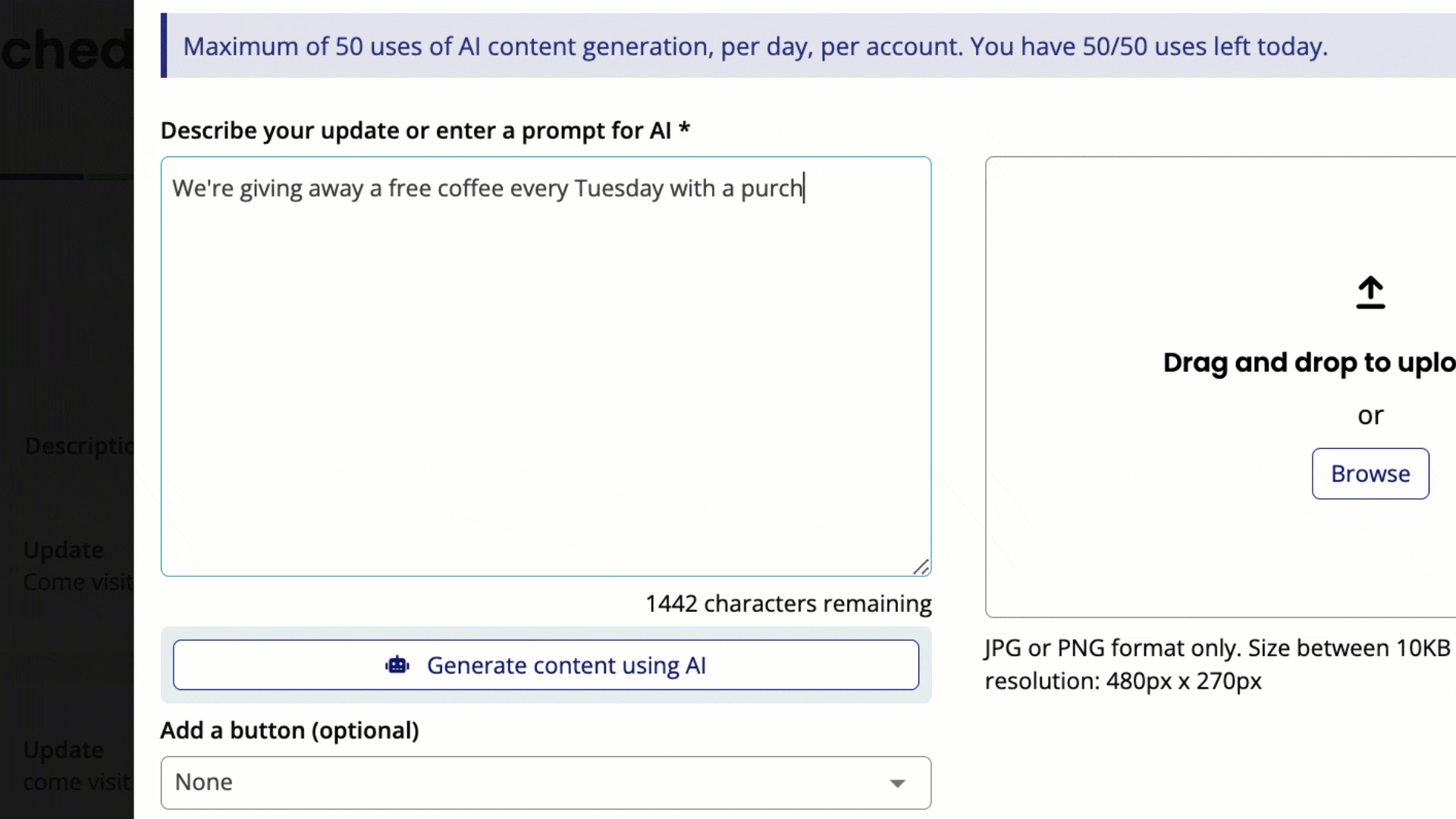 Within a few seconds, you'll receive a caption generated by GPT-4. From there, you have several options: use the suggested content as is, make edits to customize it according to your needs, or even start afresh with a new prompt to explore different possibilities.
The quality and relevance of the AI-generated content are greatly influenced by the details you provide in the prompt. Be sure to include all the relevant information about your update to achieve the best possible results. This feature is a valuable time-saver, particularly for large-scale posting, allowing you to create compelling content that resonates with your audience.
Bulk Posting to Multiple Profiles
Imagine having a national promotion that you want to distribute across your entire network of locations. Previously, this task would take hours of your time. But with our bulk posting feature, you can accomplish it in a matter of minutes.
It's as simple as selecting two or more locations from the overview dashboard and clicking the 'Create Bulk Post' button located in the top right corner. You can use the search bar to quickly locate specific locations.
Once you're in the bulk posting mode, you'll follow the same familiar steps: selecting the post type, adding your content, and deciding whether to schedule the publish date or publish instantly.
Whether you manage a few or hundreds of locations, GBP Post Scheduler will be a real time-saver, ensuring compelling content reaches your customers on every profile.
Get started now by adding our new Publishing Pack to your plan to get access to both Active Sync and GBP Post Scheduler.