Welcome back to the Local Search Roundup! This month, we saw changes to Google Business Profile (GBP) and Microsoft Bing, and tests to local search results pages. From personal reservations now showing on GBP listings to local finder images only being shown for ad content (what?!), let's dig into some of April's biggest stories in search. 
What's new with Google Business Profile (GBP)?
Google (Appears to be) Testing Text Communications to Verify GBP Information 
Google may be moving to text to communicate with business owners. Molly Youngblood shared screenshots (shown below) on her Twitter when she received a message from a verified Google Support number requesting verification for the information shown on her GBP. 
Today I got a text message from a legit Google support number wanting to confirm my Google Business Profile. Can anyone else confirm if they have received this type of text from Google Maps? @GoogleMyBiz @googlemaps @rustybrick @GuideTwit @keyserholiday @TheSocialDude pic.twitter.com/7ecL9szpX0

— Molly Youngblood (@mygeigermeister) April 26, 2023
Other business owners have started to receive similar messages, and while the texts are coming from a real Google Support number, some local SEOs are concerned that these messages aren't really coming from Google, and Google has not publicly confirmed whether it's them sending these messages. 
I'd be a bit suspicious.
Don't think they'd call themselves Google Maps. They'd surely go with GBP.

— SEO For Wix (Tom) 🇮🇪🌻🇺🇦 (@SEOforWix) April 26, 2023
While this could be a handy feature one day, right now we don't know enough to feel anything except a little perplexed by the phantom messages. 
Source: Search Engine Roundtable via Molly Youngblood on Twitter
Local Search Testing New Placement for "Request a Quote"
The "Request a Quote" button has moved in local search results, now located next to the Website, Directions, Save, and Call buttons, putting a new emphasis on the function:
Seeing a new placement for the request a quote feature on Google Business Profiles. pic.twitter.com/4xMPJnuQFN

— Joy Hawkins (@JoyanneHawkins) March 27, 2023
One small step for Google Search Results, one giant leap for… those requesting quotes. 
Source: Search Engine Roundtable via Joy Hawkins on Twitter
New Overlay Interface for Business Profile Listings Being Tested
Google seems to be testing a new overlay interface for business profile listings. With this function, clicking on a business listing in the local pack prompts an overlay with more information to appear in the web search results rather than redirecting the user to Google Maps. Colan Nielsen, who spotted the change, speculates that this could have an impact on the Google Map views metric in Google Insights. 
This is new to me. When clicking on a business in the local pack, Google open up their business profile panel directly in search instead of taking you to the local finder/Google maps view. I imagine this will have an impact on the Google Maps views metric in GBP Insights. pic.twitter.com/LsFAL7RES2

— Colan Nielsen (@ColanNielsen) March 31, 2023
Source: Search Engine Roundtable via Colan Nielsen on Twitter
Personal Reservations Showing on GBP Listings
Reservations made through 'reserve with Google' via the local pack or Google Assistant now may show on the Google Business Profile listing. 
First time seeing a personal reservation (via reserve with google) display on a GBP listing 👀 pic.twitter.com/BkkD8zxm4A

— Krystal Taing (@krystal_taing) April 2, 2023
Big news for those of us who stare longingly at the GBP of a restaurant we're due to visit. 
Source: Search Engine Roundtable via Krystal Taing on Twitter
GBP Adds Copy Menu Function 
When going to add or edit a GBP menu, restaurants will be prompted with the option to copy a menu associated with their business from elsewhere on the web. Once copied, each menu item can be individually edited.
I went to edit a menu for a restaurant on GBP and Google provided the option of copying a menu that Google identifies as belonging to the restaurant. Not seen this before and was quite useful, is this new? #localseo @TimdeTwit @rustybrick @contenidoseocom pic.twitter.com/KmdBaoOVgs

— Lluc B. Penycate Ⓐ (@Lluc_SEO) March 27, 2023
While the function may not be perfect, it provides a foundation for restaurants to build out their full menu off of existing ones. 
There are actually two menus on the website however, we are only linking to the drinks menu on the GBP profile. Google only suggested 12 items/drinks, but there are over 50 items on the linked menu. Several prices of the items are incorrect…

— Lluc B. Penycate Ⓐ (@Lluc_SEO) March 28, 2023
Hopefully this feature, in addition to being a massive timesaver for restaurants, will lead to more complete menus available in the local pack. 
Source: Search Engine Roundtable via Lluc B. Penycate on Twitter
New Tips to Avoid Bulk GBP Verification Delays 
A Google help document focusing on "Common issues that delay bulk verification" has been updated with new tips including using official domain emails, making sure all listed addresses are on (and matching those on!) the business's website, and always using exact addresses—including suite numbers, floor numbers, etc. 
Krystal Taing (@krystal_taing on Twitter), who spotted the changes, summarized them in a Tweet: 
📣🙌🏾 @GoogleMyBiz added some great tips to their bulk verification articlehttps://t.co/V23XbpynAi
✅ – Use a domain email
✅ – All locations should be on your website
✅ – Check leading zeroes in your post codes
✅ – Contact support if you received the 'exceeded limit' error

— Krystal Taing (@krystal_taing) April 28, 2023
For those out there working with bulk verification, hopefully these new tips will help cut back all that waiting time and get those GBPs up and running smoothly.  
Source: Search Engine Roundtable via Krystal Taing on Twitter
What's new in local search?
Yelp Hones In on User Experience and Engagement
Yelp has announced 3 new features aimed at improving user experience and boosting business/user engagement. 
The first feature, known as Yelp Guaranteed, is a satisfaction-guaranteed program for users requesting quotes from home service providers; the program offers up to $2,500 back in the event that something goes wrong with their home improvement project. The program is available to users who got into contact with an eligible business through Yelp's "Request a Quote" feature. 
Yelp has also introduced advanced search functionality based upon Artificial Intelligence (AI) and Large Language Models (LLMs). This new search model offers a variety of functions, including clickable category tags on business profiles, search suggestions based on search intent rather than location, and a "Surprise Me!" feature for finding new restaurants. 
Finally, Yelp is tackling user engagement features, adding video capacity to reviews, review topics such as "food" and "service," and new review reactions such as "Helpful," "Thanks," and "Oh no." According to Yelp, these new reactions have increased their review engagement six-fold. 
Source: Search Engine Land via Yelp
Google Prioritizing Primary Categories as a Ranking Factor
Following the March 2023 rollout of the broad Google Core update, certain businesses are finding their visibility being impacted in a big way. According to an analysis by Sterling Sky, the primary category has been prioritized as a ranking factor.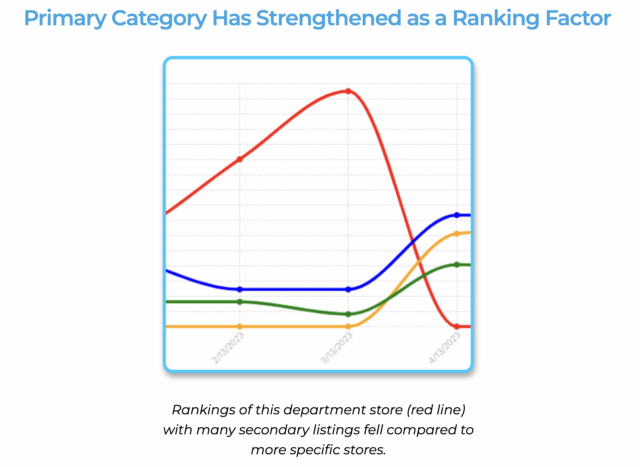 In addition to this, the analysis suggests that query matching has broadened, roping more loosely related queries to search results and that some categories are now matching to more related keywords, increasing competition. 
Source: Sterling Sky
Grid Format for Local Search
Users have spotted a grid format being used to showcase local search results on mobile, indicating that Google might be playing with a new layout. We've seen the grid format for some time now in the form of product and shopping search results, however, this is the first time we've seen it applied to the local search results. 
Twitter user @Beymour, who first pointed out the new setup, noted it seemed to be especially prevalent in "best" queries (such as "best dentist near me"):
Seeing it a lot for "best" queries, I.e. best dentist near me, best moving company, best lawn service, etc pic.twitter.com/Nel7yDuGQo

— Brandon (@Beymour) April 27, 2023
And that in some cases, the first or second result displayed as a full-width image:
Looks like for some SERPs, 1st or 2nd organic result get a full width featured image pic.twitter.com/4ahB5ySEqR

— Brandon (@Beymour) April 25, 2023
Source: Search Engine Roundtable via Brandon (@Beymour) on Twitter
"Often Searched Together" Added to Local Search Panel
Google has added an "often searched together" section to the local search panel, offering businesses a glimpse into who their top competitors might be while making search results more comprehensive for users. 
Source: Search Engine Roundtable via Mordy Oberstein on Twitter
Local Finder Images Only Showing for Ads
In somewhat disappointing news, Google may be testing only showing local finder images for ad content. While there is some speculation that this may be a bug, others believe that this could be a new approach that Google is taking to the local finder. In this format, all non-sponsored results show up with only a map image. 
Wow. Google's testing not showing images in the local finder, *except* for ads!@rustybrick #localseo #googlebusinessprofile #gbp pic.twitter.com/KwHXrXpDyi

— Justin Mosebach (@jlmosebach) April 4, 2023
Source: Search Engine Roundtable via Justin Mosebach on Twitter
Blended Local Finder Query Results 
While blended query results aren't new, users are noticing a new trend in local finder results. Google, in some instances, is now displaying two or more different (but still similar) queries together and accompanied with a short line of text explaining the match. 
I'm sure this isn't new but I never noticed this format of ad in the local finder: Line of text under the label & then the listing

It really makes the listing look organic, especially the 1 that sites atop the actual 1st organic listing pic.twitter.com/vUXxNgXl2G

— Mordy Oberstein *winner of laser tag* (@MordyOberstein) April 5, 2023
While there is speculation around how new this is, SEOs are agreeing that this format effectively makes sponsored content appear organic. 
Source: Search Engine Roundtable via Mordy Oberstein on Twitter
What's new with Microsoft (and Bing!)? 
Microsoft Rolls Out Professional Service Ads Globally
Microsoft has announced that their Professional Service Ads for their vertical ad suite are now available globally. This announcement comes on the tail of their beta for doctor and clinic ads, and is designed to "help consumers connect directly to professionals in a variety of industries such as insurance, real estate, doctor & clinics, tax services, and home services."
Source: Microsoft
Site Names and Favicons Added to Search Results
Following in Google's footsteps, Bing has just site names and favicons to their search results… in some cases. 
A search completed by Search Engine Land showed these changes in action: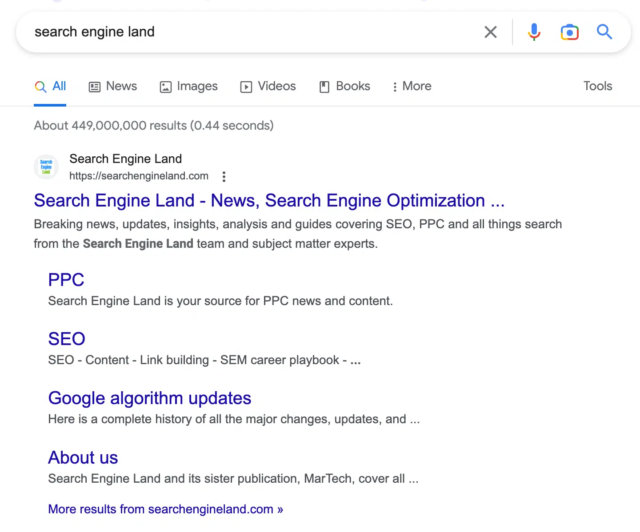 However when we tried it for ourselves, we were met with the classic Bing format: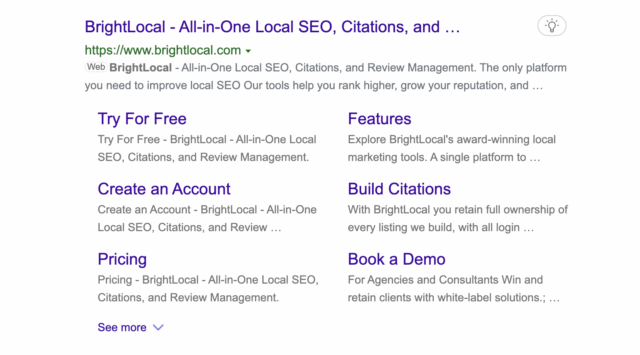 We're looking forward to seeing if Bing continues to roll this out here in the UK—that BrightLocal green just adds a certain something to the SERP, in our opinion. 
Source: Search Engine Land
Updates to Bing Chat Functions
Bing's chat function has been taking big steps to ensure better user experience. The latest? Image and video, improved local search, more robust summarization, and more inter-product compatibility. Specifically:
Images and videos can now be sent by Microsoft directly in the chat
General improvements to the local search function, allegedly improving the results for any local searches
The summarization tool can now be used on bigger documents
You can now use the Bing Image Creator in the Microsoft Edge sidebar
And there are more changes to come, of course. Talk of Bing Translate integration, the use of inline images, improved copy and paste, and a potential text-to-speech function are swirling around. 
Bing certainly seems to be listening to user's concerns, and is ready to continue rolling out changes to ensure the best possible experience for them. 
Source: Search Engine Roundtable
But Wait, There's More
Finally, while it may not be all new information, we want to give a quick shoutout to this piece from Local Guides Connect, which highlights five ways you can use Google Maps to help the environment. 
That's it for this roundup! For the very latest in local SEO, updates to Google Business Profile, and more, don't forget to keep your eyes peeled on our Twitter account!