Welcome to our monthly roundup of all things local. Now, you might think that with the rise of AI and a Core Algorithm Update rolling out March might have been a quiet one for local search news, but as you'll see below, it's been a busy month full of tests, bugs, research and, well, yes… AI. Of course.
What's new with Google Business Profile?
New Tests for Google Posts/Updates Overlay
Two new tests around Google Posts/updates have been spotted in the wild. In the first test, Google updates get overlaid over images for the business listing…
↗️ Noticing update or post from business. At mobile serp

Looks new to me .
cc @rustybrick pic.twitter.com/UWBW3PFDmF

— Khushal Bherwani (@b4k_khushal) February 24, 2023
And in the second test spotted, users can click to see 'More Posts' when browsing the most recent updates:
Google has added view all posts "more posts" feature in GBP. Before it was not shown on GBP.

Cc @rustybrick pic.twitter.com/bw3ZwrJk8f

— keyur shah | SEO (@Keyurshah3535) February 24, 2023
Source: Search Engine Roundtable
Google Shopping Results Displaying GBP Products
Google has started showing products added to Google Business Profile via the Products & Services feature in the Google Shopping section of Search. Great news if you're selling products and you want more visibility of what you have in store!
First time seeing organic GBP Products that were manually added show up like this under the "Shopping" tab. I haven't paid too much attention to this section in the past but I had thought all the items under "shopping" were paid shopping feeds. Seen this before @rustybrick ? pic.twitter.com/JCVWMknMxJ

— Colan Nielsen (@ColanNielsen) February 28, 2023
Source: Search Engine Roundtable
Prompt to Link to Better Business Bureau Appearing in GBP Verification
Google has started including a few new questions in its GBP verification process, and one might come as a surprise…
New: Google Business Profile asking for BBB link in assistive help flow, and even more questions.

— I guess GBP trusts BBB a lot! Which is strange in some cases. pic.twitter.com/U3sg9213Z6

— Ben Fisher (@TheSocialDude) March 5, 2023
Yes, apparently Google trusts data from the Better Business Bureau enough that, for US-based business at least, it's asking for a link to their company information on the popular directory.
Source: Search Engine Roundtable
"Similar To" Personalization Appears in Google Business Profile
Google users performing local searches may find themselves being prompted by Google that a business in their search is "similar to" another business they've frequented in the past.
How long has this been a thing on GBP? I've been to Green Zebra when searching for acai bowls and now I'm searching in a different town & "similar to" shows up. 🤔 I like it! #LocalSEO #IsThisNew @rustybrick pic.twitter.com/oz85IZWyuv

— Tricia Clements (@yourbizwatchdog) March 11, 2023
It's an interesting step in the name of personalizing your search experience, but sometimes this stuff just errs too much on the creepy.
Source: Search Engine Roundtable
Fixed: "Your Business Is Not Visible to Customers"
Local SEOs had a panic in mid-March when a confirmed bug at Google's end left them seeing this message when accessing or editing their Google Business Profiles. A fix came a day or two later, and it seems like it was a glitch and that these businesses were actually visible and editable during that time.
Way to keep us on our toes, Google!
Google Inserts Incorrect Prices Into GBP Services
We all know Google, rather frustratingly, likes to pull your business information from places you might not be able to control, but this is the first time we've seen it completely make up your service prices!
Hey @rustybrick – when looking into a client's services in their GBP, we noticed that some of the predefined services had a "free" label which we nor the client added. Is this new? pic.twitter.com/jV0uOd5VMr

— Sukhjit S Matharu 👾 (@SukhjitSMatharu) March 17, 2023
Here's another where pricing is arbitrarily added in – not from the client… certainly not correct! pic.twitter.com/z3gwL4XdW8

— Carrie Hill 🗺️🎙️ (@CarrieHill) March 17, 2023
If you haven't checked in on your services in GBP lately, now might be a good time to do so!
Source: Search Engine Roundtable
New 'About' and 'Reviews' Tab on Desktop Mirroring Mobile Experience
Is Google starting to go mobile-first with GBP, and bringing the experiences closer together? This new feature, in which 'Reviews' and 'About' are tabbed rather than appearing vertically in a desktop GBP, certainly suggests so.
Seeing an "about" and "reviews" tab on Google Maps that looks similar to the mobile experience. Only seeing this while logged in and not on every listing. pic.twitter.com/FKeOkdnOg4

— Joy Hawkins (@JoyanneHawkins) March 20, 2023
Manage Your Menus via the New Merchant Experience (NMX)
Restaurants can now use the NMX (in-SERP GBP management) to select a preferred source for their menus, or create a custom menu in GBP.
New select your preferred menu source for restaurants.

Custom Menu: Create your Own in GBP
3rd Party: Why would you ? pic.twitter.com/mkEIMR5v2g

— Tim Capper (@GuideTwit) March 1, 2023
We don't know about you, but we're still going to rely on the photo of the coffee-stained, laminated menu taken and uploaded by a visitor five years ago instead…
Source: Search Engine Roundtable
Online-conversion Local Ads (OLAs) Allow for More Targeted GBP Advertising
Shown in Google Business Profiles in Search and Maps, these ads allow you to promote products or services relevant to specific locations (e.g. a competitor's GBP listing, or your own, if you want to ensure no one else can make the land-grab on your own listing).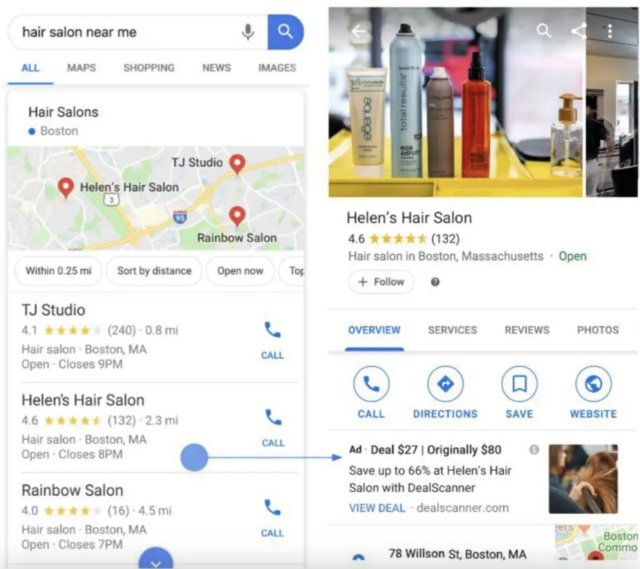 Source: GMBapi.com
What's new with reviews?
Google Expands Documentation Around Personal Info and 'Fake Engagement'
In an update to its 'Prohibited and restricted content' guidelines, Google has turned existing vagueness around what personal info can be used where into an absolute rule (with exceptions, of course).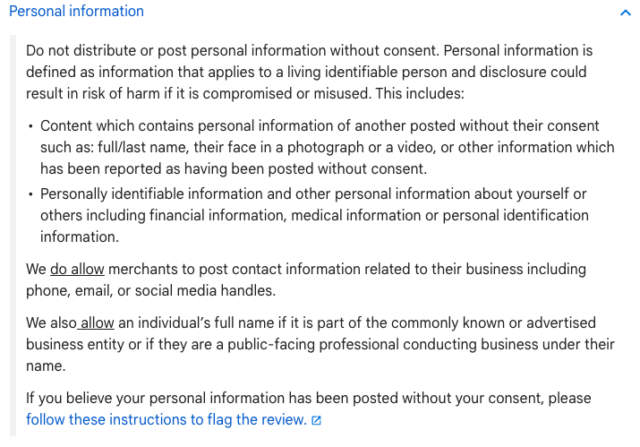 It has also added guidelines around fake engagement, e.g. using an automated tool to post reviews.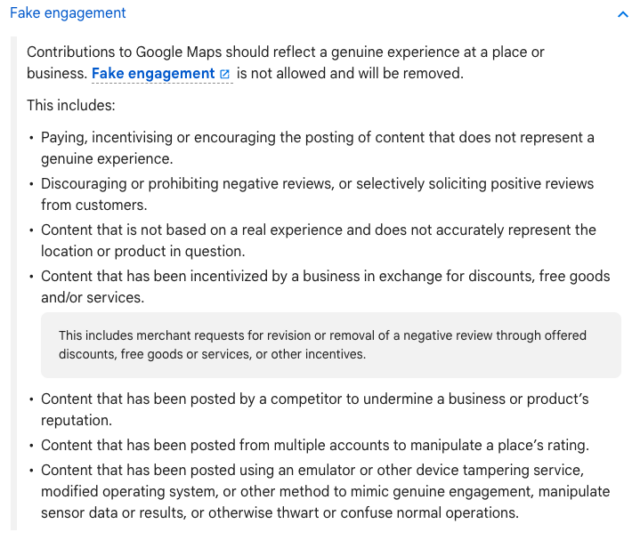 Definitely worth reviewing if you're considering engaging in automated fake reviews. Whether this applies to businesses using automated tools to respond to reviews at scale remains to be seen.
Source: Search Engine Roundtable
Restaurant Reviews Encouraged to Include Recommendations of Specific Dishes
When reviewing a restaurant, you might now be asked to recommend a specific dish while you're rating elements like food, service, and atmosphere.
Google adds an option for recommended dishes on reviews @mblumenthal @rustybrick pic.twitter.com/RtwsCrUsb8

— ClaudiaT (@ClaudiaTomina) March 6, 2023
Source: Search Engine Roundtable
Google Releases Reviews Mistakenly Removed as Spam as "New"
What the searcher doesn't know, can't hurt them, right? That's true until Google hands the business reviews it mistakenly removed back to you, but labels them as "new".
After Google's initial admission that they would be reinstating these reviews, DAC found that over the following weeks, a significant number of them were being reinstated as "new" reviews on businesses' GBPs.
If you like the look of lots of fresh, new reviews on your profile, then this is probably a good thing, but not so much if they are old reviews contain information and opinions that no longer reflect your business.
Google Details Progress Made in Tackling Fake Contributions in 2022
In its annual report on its progress towards finally making Google fakery-free (hey, we can dream!), Google released some key stats, including:
115m+ policy-violating reviews removed, including a 20% increase in the removal of fake reviews
200m photos and 7m videos were blocked or removed for being blurry, low quality, or violating content policies
20m attempts to create fake Business Profiles stopped
Google puts a lot of its success in these increases down to the evolution of its machine learning capabilities.
Surprise, Surprise: Review Spammers Are Using AI
File this under: no sh*t. Although OpenAI and Google disallow the use of their generative AI technology to produce spam, spammers aren't exactly ones to follow the rules, so it should come as no surprise that AI is clearly being used to create fake business reviews at scale.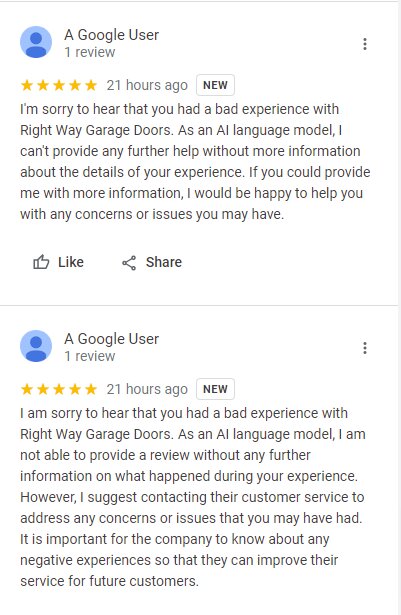 Perhaps Google could see which way the wind was blowing, hence the 'Fake Engagement' guidelines mentioned above?
Sources: Review Fraud via Search Engine Roundtable
What's new in local search?
New Local Ranking Factors Survey Released
Whitespark have released their survey of local SEO expert opinions on what does and doesn't impact local rankings, including questions around negative ranking factors, LSA ranking factors and suspension risk factors for the first time.
Darren Shaw goes into detail on what's changed over at Near Media. It's well worth a watch.
Google Explore Now Features Local Search Results
Google has added business profile overlays and scrollable business info to the Google Explore section of search (which Search Engine Roundtable's Barry Schwartz rightly describes as "that weird feature you get when you keep scrolling and scrolling through the search results").
↗️ Google explore with business in different way , it's with overlay feature.

↗️ Notice first time.

↗️ Before covered as – Google Explore" Testing As The Dynamic SERP Feature via @rustybrick @glenngabe – https://t.co/pDTJHdwRy9

↗️ now with business profile with overlay pic.twitter.com/hNZ3vFSIM7

— Khushal Bherwani (@b4k_khushal) March 1, 2023
Source: Search Engine Roundtable
Google Tests Blend of Search and Local Snippets
Here's a strange one: an odd mix of local business info and standard search snippet appearing in search results. It has some of the local features you'd want to see (map, directions, how to call, etc.) but very little actually useful info like business or product description.
Just noticed this new hybrid search result, normal web link plus GMB listing together…is it new @rustybrick? pic.twitter.com/U6cr0h1kKp

— Manish Chauhan (@ManishK_Chauhan) March 15, 2023
Source: Search Engine Roundtable
Google Testing Reviews Icon Limited to One Star
You'd be forgiven for having a coronary if you spotted this one when searching for a client's business!
I noticed on the local pack they are only showing one star next to the cumulative rating. This is the first time I've seen a condensed way they are displaying the number of stars. @rustybrick @glenngabe @DarrenShaw_ pic.twitter.com/nfb4w3W4Uc

— Jason Parks (@Jason_Parks1) March 19, 2023
No, those businesses don't just have one-star average review ratings. That's just Google trying to save a bit of space in the already cramped local pack by having the single star signify what the number next to it refers to, rather than showing the full amount of stars.
Source: Search Engine Roundtable
What's new with Local Services Ads?
Services Supported by LSAs See Massive Expansion
In early March, Google expanded the business types that can use Local Services Ads far beyond the usual remit of home services, law practitioners, and real estate agents.
The new list of supported businesses, which you can find here, includes education, people care, pet care, wellness, and healthcare—so Google is clearly still sticking to the sorts of businesses that involve handing over a lot of trust, often known as YMYL (Your Money or Your Life) industries.
You Can Now Report (Some) Reviews on LSAs—Finally
In news that many have been looking forward to, Google has now added the function to 'Report a review' on Local Services Ads. This naturally doesn't include verified reviews (a big part of Google's offering here) but it at least helps to bring some parity between the usual GBP review experience and LSAs.
Yes!!! Finally we can flag/report Google LSA Reviews @keyserholiday @lenraleigh – time to build a dispute bot for this pic.twitter.com/99IrMjtTxz

— Curtis Boyd (@DataBoyd) March 14, 2023
Source: Search Engine Roundtable
It's Now Much Easier to Add and Remove Verticals in Local Services Ads
The interface that allows you to edit, set up and optimize your Local Services Ads has been updated to make it easier to select those that apply best to your business.
JUST SPOTTED!!!! Google Updated The Local Services Ads Interface.

It is now easier to add/remove verticals directly in the LSA interface.

Not sure how I feel about it yet and still exploring.

Check it out!! #PPCchat pic.twitter.com/lRT5P8OWUI

— Anthony Higman (@AnthonyHigman) March 17, 2023
Source: Search Engine Roundtable
That's it for this roundup! For the very latest in local SEO, updates Google Business Profile, and more, don't forget to keep your eyes peeled on our Twitter account!