We all know that Google's not one to rest on its laurels. They consistently push and test the boundaries of local search, the ongoing AI wars being a good example. One area of Google that has changed considerably in the past year is Google Business Profile.
To keep up with the changes Google has been making (including the small matter of the name change), we've given the Google My Business Management 101 course in BrightLocal Academy a complete refresh.
To do this, we took the excellent content that Niki Mosier originally created and enlisted the help of local SEO expert, Claire Carlile, to bring it up to date. So now when you visit the course, you'll see that it has a new name, new lesson videos, and also a new host.
We originally launched the course back in 2021 because we'd noticed that there was lots of advice out there about setting up and optimizing GBP listings, but not a great deal about managing and maintaining them.
Google Business Profile isn't just a one-and-done activity. Understanding how to handle the ongoing maintenance of a GBP listing is key to ensuring you see continual local visibility success. That's why this course goes beyond giving advice on how to simply enhance GBP listings and includes clear guidance on how to manage and maintain them for long-term success.
Throughout the six lessons, you'll learn how to:
Create, verify, and optimize a Google Business Profile listing
Respond to Google business reviews (and generate more of them)
Fight Google Business Profile spam and beat competitors in SERPs and Maps
Report on Google Business Profile success with key stakeholders
Maintain a Google Business Profile listing on an ongoing basis
Here's Claire with a quick rundown of the course:
Enroll today and gain from Niki and Claire's combined experience of digging deep into local SEO and Google Business Profile listings for dozens of different clients. 
Who is this course for?
This course will suit small businesses looking to optimize their own Google Business Profiles, as well as marketers and SEOs that are new to Local SEO and who need to know the basics in order to start serving their local business clients.
How can I join?
Whether you're a BrightLocal customer or not, you can get access to this course, and be among the first to find out when new courses drop, by enrolling for free. Here's how…
If you're a BrightLocal customer, you can access the academy via your BrightLocal account. Simply log in, click 'Learning Resources' at the top of the screen, and select 'BrightLocal Academy' from the dropdown menu.
You'll need to create a free BrightLocal Academy account before you can enroll in the 'How to Create, Optimize and Manage Google Business Profile' course.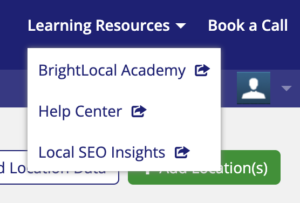 If you're not a BrightLocal customer, you can join BrightLocal Academy for free here and follow the same steps above to enroll on the course.
Want to know more about BrightLocal Academy?
Check out the official BrightLocal Academy FAQs here:
If you have any questions of your own, feel free to get in touch with us or leave a comment below. We hope you find this fresh new course useful, and can't wait to hear how it's helped you improve your local SEO skills.