There's no doubt that website content is key to both ranking high in local search and converting customers. To move up the ranks in search results, you need rich local content that not only meets the searcher's needs but also Google's expectations. 
There are a lot of mixed messages about the best ways to approach this, which can make it difficult to know where to turn and how to get started.
Luckily, we've enlisted local SEO expert, Claire Carlile, to create a brand-new BrightLocal Academy course—How to Create Website Content For Local SEO—to help you.
In this course, Claire looks at important types of local content, such as regional landing pages, service and product pages, blog posts, and evergreen content types.
During the eight lessons, Claire shares her wisdom on: 
why content is important; 
how to match content with searcher intent;
how to use keyword research to inform a content strategy;
types of content to create for the top, middle, and bottom of the marketing funnel;
and what to include on pages to make them successful.
Here's Claire with an overview of the course:
Who is this course for?
This course will suit organizations and businesses looking to build out their understanding of local content strategy and on-page optimization with a local SEO focus. 
How can I join?
Whether you're a BrightLocal customer or not, you can get access to this course. You can also be among the first to find out when new courses drop by enrolling for free. Here's how…
If you're a BrightLocal customer, you can access the academy via your BrightLocal account. Simply log in, click 'Learning Resources' at the top of the screen and select 'BrightLocal Academy' from the dropdown menu.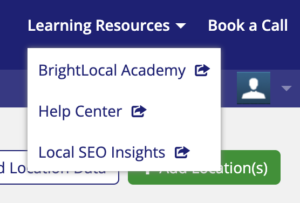 You'll need to create a free BrightLocal Academy account before you can enroll in the 'How to Create Website Content For Local SEO' course.
If you're not a BrightLocal customer, you can join BrightLocal Academy for free here and follow the same steps above to enroll in the course.
Want to know more about BrightLocal Academy? 
Check out the official BrightLocal Academy FAQs here: 
What is BrightLocal Academy, how does it work, and how can I enroll? 
What courses does BrightLocal Academy offer and how long do they take? 
If you have any questions of your own, feel free to get in touch with us or leave a comment below. We hope you find this fresh new course useful, and can't wait to hear how it's helped you improve your local SEO skills.