Please Note: In November 2021, Google retired the name 'Google My Business' and now uses 'Google Business Profile' to refer to the profile searchers see and 'Google Business Profile Manager' to refer to the dashboard used to manage the listing.
Ranking for local searches requires focus on a combination of different local SEO factors. But with Google's local algorithm relying on so many different signals, it can be hard to know where to spend your time to maximize your chances of ranking highly. 
This is where our Local Rank Tracker tool (or just 'Rank Tracker' for short) comes in. Not only does it make it easy to know where your business is ranking online, but dig a little deeper and you can uncover a world of useful information that can help you to make faster and smarter decisions.
In this post, I'll be revealing how you can use Rank Tracker to spot and seize opportunities to claim more local search traffic, as well as to get the data you need to prioritize the keywords that matter and fuel the right optimizations. It's just one of the key tools you'll be mastering when you learn how to use BrightLocal.
Let's jump in!
1. Compare local keyword search volume
Keyword research is an essential part of local SEO. It allows you to make sure that you're focusing your time and energy on the search terms that potential customers are actually using.
Our keyword rank checker is a great place to sort keywords by search volume, so you can see exactly where the biggest opportunities lie for your or your client's business.
When setting up a report, you'll have the opportunity to add a list of validated keywords or search terms that you want to rank for.
Once your report has run, you can reference the 'Volume' column (see below) to see which keywords have the highest search volume, and therefore the highest traffic potential. 
(Quick note: search volume estimates are only available on our SEO Pro plan)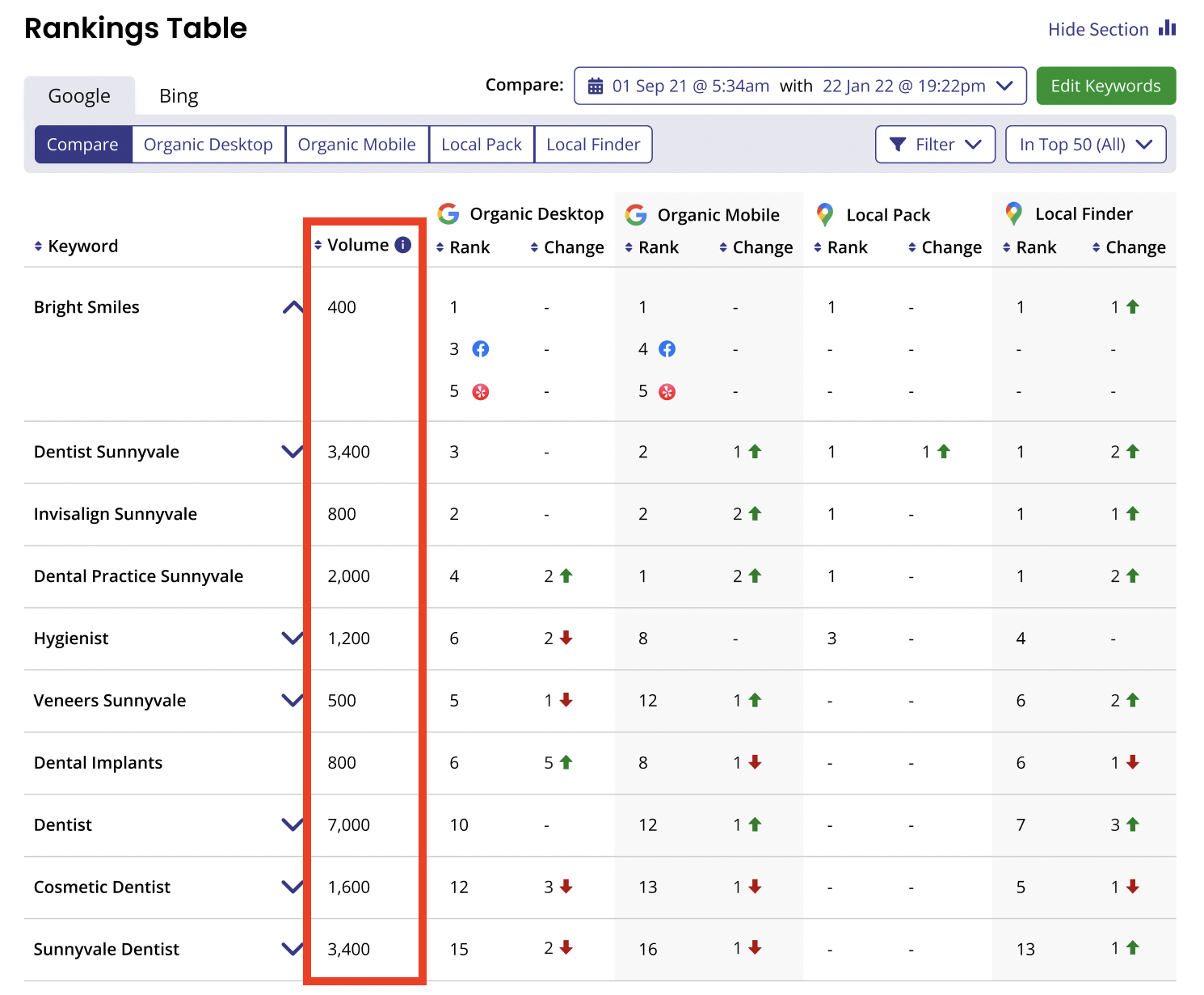 You could also look out for keywords that are the most profitable to your business despite having lower search volumes. For plumbers, these could refer to more expensive procedures like 'boiler repairs,' or for dentists they could be 'cosmetic dentistry' or 'dental implants'.
2. Discover where there's potential to reach the Google local pack
As well as helping you to understand keyword search volume, Rank Tracker is also useful for learning if a keyword or search term has local pack potential. 
Google's local pack might have a greater impact on certain businesses and industries than others, but it's valuable to any business looking to strengthen its visibility and engage with a local audience. (In fact, according to one of our studies, the local pack attracts 32% of clicks when Local Services Ads aren't present.)
Not all keywords or search terms display a local pack, but knowing which ones do could have a bearing on what you end up targeting.
In a Rank Tracker report, there's a 'Local Pack Coverage' metric. This tab reveals how many of your tracked keywords display a local pack in Google, and importantly, how many of those local packs you're claiming.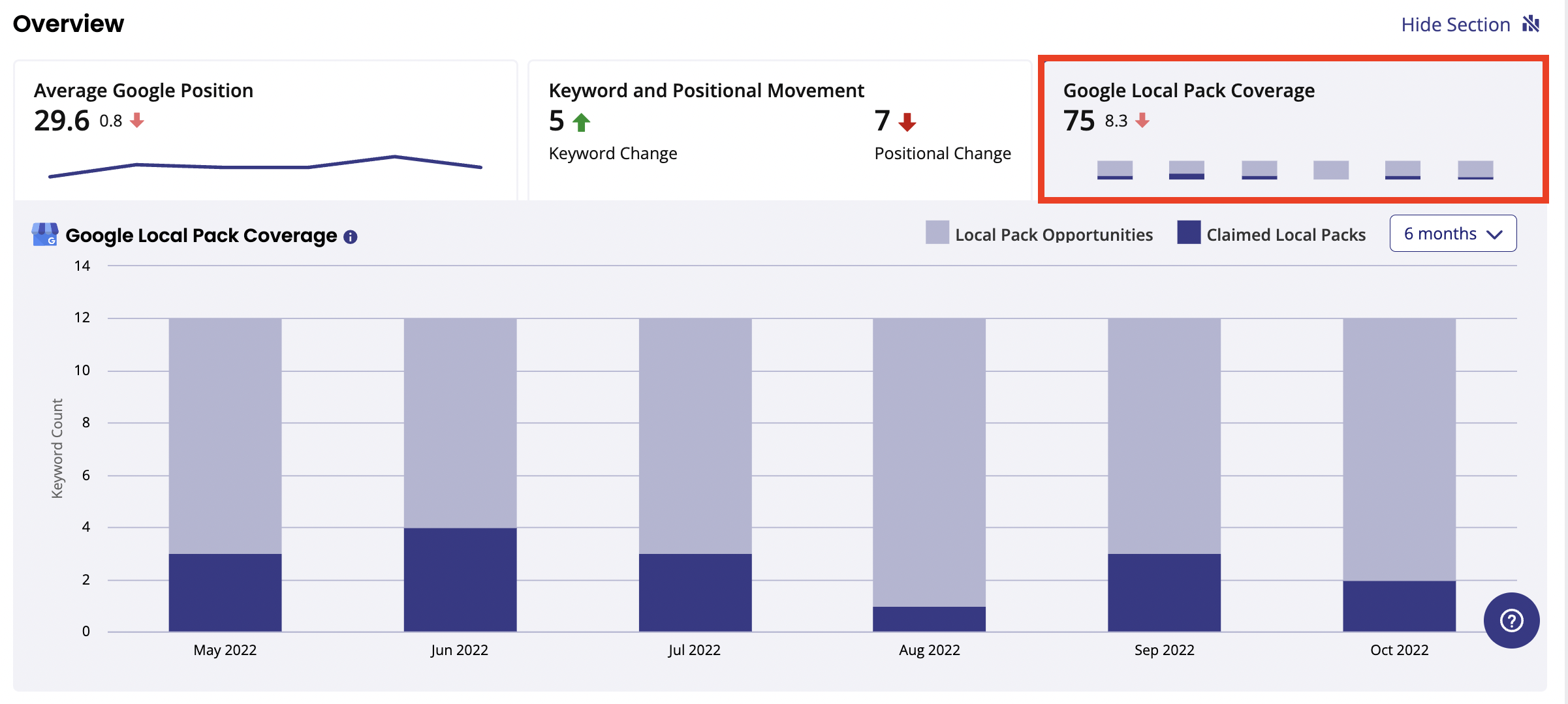 This pairs well with our recently added 'Local Pack' tab in the Rankings Table where you can quickly see which local packs you've already claimed, which you might have lost, and which you need to target.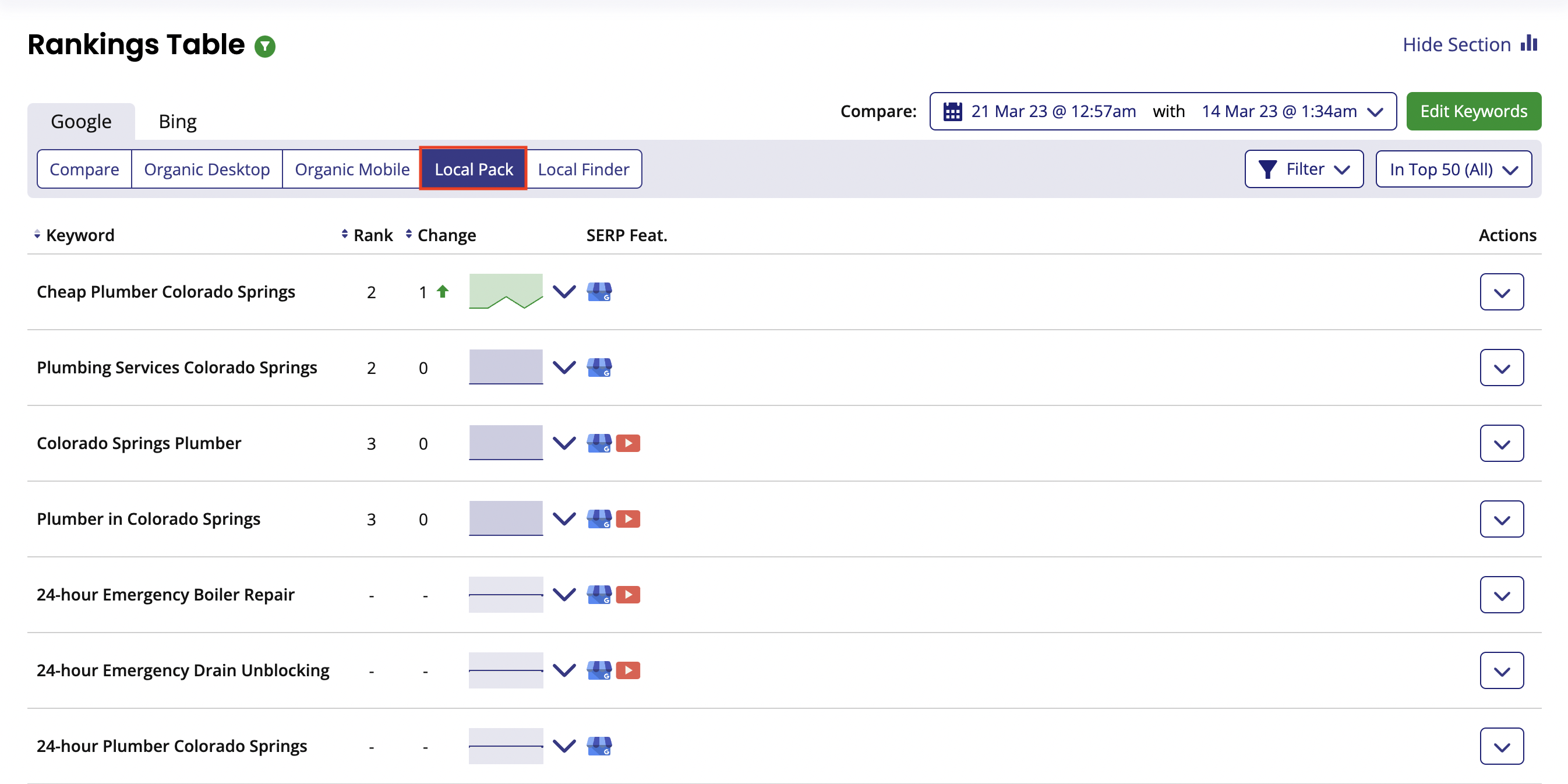 If you want to see a live view of the search results page for that keyword, and the local pack, you can click on the arrow in the 'Actions' column and then on the 'SERP page' in the popup. 
This is a good way of finding out what's ranking right now, but if you go back to the popup and click on 'SERP Screenshot' you'll be presented with a screenshot of the search results page as it appeared at the time that the report was run.
This is useful for learning who was previously ranking for important keywords, and highlighting any businesses that you may never have heard of and wouldn't have thought to track as a competitor. (I'll share more on competitors later on.)
3. Learn if the right web pages are ranking for the right keywords
It's always a good idea to check which pages on your website are actually ranking for the keywords that you've chosen. 
Why? Well, you might discover that your 'About Us' page is ranking for one of your targeted keywords keyword instead of the dedicated page for that service, which isn't going to give your potential customer a great user experience or the information that they're looking for. 
By clicking on the URL next to a keyword in either the Organic Desktop or Organic Mobile tabs you can find out which page on your website is ranking for that keyword.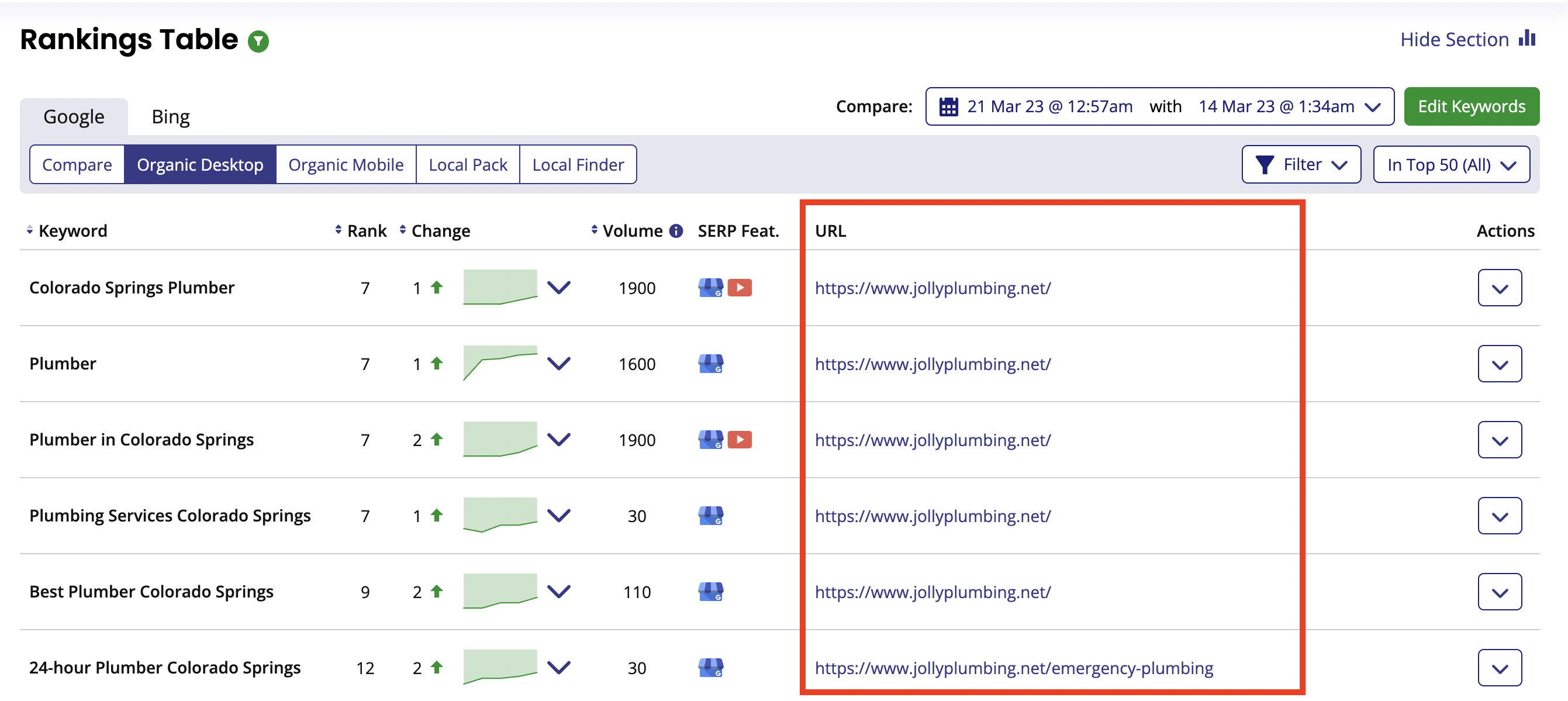 If you discover that the wrong page is ranking, you'll want to look into how you could get the more relevant page to rank instead. Has the page been optimized well enough? Are the right keywords in the page title and web copy? If they aren't, then you might want to go and do that. If they are, then you'll need to investigate what else might be holding this page back, such as lack of quality backlinks.
4. Notice changes to keyword rankings
The popularity of search terms and keywords that potential customers are actually using to find your services or products is always changing, so if you want to maintain or improve your rankings then keeping up with them is important. 
By checking the 'Change' column in a Rank Tracker report, you can learn which keywords have moved up or down in ranking position since the last time the report was run.
A green arrow pointing up means a keyword has increased in ranking and a red arrow pointing down means the ranking has dropped. A grey dot means the ranking has stayed the same. 

Armed with this information, you'll know which keywords to continue focusing your attention on, and any pivots you might need to make to rank for different ones. 
For example, if you notice that a keyword you were previously ranking well for has dropped and another keyword has increased, you might want to change your focus from the one that's dropped onto the one that's increased.
If you want to dig a little deeper to learn how an individual keyword has changed position over time, you can click the mini chart next to the keyword in the search engine tabs. 
You can see below that, in December, the keyword 'Colorado Springs Plumber' dropped from position seven on Google Mobile down to 10, and then later jumped up to position eight.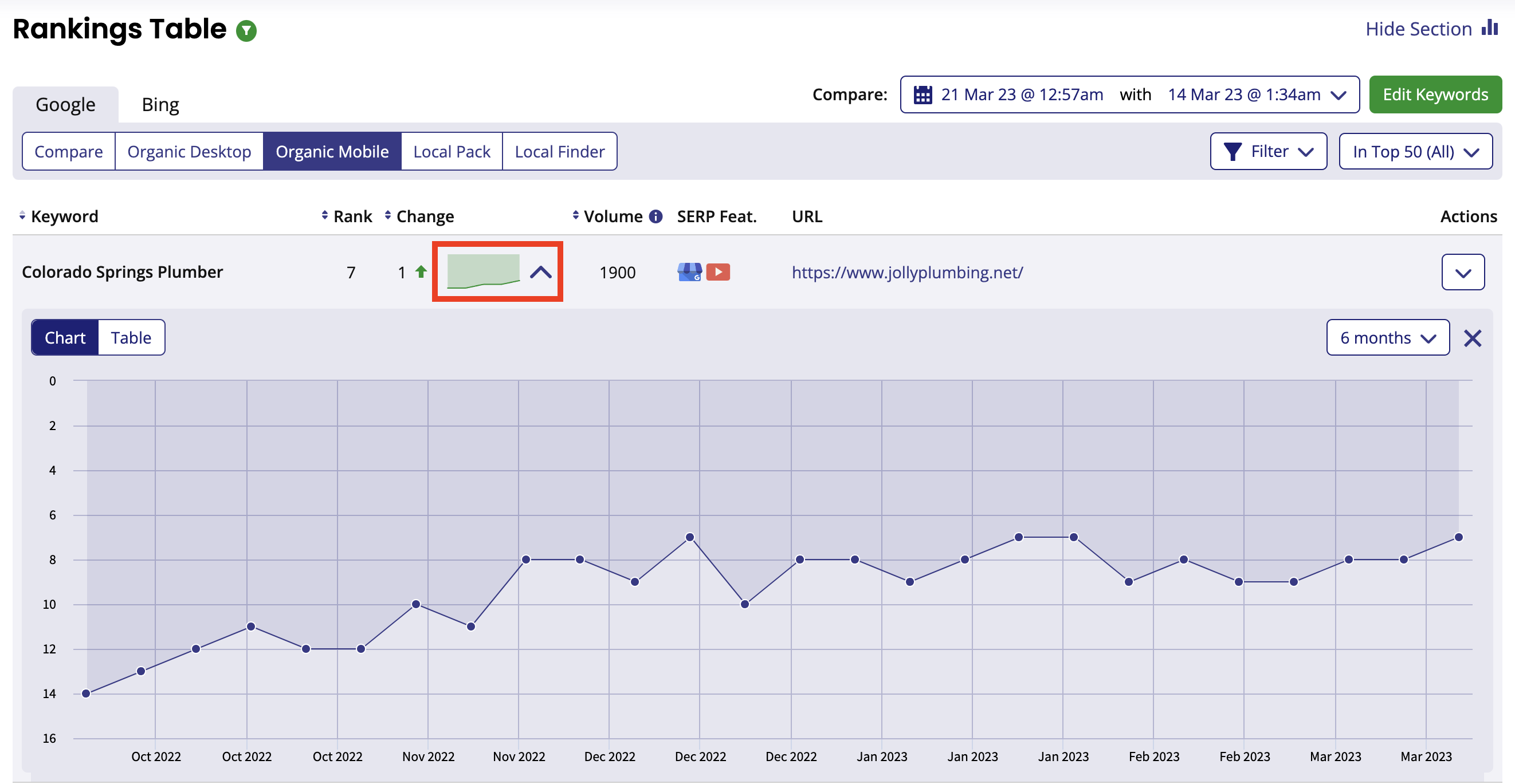 This is really useful data to help you figure out what you might need to do to improve each individual ranking and also react to any instances when a keyword might have dropped or improved. 
5. Identify keyword groups worth targeting
As the name suggests, the section called 'Keyword Groups' in a Rank Tracker report allows you to group keywords together. This is useful if you need to get a better understanding of how keywords on a similar topic are ranking. 
For example, let's say this plumber wants to understand how well they're ranking for two of the main services they offer: boiler repairs and drain unblocking. They could group all of their keywords for these two services into two different groups and make the information that they need easier to understand.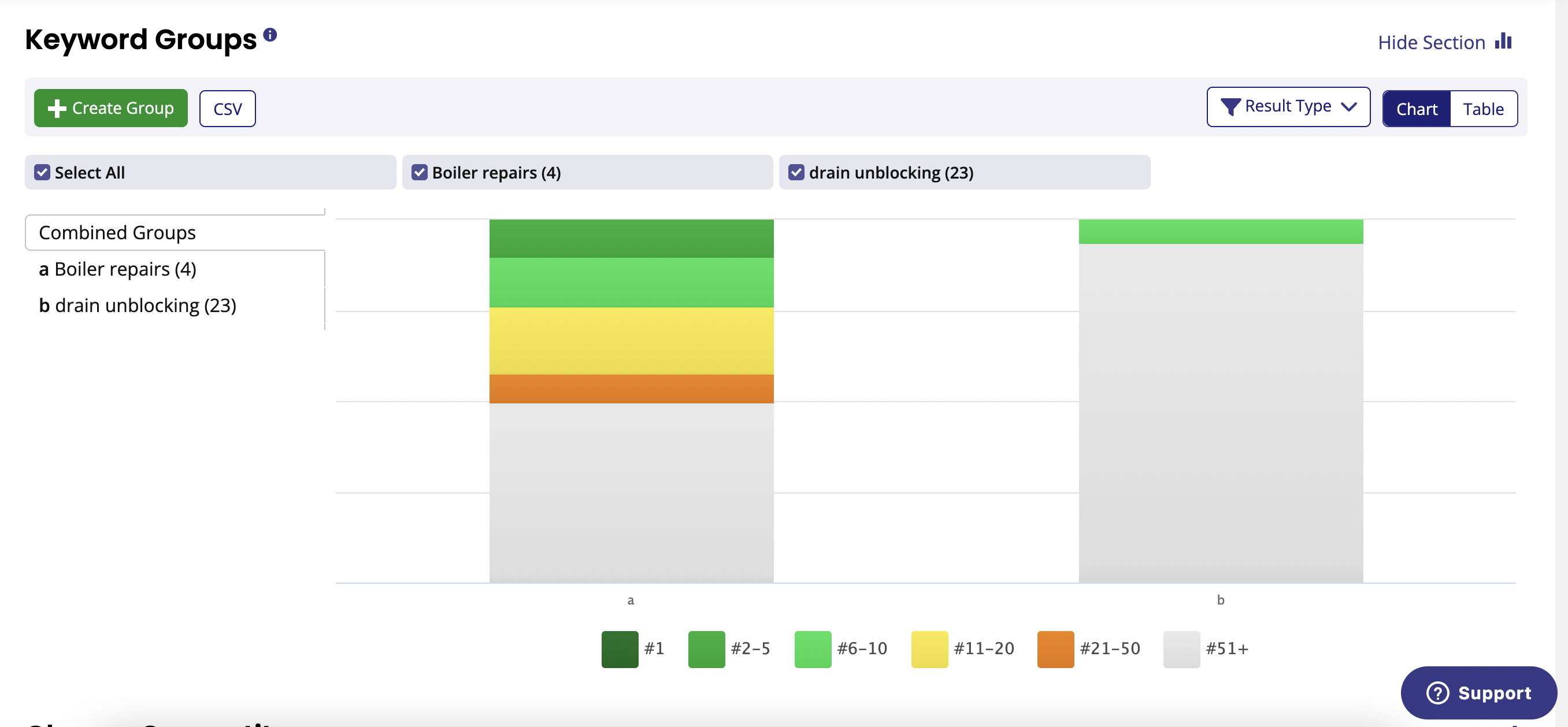 If they noticed that one keyword group wasn't ranking as well as the other, they could look at whether they're actually creating content that targets these specific keywords.
If they're not, they could create dedicated landing pages for it, optimize existing content around these keywords or look at Google My Business and determine if this is a primary category they want to consider using there.
6. Benchmark competitors
Our Google rank checker doesn't just tell you how your business is performing, it also measures the performance of your competitors.
When you set up your report, you can add any competitors that you want to track. The data that we gather will be shown in the 'Chosen Competitors' section (see below) and is super-useful for understanding how your business compares to your competition for different keywords and on different search engines. 
For example, this plumber is ranking in 13th position for the keyword 'Cheap Plumber Colorado Springs' in Google, but one of their competitors is occupying a spot in the local pack.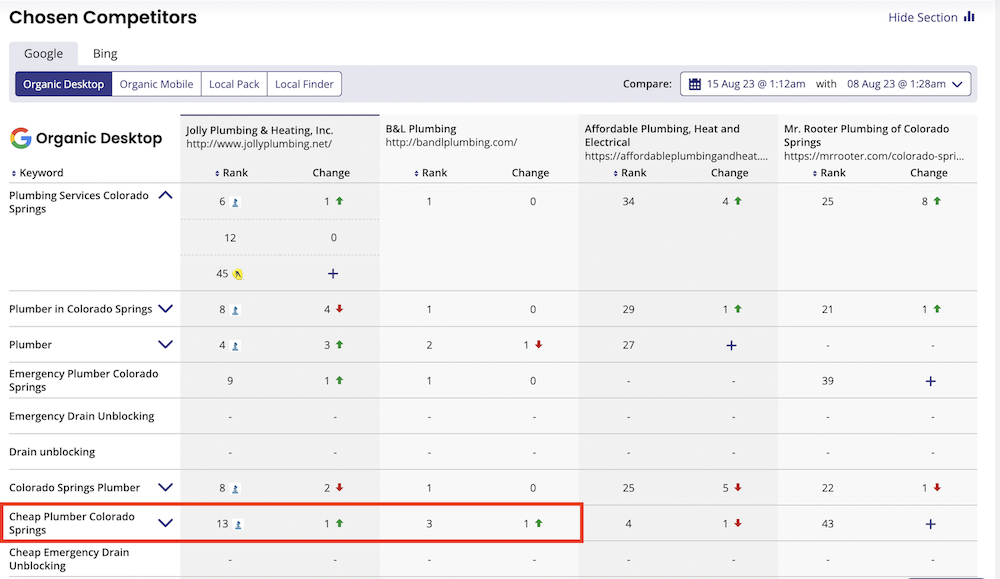 If you spot something similar in your own report for an important keyword that you want to go after, you're going to need to investigate what your competitors are doing that you're not. Luckily, there are a variety of tools that you can use to do this in BrightLocal, such as Google Business Profile Audit, Citation Tracker, and Local Search Audit. 
7. Identify how well your site is working on mobile
According to Google, more than 50% of local searches take place on mobile devices. This is why Google has spent the last few years extending mobile-friendliness as a ranking signal and experimenting with mobile-first indexing, which is where Google uses the mobile version of the web page for ranking and indexing purposes.
If your website isn't offering users a mobile-friendly experience, your rankings may be much lower on mobile than they are on desktop. This is one of the reasons why mobile and desktop search results are split out in our Rank Tracker report.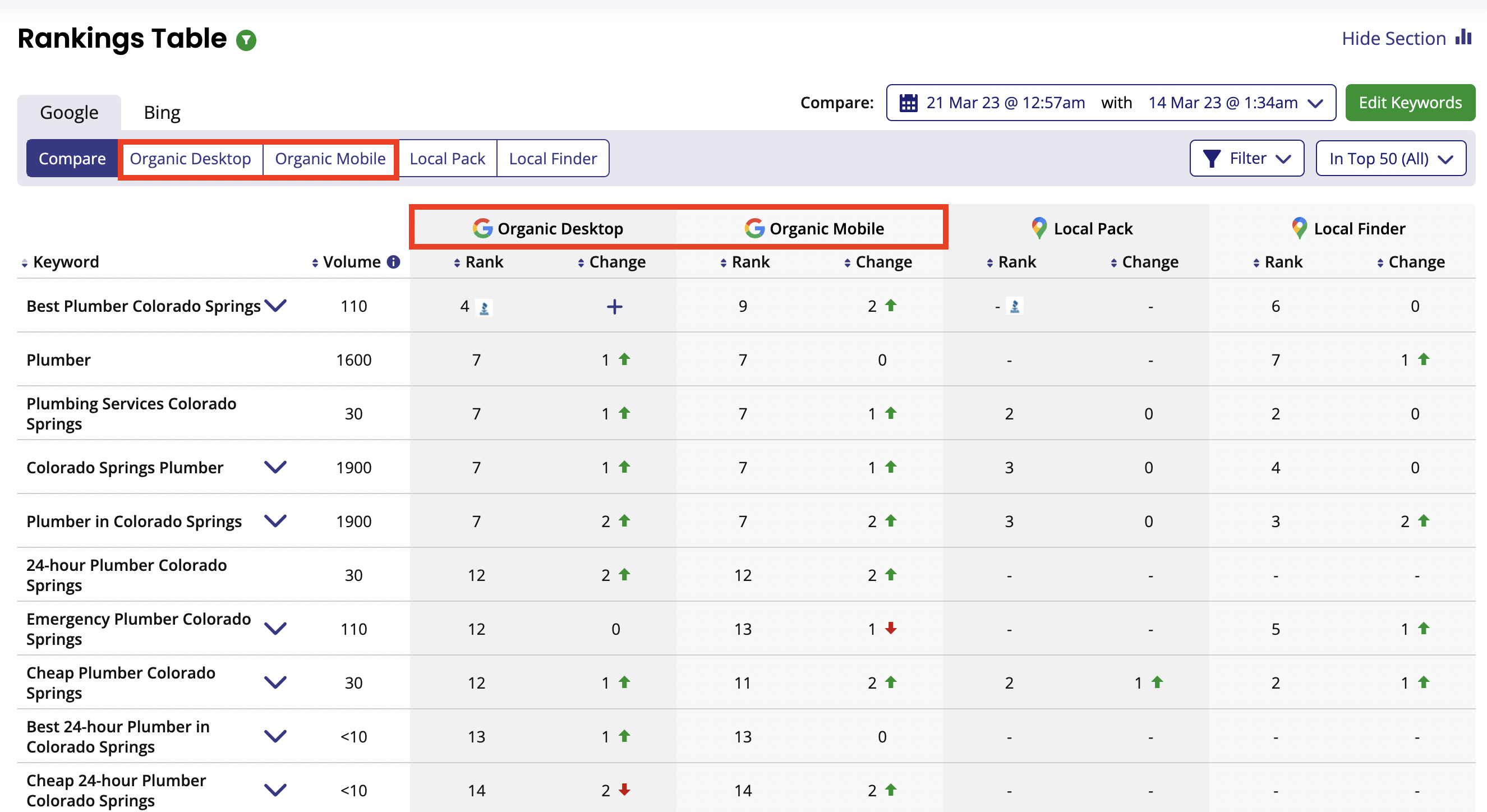 If you want to check whether or not your website is mobile-friendly, you could use Google's free mobile-friendliness testing tool. Simply submit your website URL and, once your website has been analyzed, Google will send you an easy-to-read report about your site's mobile-friendliness, as well as additional resources to help you learn more.
(Quick note: Google mobile rank tracking is only available on our SEO Pro plan)
8. Report success to clients and stakeholders
We know that it's often hard to communicate the impact of your efforts to clients and stakeholders. 
With reports created by our rank tracker, this couldn't be easier. For starters, they can be white-labeled, meaning that you can customize them with your own company's logo and branding to create a slick and seamless brand experience.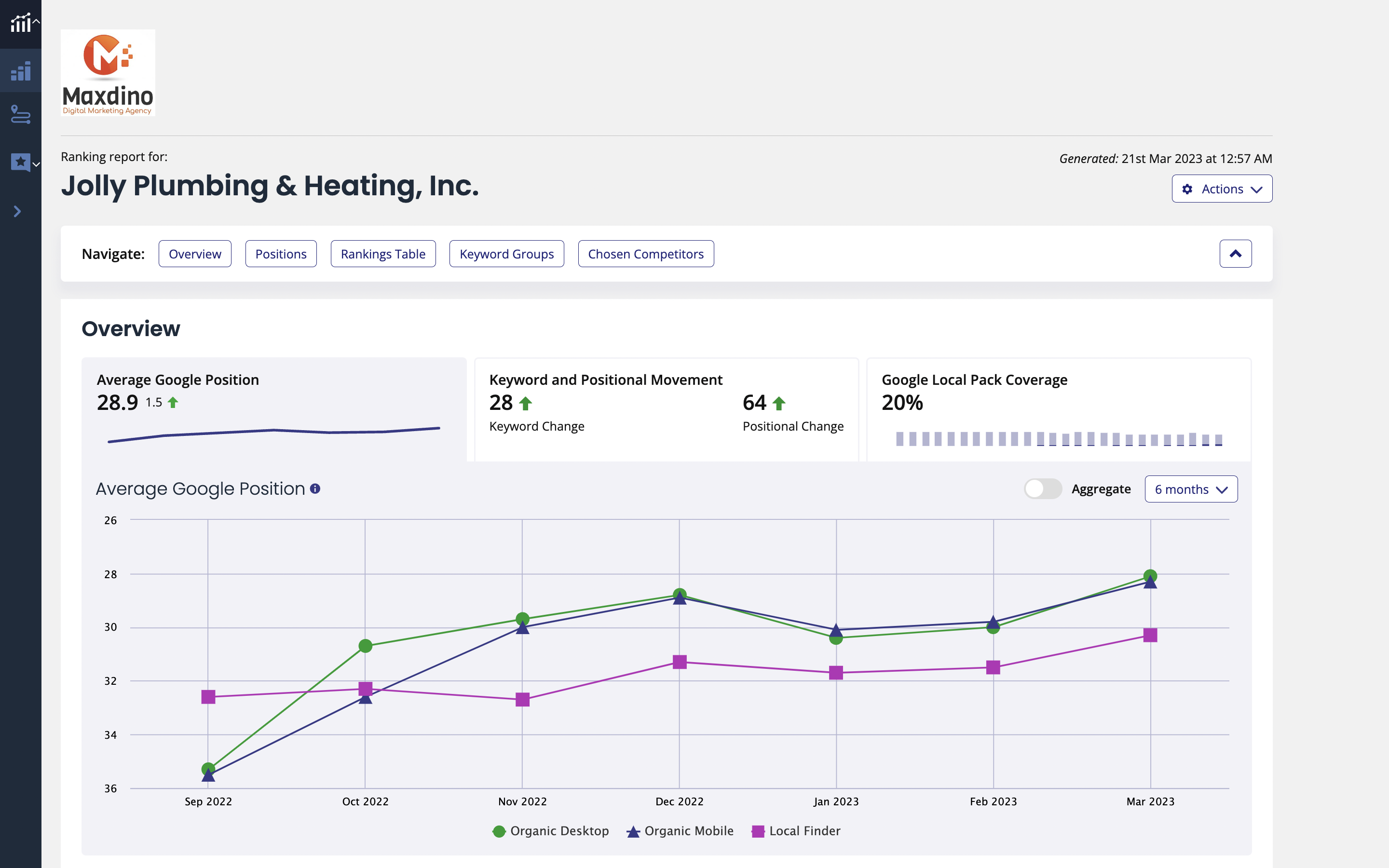 You could take things a step further by automatically sending your clients the latest branded reports each week or month, as well as downloading CSVs or PDFs of reports to include in performance meetings and other business settings.
If you're managing multiple locations or franchises and need to see your complete ranking performance in one place, roll-up reports allow you to aggregate data from multiple Rank Tracker reports into one overview report. Handy, right?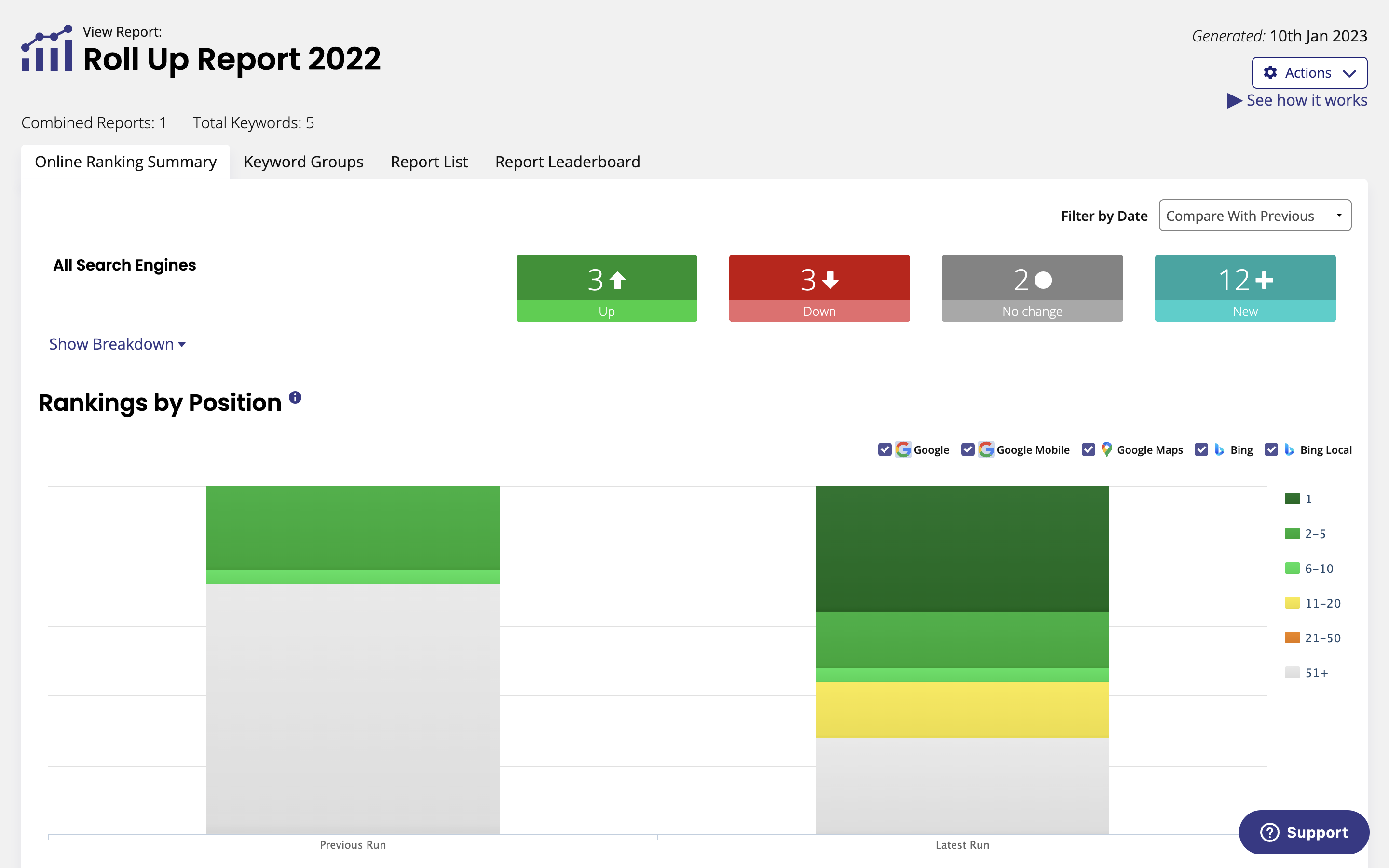 So that's it! Eight ways that Local Rank Tracker will help you uncover better insights so you can make smarter and faster decisions. 
We know that our customers have plenty of innovative ways to take advantage of this great tool. If you'd like to share your own tips and hints, head to the comments and tell us how you're using Rank Tracker, or email us if you've got a particularly compelling story to share.
Want to give Local Rank Tracker a whirl? Grab a 14-day free trial and see what's possible.