What is the link between online reviews and local SEO? Below, we'll clarify exactly the impact reviews can have on search rankings.
Over the last few years, online reviews have become a non-negotiable part of every local business owner and marketer's arsenal. The volume of review sites has grown significantly and the rate at which consumers are writing and referencing reviews is also growing exponentially.
Reviews help people decide which products or services they should buy, where they should travel and even where they should eat. Reviews have slowly become an integral part of business on the internet, meaning that online reputation management is more important than ever.
Numerous studies have been carried out to help determine the exact impact that both positive and negative reviews have on the popularity, number of sales, product awareness, conversion rate and profitability of businesses selling products or services.
But there's more to it than that: as reviews have grown in importance, they have also started to infiltrate search engine algorithms and impact on search positions for both local rankings and general results. In fact, the importance of reviews for SEO can't be underestimated.
Before we delve into the link between online reviews and local SEO, let's quickly recap how reviews can directly impact your bottom line:
The business benefits of reviews
Having four and five star reviews shows your business can be trusted to deliver on its promises. This means consumers are more likely to choose you over competitors.
Having numerous positive reviews increases the likelihood of convincing customers to pay more money for products or services. In fact, studies have shown that consumers are likely to spend around 31% more on products and services from businesses that have excellent reviews backing them up.
Studies also show that having a four or five star review on your Google My Business profile increases clickthroughs , so reviews deliver more traffic to your site, too.
More than seven in ten consumers trust an online review as much as they would a personal recommendation, making reviews as powerful as word-of-mouth marketing for growing your business.
A study by Harvard Business Review suggested that improving the average review rating on Yelp by one star could lead to 5%-9% increase in revenues.
The impact of negative reviews on your business
Negative reviews can be damaging to the prestige, profitability, and trustworthiness of a business.
A single negative review can drive away approximately 22% of customers, whereas around three negative reviews can drive away 59% of customers.
A single negative review could cost your business customers, with 40% of consumers saying reading a negative review makes them want to take their cash elsewhere.
People hesitate to purchase from businesses with no reviews.
Research has also shown that around 86% of potential customers will not purchase products or services from a business with negative reviews. In the unfortunate case that these negative reviews pop up in Google searches, a business can potentially lose around 70% of its future customers.
In an era where the internet has taken over the world, online reviews are bound to drive customers either towards or away from your business. Making customer satisfaction an essential part of your business can only help your company's sales and profitability.
Do reviews affect local SEO rankings?
Yes, search engines will factor in your review profile (including quality and quantity) when calculating your search position. We have established that consumers love reviews and in many cases, use a good or bad review to validate their decision to do business with you or look elsewhere. Search engines also take a similar stance.
It should come as no surprise that reviews and SEO are closely linked because they have much the same objective. A search engine wants to help its users to find the right product, service or information in the timeliest manner possible. Reviews serve to separate the good from the bad and help consumers find the best local business for their need.
Think of reviews as crowd-sourced recommendations—a four or five-star review tells a search engine that they can confidently show that business in a premium, high-visibility location.
Reviews and SEO
According to the Local Search Ranking Factors Survey, review signals make up 16% of the search engine decision-making process when it comes to local pack rankings. When factoring reviews into algorithms, experts say that metrics such as the number of reviews a business has, the velocity of reviews, and the diversity of reviews received are all taken into account. And reviews are only growing in importance, having gone up from 13% to 16% since 2018.
Having reviews on a number of review platforms, lots of positive sentiment within the reviews, and having product and service keywords within the text of obtained reviews were also identified as being competitive difference-makers by a panel of local search experts.
Are Google reviews important for SEO?
A number of studies have confirmed a definitive link between the volume and quality Google reviews and local SEO rankings. Local SEO Guide's study of local SEO ranking factors concluded that reviews were the single most important factor, with the research stating,
"The prominence of reviews isn't particularly shocking, as it's a way for Google to crowd-source ranking factors, it's hard to spam, and the most problematic type of abuse is illegal."
The data shows that if you're trying to rank well in local search, your business is likely to achieve higher positions if you have plenty of reviews, with both the city and keyword you wish to rank for included.
Google will no longer allow anonymous users to leave online reviews for businesses. When it took steps to enact this ban, research by Joy Hawkins revealed that those businesses with reviews removed fell down the rankings a few days later. This suggests that the number of reviews you have directly influences where you rank.
Many studies suggest that click-through rate also affects search position and reviews can be said to score a direct hit here, too. If you've ever asked yourself, "do online reviews matter?" Yotpo studied 30,000 businesses who just started to factor reviews into their marketing strategy for a period of nine months to answer that very question: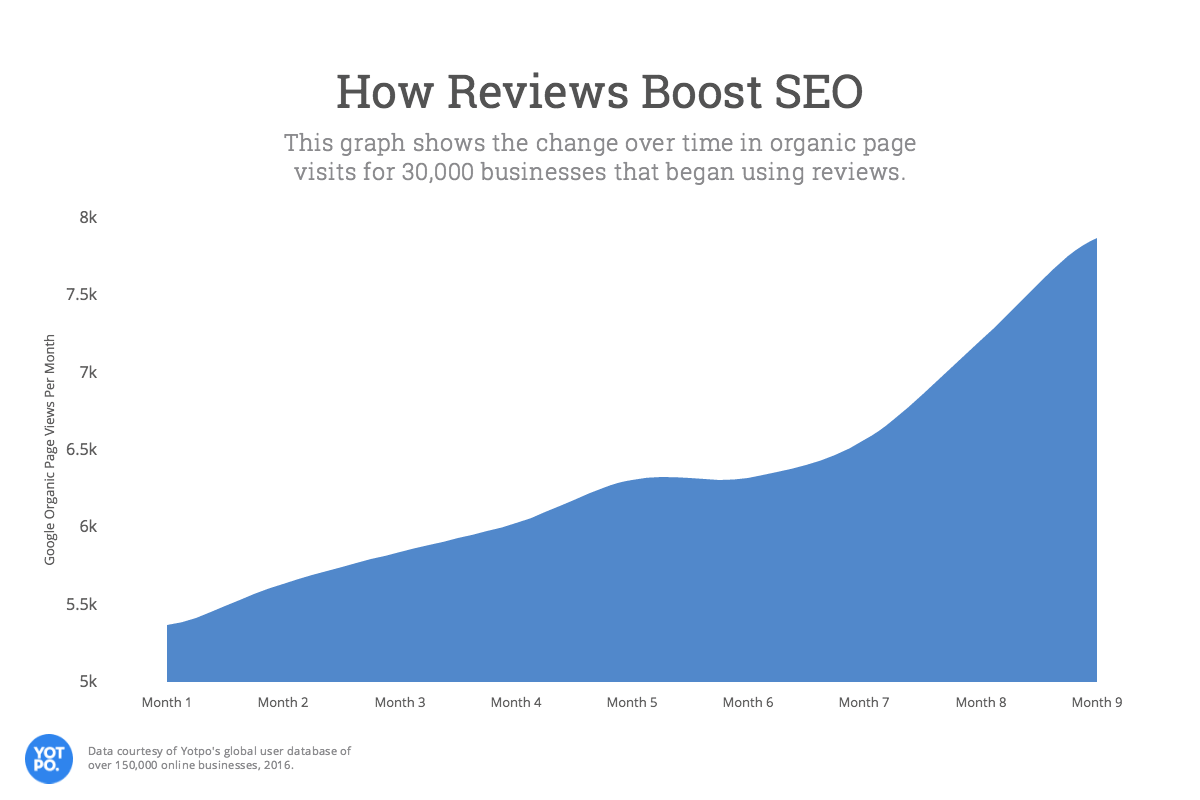 You can see from the graph above that introducing reviews had a huge impact in organic page visits.
Reviews feed the SEO bots
If your online reputation strategy is on point, you'll be acquiring fresh reviews on a regular basis. If you've ever spoken with an SEO consultant or worked with a local SEO agency, you'll know that fresh content is the lifeblood of SEO fuel—that's why you're constantly being encouraged to write blog posts, create new landing pages, and invest in content marketing.
Reviews work in a similar way. When you acquire them regularly, they provide a constant influx of fresh content for the search engine spiders to digest. If those reviews are being posted on authoritative platforms, such as Yelp, Google My Business and TrustPilot, all the better.
Reviews can also tick the quality box for good SEO
Building better search rankings isn't just a case of impressing the automated bots. Google also relies on its human quality control team. This makes strong reviews an even more valuable SEO tool, as Yotpo explains;
"Automatized search engine algorithms use spiders that look for customer content product reviews and testimonials to evaluate a website. Additionally, human teams known as search quality raters manually evaluate a site's reputation, looking for aspects like expertise, authority, and truth, all of which are gained through excellent customer content. Content written by customers gives sites legitimacy and it earns SEO juice both from manual and automatic rating systems."
How do negative reviews impact your SEO?
Given all of the emphasis placed on obtaining as many good reviews as possible, and the certain knowledge that reviews contribute to your search position, it would be easy to assume that negative reviews would cause a tumble in rankings and should be removed. This actually isn't the case, and the odd negative review on its own will not lead to a loss of position.
Google's Search Quality Evaluator Guidelines specifically states that raters should not be swayed by one or two poor reviews:
"Be skeptical of both positive and negative user reviews. Anyone can write them, including the creator of the website or someone the store or business hires for this purpose…

"When interpreting customer reviews, try to find as many as possible. Any store or website can get a few negative reviews. This is completely normal and expected. Large stores and companies have thousands of reviews and most receive some negative ones. It is also important to read the reviews because the content of the reviews matter, not just the number.

"Credible, convincing reports of fraud and financial wrongdoing is evidence of extremely negative reputation. A single encounter with a rude clerk or the delayed receipt of a single package should not be considered negative reputation information."
Reputation Management and SEO
When we bring all of this detail together, there's a very clear case to implement a review strategy for SEO purposes, it should be equally clear that reviews are crucial to achieving other business goals such as building credibility, establishing trust and making sales.
Why Use BrightLocal for Local Business Reputation Management?
Here at BrightLocal we recognize the need for local businesses to have stellar review profiles in order to continue to compete. Online reviews and feedback are becoming much more prominent in search and other areas, so building a trustworthy reputation and keeping that customer love is more important than ever.
That's why we've developed online reputation management tools that allow you or your clients to generate, monitor, and showcase online reviews in a smooth, seamless, and successful way.
Reputation Manager is competitively priced, full-featured and easy to use. Learn how to revolutionize your online reviews with Reputation Manager today.