Research shows that Google is the fastest growing online reviews platform in the world and is acquiring new reviews at a much quicker rate than its closest rival, Facebook. As a local business owner, it makes sense that you'd want to grow your Google My Business reviews. After all, the search engine handles the majority of search traffic so having five-star ratings appear directly in the search results can only be a good thing for your online reputation.
Google has been allowing customers to leave reviews for local businesses for over a decade. The volume of Google My Business reviews you collect is a known SEO ranking factor. Online reviews also occupy an important place in the consumer psyche, with over seven in ten consumers admitting to trusting a business more if it has strong online reviews, and around half refusing to buy from a business with a rating lower than four stars.
If you're able to build up a store of Google reviews and demonstrate a steady influx of four-star-or-above reviews regularly, consumers are more likely to choose your business over a competitor.
So we know that Google reviews help to build trust and give your brand credibility, but why else are they so important and how do you approach the imposing task of encouraging customers to leave a positive review for you? Let's take a look…
What is Google My Business?
If you are new to Google My Business—and many companies still haven't claimed or optimized their Google My Business listing so you certainly aren't alone if you are—it might help to hear more about it straight from the horse's mouth:
Google My Business is a free and easy-to-use tool for businesses and organisations to manage their online presence across Google, including Search and Maps. By verifying and editing your business information, you can both help customers to find you and tell them the story of your business.
The Google My Business platform additionally provides an interface to manage how your business information appears across Search and Maps.
Formerly known as Google Places, Google My Business allows local customers to leave reviews for businesses (alongside a whole other host of features!) These can be accessed from the business's Google My Business listing in search results, or in Google Maps.
Google My Business reviews are closely tied to local pack search positioning, with research determining that the more Google My Business reviews you are able to accrue, the more likely you are to occupy positions 1 through 3 in the local search results.
Why is it important to get more Google Reviews?
Over in our guide on how Google Reviews work, we shared that in more than 60% of cases, the local business boasting the greatest number of Google customer reviews will secure the top spot in the local search results. Likewise, if you lose reviews or fail to collect any, your ranking will decrease so you'll be less visible to local search users.
You'll also need around eight or more reviews to rank top, so the effectiveness of your Google reviews strategy will directly impact on how visible your business is in local pack results.
So why does this matter? We studied the impact of reviews and ratings on search click-through rates to better understand the importance of Google reviews from a search perspective. Turns out, you'll get 25% more clicks if you have a five-star average review rating showing on your profile than a three-star average review rating, and 39% more clicks for a five-star average review rating versus one-star.
Those businesses with five-star average review ratings also receive the lion's share of clicks from search users, taking 69% of clicks from the local pack overall. If you have no reviews, you can expect to record 28% fewer clicks than a rival with a five-star average review rating.
As we have already seen, consumers also expect to see reviews when they search. Reviews indicate that a business can be trusted, helping consumers to be more confident in their decisions.
How to get reviews on Google
In a perfect world, consumers—recognizing their own desire for reviews when they shop—would leave a review for local businesses with no prompting or requests required. Of course, this often isn't the case, so you will need to know how to get Google reviews without falling foul of Google My Business policies concerning review gating.
Google will remove reviews that it considers to be fake, spammy or in violation of its content policies, so rather than wasting your time trying to shortcut your way to local business reviews, read on to see our top ways to generate more Google reviews the right way.
1. Fold Google My Business reviews into your process
As much as Google reviews benefit your brand from a search perspective, they're also incredibly useful tools for staff training and product development. You can use the comments submitted within a review to improve the overall customer experience and pinpoint consistent niggles or customer favorites over time.
This will allow you to steadily improve your offering, making changes when needed, to further cement positive relationships with your customers. These benefits can only be accessed, however, when you make a review request a standard part of your process whenever you close out a sale with a customer.
2. Use a variety of methods to request Google reviews
There are plenty of ways to ask for reviews. Some local businesses ask customers who visit the business to leave feedback while on-site using tools such as Kiosk Mode, while others focus on driving reviews using Reputation Manager's Link Mode to capture feedback from receipts, via SMS, on your website, or beyond. Google has also recently relaunched their Marketing Kit, allowing local businesses to create social posts, posters, and stickers from existing reviews, as well as helping to get more Google reviews.
When you hit on a request method that results in a quick spike in your local business reviews it can be easy to become reliant on that method alone. Try not to get stuck in this mindset as it can mean you're not reaching some customers—just because one customer clicks on a standard email request, it doesn't mean the next one will. Try phone calls and face-to-face requests, too, to ensure that you're using a variety of communication channels.
3. Don't assume your customers know how to leave a review
It's a mistake to assume that your customers will know how to leave Google reviews simply because they found you via the search engine. Provide an easy-to-follow guide on your website and/or within your review request, with screenshots and easy-to-follow instructions for anyone not familiar with Google reviews.
4. Respond to all customer reviews
Once your reviews start to grow, setting aside time to reply to all of the feedback becomes more important. When you have the odd review, it's easy to quickly respond, but if your review generation strategy is successful and your reviews grow in number, it's useful to set aside a fixed period of time each day (such as first thing in the morning or right before the afternoon coffee break) to respond to the latest reviews.
The speed with which you respond to a review, and the number of reviews with responses, has been shown to be a local pack ranking factor. It also demonstrates to others who may be considering leaving a review that their feedback will be acknowledged and appreciated.
It's much harder to respond to negative reviews than it is to deal with glowing recommendations but that shouldn't put you off leaving a polite, professional response that contextualizes feedback for future readers.
Asking for Google reviews: Dos and Don'ts
Do: be timely with your request for a review. Aim to request a review right away and a max of three or four days after the customer buys or books with you. Don't leave it weeks as you run the risk of the customer's enthusiasm for their experience waning.
Do: provide precise instructions to walk your customer through the review process.
You can use the following example as a template for your own set of instructions:
1. To leave a review you must first be signed in to your Google account. When you pull up a Google search you'll either see a blue 'sign in' button in the top right-hand corner or a round circle. If the 'sign in' button is showing, you can use your Gmail details to sign in.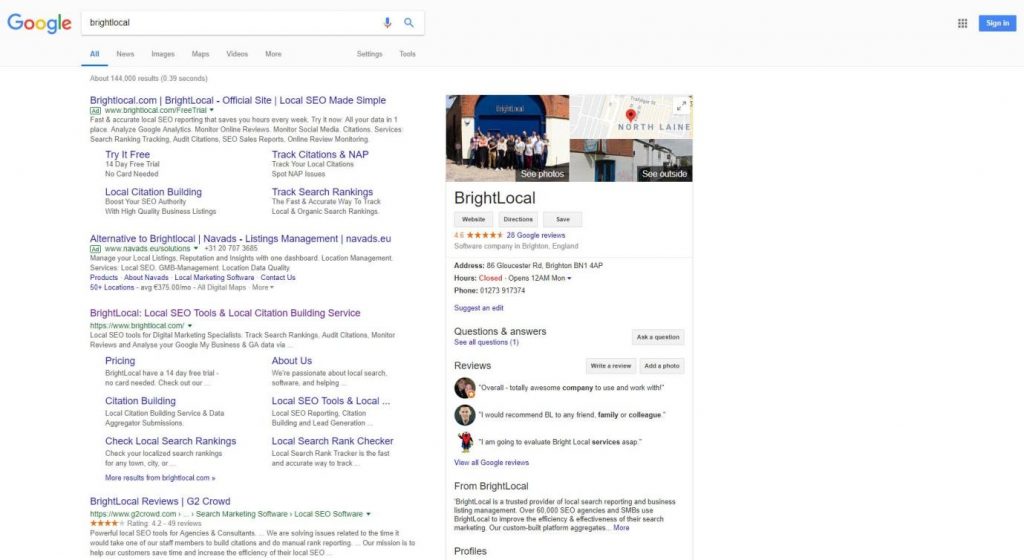 2. Alternatively, search for the company name in Google and click on 'Write Review'. If you aren't already signed in, a window will prompt you to do so.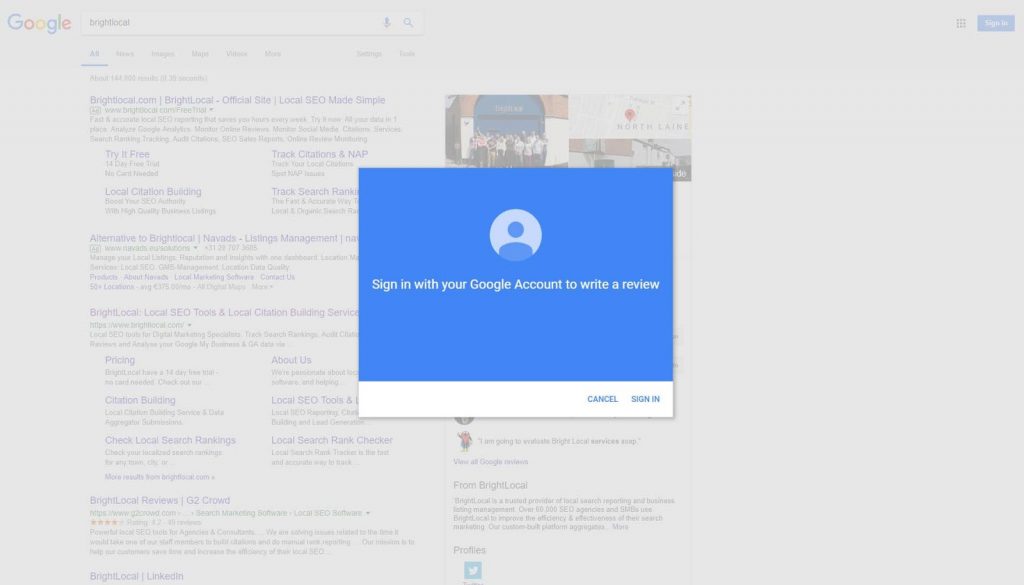 3. Once you are signed in, you can click to assign the appropriate star rating and then type your comments. There's also an option to add images if required.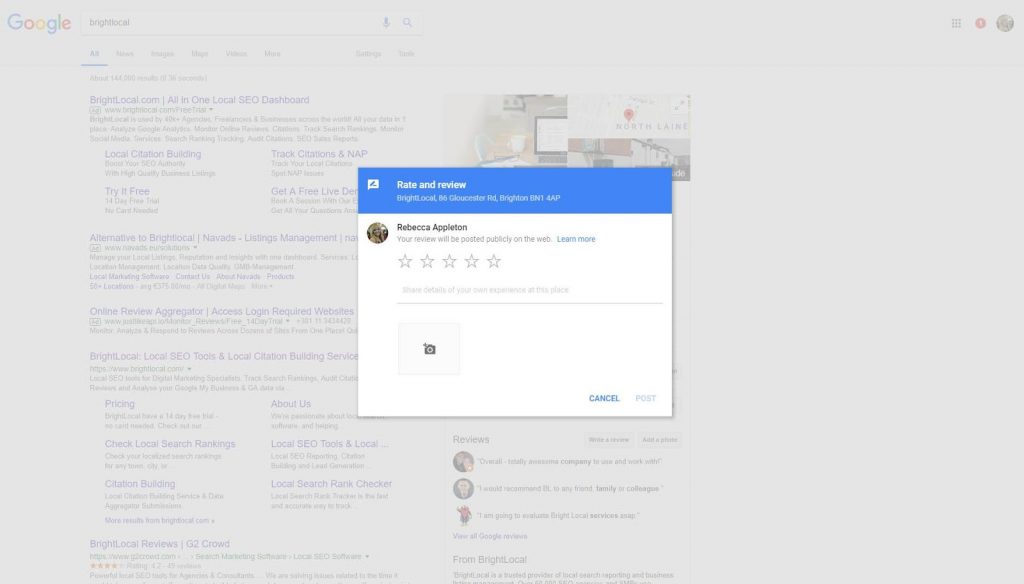 Don't: be afraid to send a link to your review page. To make it even easier, you can send a link directly to your review page to clients. You can do this simply with our free Google Review Link and Place ID Generator.
Don't: neglect other review platforms. While Google reviews are important, it's wise to maintain a well-rounded review profile by also encouraging reviews across other review sites that are relevant to your business. Find out in our guide how you can grow online reviews across other reputation management platforms.
Why Use BrightLocal for Local Business Reputation Management?
Here at BrightLocal, we recognize the need for local businesses to have stellar review profiles in order to continue to compete. Online reviews and feedback are becoming much more prominent in search and other areas, so building a trustworthy reputation and keeping that customer love is more important than ever.
That's why we've developed online reputation management tools that allow you or your clients to generate, monitor, and showcase online reviews in a smooth, seamless, and successful way.
Reputation Manager is competitively priced, full-featured and easy to use. Learn how to revolutionize your online reviews with Reputation Manager today.