There are a multitude of online platforms offering local business information to local consumers. But not all are created equal. 92% of local consumer engagement happens on just four platforms: Google, Bing, Apple, and Facebook. While you'll certainly want to ensure that all your online business information is consistent and accurate, it makes sense to focus most of your attention on the big four.
While many aspects of listings management are the same across each of those four platforms, they do differ in some areas. Understanding the quirks of each local listing service can be a real timesaver. Plus, this insight can help you to feel confident that you've optimized each listing for maximum visibility, SEO benefit, and usefulness.
To help you build a clear picture of best practice across Google Maps, Apple Maps, Bing, and Facebook, we've compiled a list of the most commonly asked questions for each. Read on for the answers. 
How should I craft a business description?
Our Business Listing Trust Report found that 94% of local consumers have turned to a business information site to find information about a local business within the last 12 months. The business description will be one of the first things local consumers see—and if they are new to you, it could be the first impression they have of your business.
Your business description tells the reader about your business. Think of it as an elevator pitch. It outlines what you do and the products or services you offer. Right away this tells the consumer if you're a potential match for their needs. The description may also confirm your niche, any areas that you specialize in, and any awards or industry accreditations that you hold.
Within your summary, you may also share something of your business history, such as the year you were established, or how long you have been serving the local community. 
Google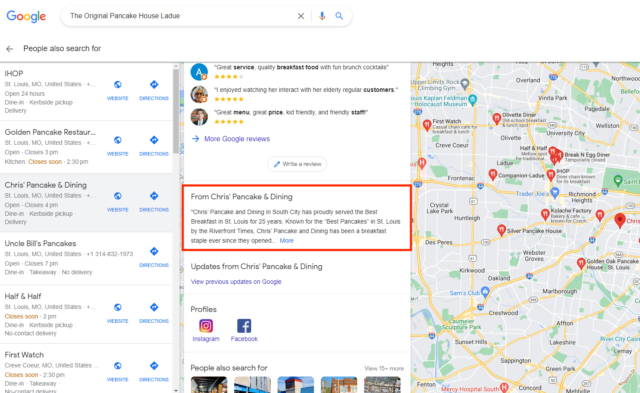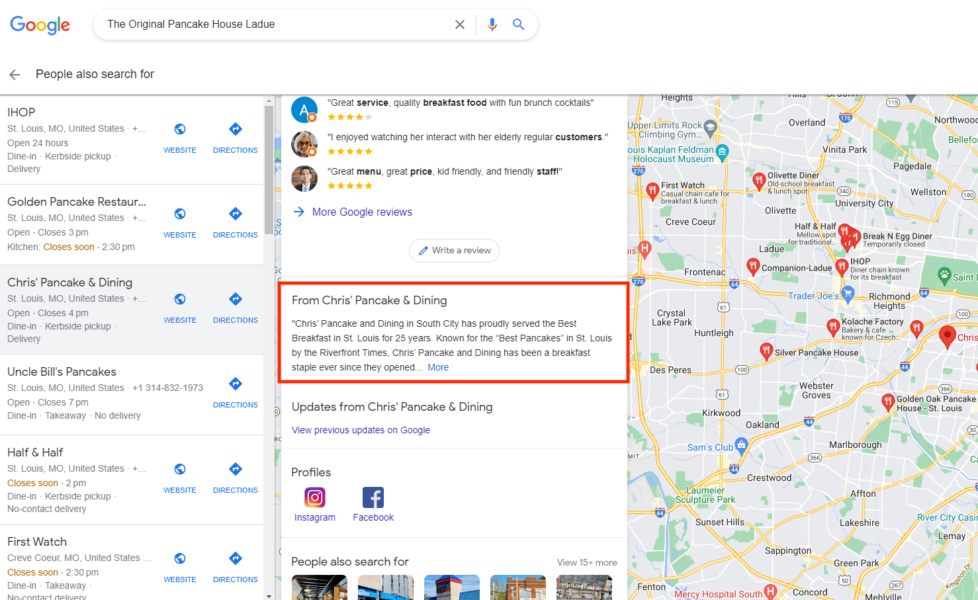 Your Google Business Description is a space to share meaningful information about your business with Google local search users. It forms part of your wider Google Business Profile and is accessible via the Local Pack and Map listings.
The first thing to know about crafting a strong Google Business description is that you only have 750 characters to work with. That means your text should be clear, descriptive, and succinct.
Your description shouldn't contain details of current promotions or sales, nor should it refer to prices. Instead, this space should tell the reader about your business history, your unique selling points and the products and services you offer. No links are permitted and your description must abide by Google's guidelines, which include no harmful or offensive content.
You should aim to include keywords in your description which reflect your service and location. As ever, avoid keyword stuffing and write for a human, not a search engine. 
Apple Maps
You'll need to create an Apple Business Connect listing for your business information to show up on Apple Maps, Apple Wallet, Siri, Safari, and other Apple properties. Business information is collated under a 'place card'. The max character count for the business description is 500 characters.
Apple recently upgraded how listings are managed to allow businesses to provide a wider range of text-based information, including a brief about section. You should aim to include at least a primary keyword in this field to enhance your search visibility.
You'll also need to confirm basic details such as the company name, website, opening hours and services to create your listing. You can add photos and logos, share detail of promotions and special offers, choose a category, and add a link to your business app in the App Store. One quirk of Apple Maps is that you can reposition your business pin to better reflect your physical location—so be sure to check that you're happy with where it's placed.
Bing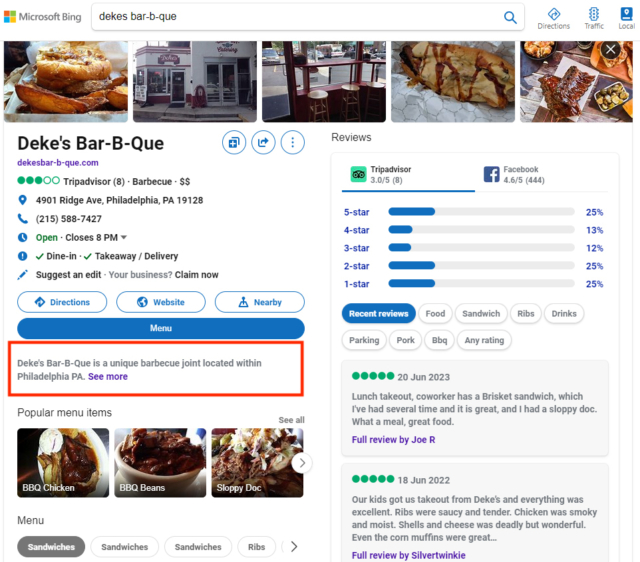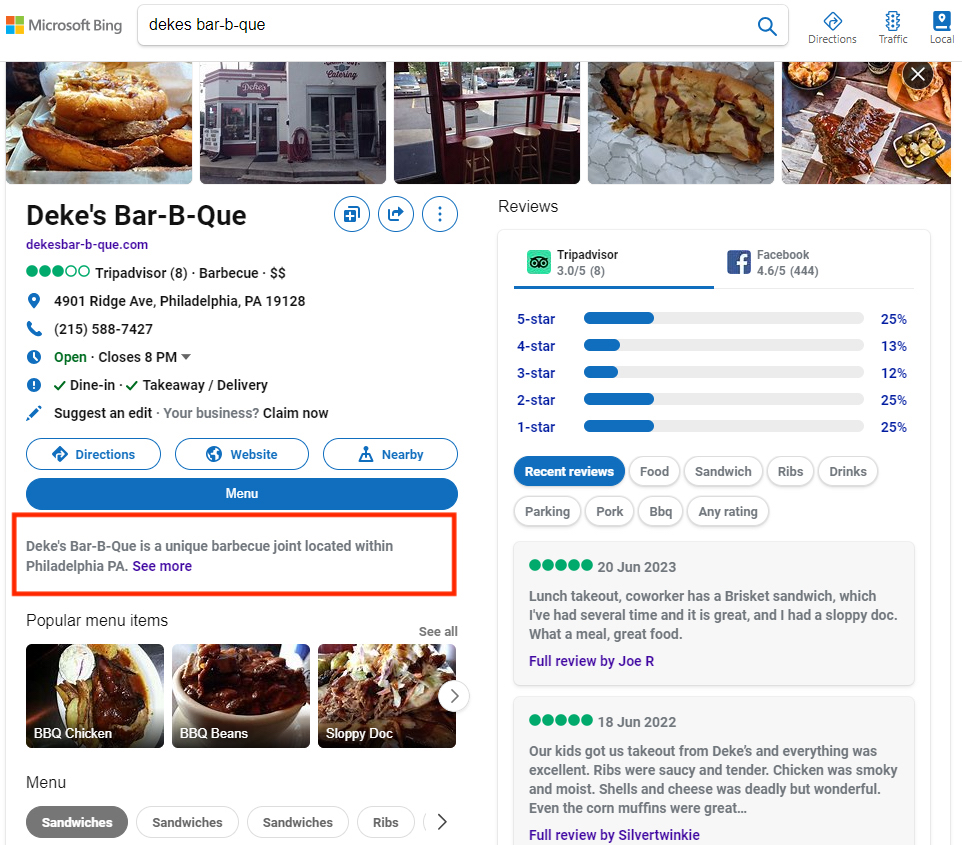 If you already have a Google Business Profile description you're happy with, you can import that information directly to Bing Places. If not, once you have claimed your business listing on Bing, you'll need to manually input your details. Whether you choose to import your Google Business Profile info or create a new listing, your details will then appear on Bing Maps and in search results.
Your business description should accurately describe what customers can expect from your service. Bing suggests listing the services you offer, providing driving directions and outlining any affiliations, awards, or specialities.
Like Google, Bing's local algorithm is based on relevance, distance, and popularity. That means you should aim to include keywords in your description to tick the relevance box. While research shows that adding keywords into your business name can increase search visibility and traffic, Bing warns that adding the location to the business name or keyword stuffing would trigger a spam filter and see the name automatically standardized.
Because Bing Places requires a physical business address, virtual office locations won't be able to create a Bing Places listing. 
Facebook
Your Facebook Page provides two different sections in which to add your business description. The actual description field should be kept short and sweet at just one to two sentences. However, there is also a separate 'About' section where you can add supplementary details such as how long you have been in business, what you specialize in and your business values.
Your page information will be visible on Facebook but Page information is also indexed by Google so it could additionally appear in search results. 
Should I use phone tracking numbers or URLs in my listing?
Google
Google users can call your business from your listing on both Google Search and Google Maps. Google is currently trialing a feature called call history with certain businesses in the USA and Canada. Anyone placing a call to a business with call history enabled will be forwarded to a unique number for that business, which can later be tracked via Google Business Profile. Details of those calls are then kept for 45 days. 
Google doesn't expressly forbid the use of call tracking numbers. It says that the phone number provided must connect to the individual business and shouldn't redirect the user to anywhere other than your specific business location. You must also have direct control over the number, and it shouldn't be a premium rate number.
It's advisable to use the tracking number as the primary number and then your actual number as a secondary number. 
Apple Maps
Like Google, Apple Maps doesn't specifically forbid the use of a phone tracking number or call tracking URL—it simply says the phone number should connect to the business location.
Even without a third-party tracking tool, the Insights portion of your Business Connect dashboard will provide some basic information in the form of the number of calls made to your business. Keep in mind this only tracks the calls made by those tapping on the number given in your listing, not those who manually dialed.   
Bing
Bing also doesn't have any restrictions prohibiting the use of call tracking numbers or URLs. Like Google, it's advisable to use the tracking number as the primary number and then your actual number as a secondary number. 
Facebook
There's no rule against adding a call tracking number to your Facebook page. You can enter the call tracker as your business number in the profile or website URL to your Page profile. As an alternative, some call tracking tools can integrate directly with your Facebook Business account. If you're coupling your organic Facebook Page with social media advertising, Facebook also offers its own call tracking solution with call ads.
Note: If you are considering adding a call tracking number or URL on any of these platforms is that differences in your business name, address and phone number (NAP) can impact your local search visibility. Different phone numbers can also confuse consumers seeing multiple listings for the same business so try and be consistent. We're covering NAP consistency in another question below and have more advice on this topic here. 
How frequently should I update and optimize my listing?
Google
Your Google Business listing is likely the very first thing that local search users will come across on Google. It's therefore important that it's always up-to-date and optimized. You should update your listing as often as necessary to reflect any changes to your business offerings:
Planning special opening hours due to a seasonal event? Update your listing.
Changing your opening hours due to customer demand? Update your listing.
Closed due to a private function? Update your listing.
New products or services added to your offering? Update your listing.
Different phone number? Update your listing.
New service area now offered? Update your listing.
New payment methods now accepted? Update your listing.
Outdoor seating now available? Update your listing.
Takeaway or curbside pick-up now available? Update your listing.
Optimization isn't something that you can fit neatly into a box. Given the importance of your Google Business profile, it's something that you'll need to dedicate ongoing time and resources to. Each time a new review is received, you'll want to quickly jump on and leave a response. Likewise, you should aim to upload new photos regularly and share a Post at least once a week, if not more frequently.
Apple Maps
This question is especially pertinent to Apple listings as Apple is known for the pride it takes in the accuracy of its Maps information.
It advises that your listing should be updated 'often' so that all location-related details remain accurate. That includes amending opening times if they change, along with sharing details of new special offers or promotions as they launch. Other tips include uploading seasonally appropriate images at regular intervals, for example during the holidays or at Easter.
If any of your 'good to know' information changes—such as the addition of new accepted payment methods—your Apple Maps listing should be updated right away. 
Bing
As with Google and Apple Maps, you'll need to update your Bing Places listing as soon as anything changes. That means any adjustments to business hours, payment options, services and so on should be reflected in your listing right away.
For optimization, in addition to keeping all business data current, you should be proactive about requesting reviews, responding to reviews across all review platforms (because Bing pulls in review data from sources such as TripAdvisor), and upload new images regularly. Don't forget to add details of any special offers or promotions to Bing when updating your Apple Maps profile or creating a Google Business Post about the same.
Facebook
Almost half (48%) of local consumers turn to Facebook when they need local business information. That means you should update your listing as soon as anything changes within your business—ideally when you apply the updates to your Google, Apple Maps and Bing listings.
Once your initial page optimization has been dealt with (such as choosing your URL, filling in about information and uploading your logo and cover image), ongoing optimization will revolve around posting updates and building engagement. Aim to share new content (such as blog post snippets, curated content, video, and images) around two to five times per week. 
How do abbreviations affect NAP consistency?
We've already touched on this above, but it's worth repeating that NAP consistency matters. Even knowing that, you may be unwittingly creating slightly different citations, simply by using street name abbreviations when creating new business listings. It's all too easy to fall into the habit of using St. rather than writing out street in full, or Ave. instead of avenue. But does it matter?
Google
Google's algorithms are smart enough to understand abbreviations, so you don't need to worry if you have accidentally used Apt. and apartment interchangeably, or have inputted Rd. instead of road, or Expy instead of expressway in some of your business listings. You can find a complete list of all abbreviations and variations that Google normalizes here.
Apple Maps
Apple Maps pulls business information from lots of different sources and in turn, is used by a range of other platforms. It's therefore best to be consistent with your NAP and if you do abbreviate some part of your street name, continue with that format across all other listings. 
Bing
The Bing Maps API can handle abbreviations in street names—so, like Google, it's smart enough to recognize Ave as avenue or St. as street. 
Facebook
You can use abbreviations when inputting NAP on Facebook. Just keep in mind that the information you input will form part of your wider online collection of citations so you should always aim for consistency.
Where do suggested edits and external edits come from?
In accurate information about your business can hinder your local search visibility. It can also damage your relationship with local consumers who are known to become frustrated when presented with inaccurate information online. That means any changes made to your business listings must be accurate. However, you may notice that sometimes, those changes are made without your input. The reason for that is some listings sites allow consumers to make or suggest edits to business listings, even if the consumer isn't associated with that business. 
Google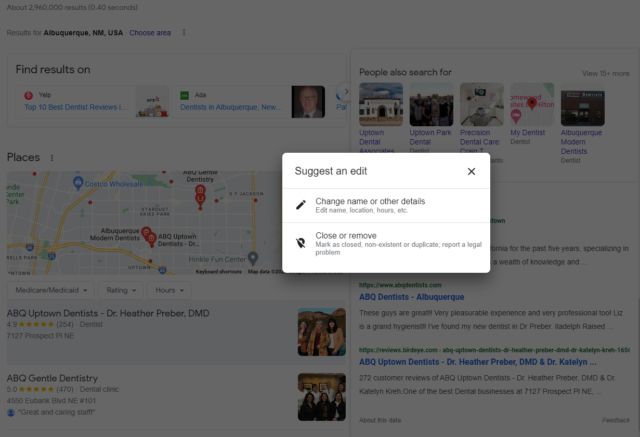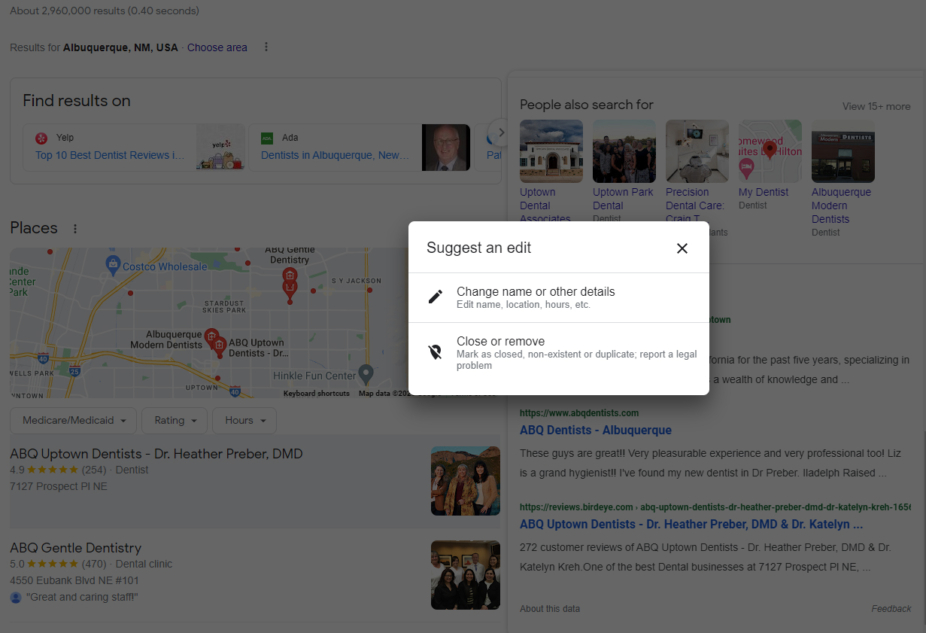 Google search users can suggest edits to business listings directly from the search results. They can suggest changes to important details such as the business name, opening hours, contact information, web address and location. They can also suggest the business be marked as closed, is non-existent, no longer open to the public, a duplicate or report a legal problem.
Apple Maps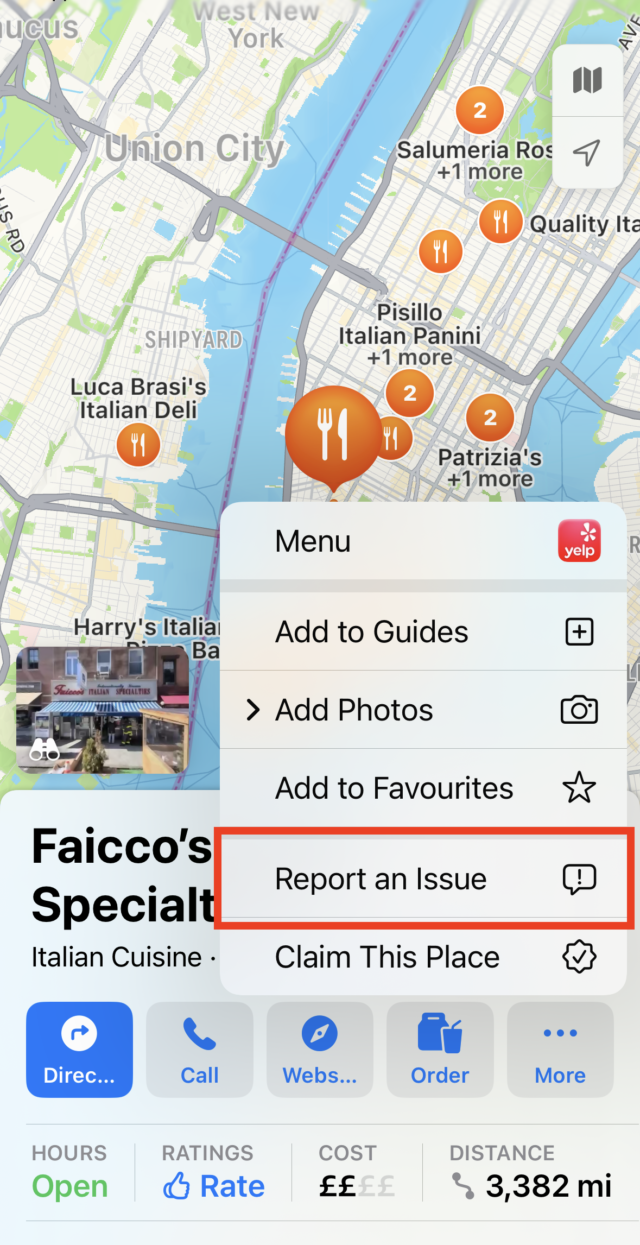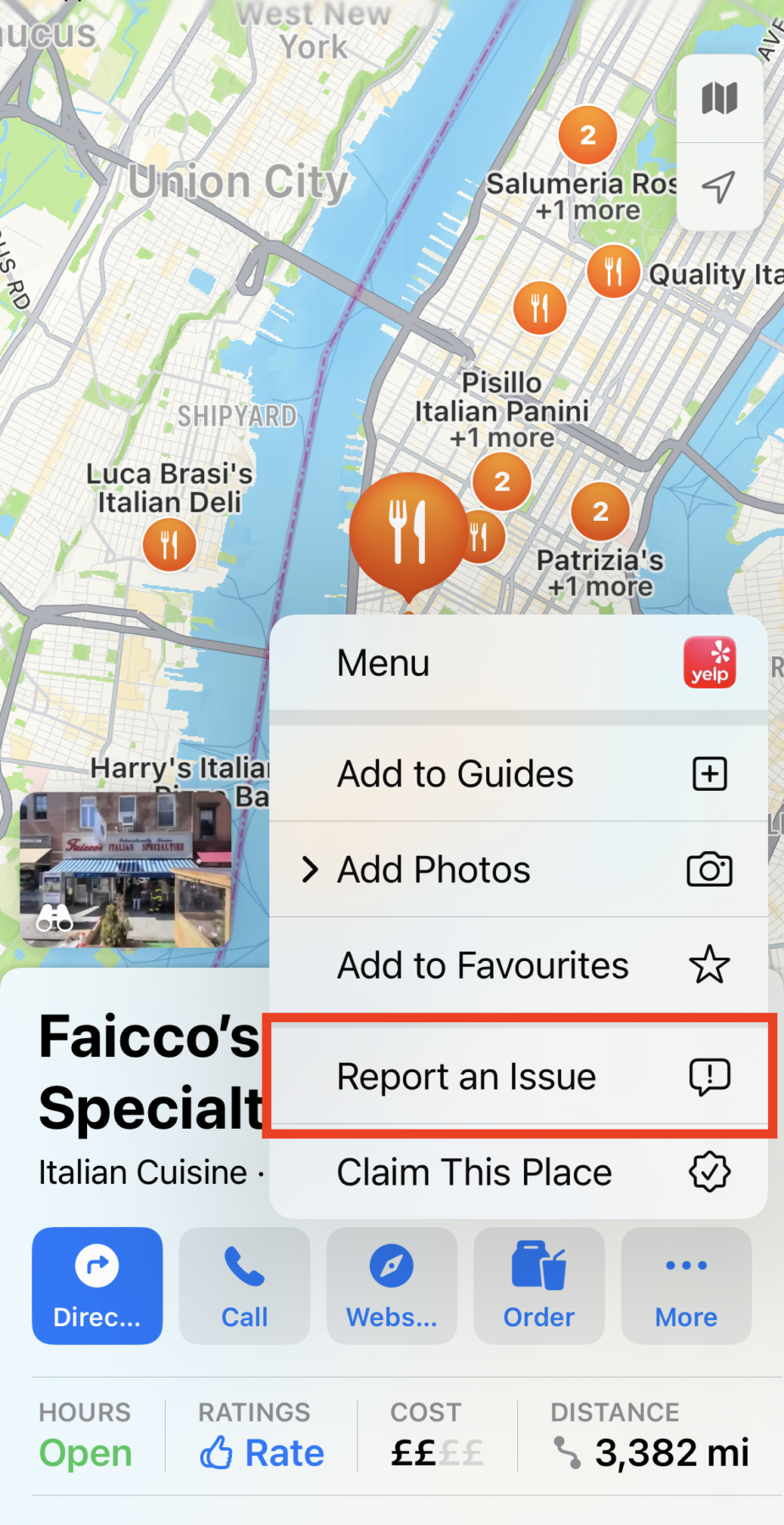 Apple Maps users can report an issue with any business listing on Maps by clicking 'More' on the listing. They can then report an incorrect name, address, website, or phone number, tell Apple the location on the map is wrong, or that the opening hours are incorrect. Users can also tell Apple that the business is closed, in the wrong category or that there are multiple issues with the listing. 
Bing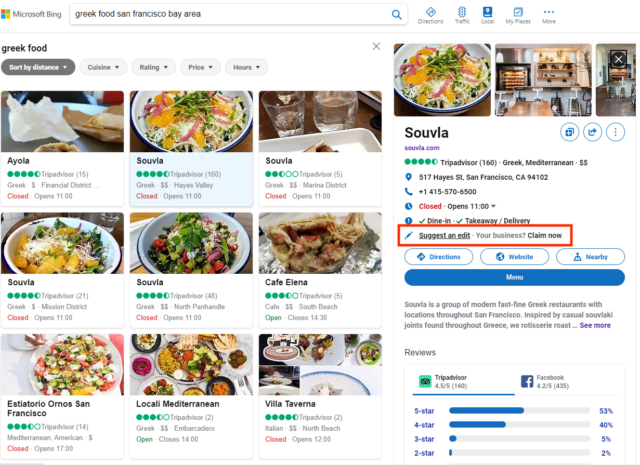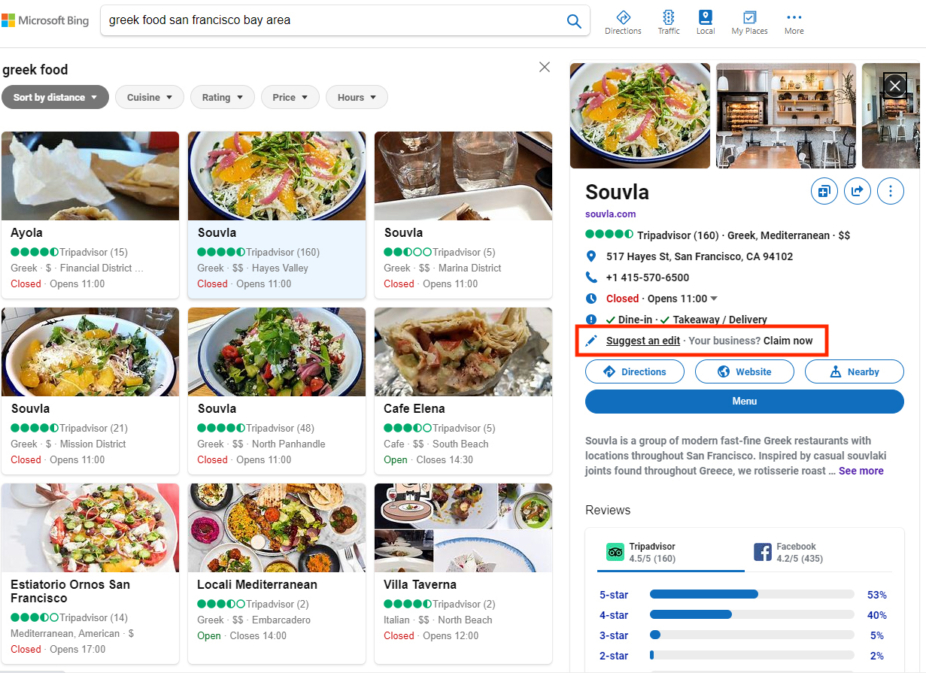 Bing search users can suggest an edit directly from the local business listing in search and maps. The edit option is identical to that presented on Google, with consumers able to mark the business as permanently closed or suggest changes to the business name, location, contact information, and opening hours. 
Facebook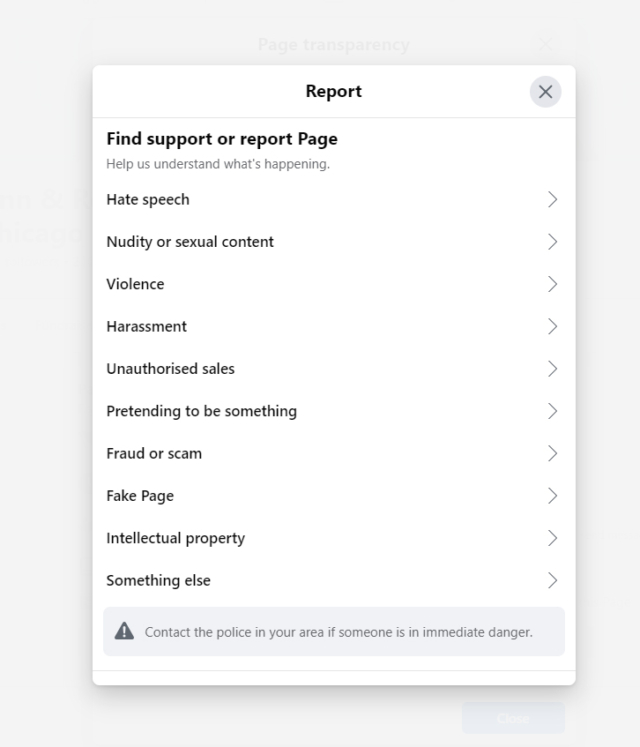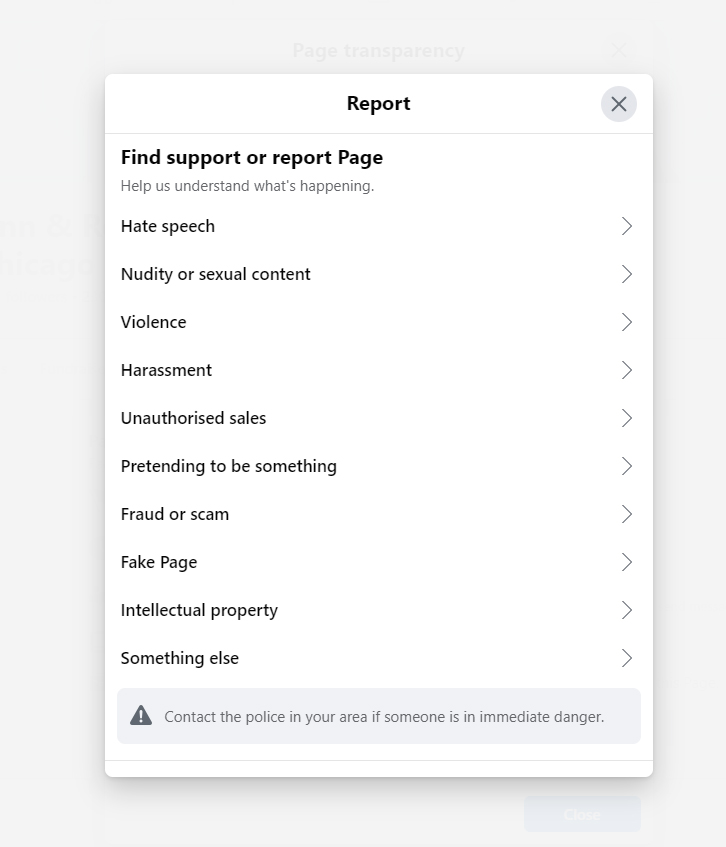 The new Facebook Page experience doesn't allow users to suggest edits. They can report an issue with your Page however, such as flagging your listing as being fake, a scam, or conducting unauthorized sales. While these won't directly impact on your listing information, they could still be damaging to your business. 
Why do publishers change the business data I supplied on my listings, and how can I prevent this from happening? 
To keep their listings accurate, listings sites will gather information about local businesses from a range of sources. They may use that information to push updates to listings they believe to be incorrect.
Google
Google uses a wide range of sources, including licensed content and suggested edits submitted by consumers. It uses this data to update listings as it deems necessary and will do so at any time. Any updates will then show across Search, Maps and other Google properties. You will be notified if Google has updated your listing and can then choose to edit those updates, apply them, or discard and replace with your own information. 
Apple Maps
Like Google, Apple Maps collates business data from a range of sources—including places like Yelp and TripAdvisor. Traditionally, Apple Maps allowed business owners only very limited input (this has changed with the recent launch of Apple Business Connect) meaning it has historically been dependent on information gathered elsewhere.
If your information isn't consistent across the web, information gathered from those other sources could find its way into your listing. An old phone number or street address on a forgotten Yelp listing could be added to your Apple Maps listing because that's what Apple Maps is being told is accurate by Yelp. To avoid this issue, you'll need to be on top of your citation management and ensure all listings contain up-to-date information. 
Bing
As with Google and Apple Maps, Bing crowdsources local business information from a range of sources. Your business may even be listed on Bing Maps before you claim it. As with other listings sites, Bing's own data may conflict with your actual listing details, which may prompt changes to be made. If your listing does show incorrect information, you'll need to ensure you have first claimed and verified your listing. You can then log in and correct any inaccuracies. Again, to prevent incorrect information being pushed to your profile, you'll need to ensure that you regularly review your business information across all listings you've created. 
Facebook
Unlike the other platforms, Facebook actually trusts your data and doesn't (to the best of our knowledge) make any changes itself.
Do I need to add EXIF data to my business photos?
Exchangeable Image File Format (EXIF) data provides useful meta data about each image—such as the time and date taken, location taken, and the camera used. 
Google
Adding EXIF data isn't thought to help your Google rankings, but it can make it easier for you to search for and organize specific images. That could make it easier to manage your local business listings.
Apple Maps
Apple Maps does support EXIF data. It can use the location data from EXIF to pinpoint the location the photo was taken on a map. 
Bing
In its webmaster guidelines, Bing says it can extract information from images, so adding EXIF data to pictures uploaded to your site could theoretically help with your local search visibility. 
Facebook
Facebook has confirmed that it collects and processes EXIF data. This includes collecting data specifying the date the photo was taken, and the type of device used. While it doesn't state that it uses location information, the fact that it can process EXIF data suggests that it could be a worthwhile addition. 
Conclusion
Your business listings are an invaluable asset to your local business. They have the power to boost your search visibility, aid in new-to-you consumer discovery and provide local consumers with the information they need to find, locate, and buy from you. 
With thousands of listings sites and directories out there, staying on top of the latest trends, new features and best practice thinking can be a time-consuming task. In this post, we've provided answers to some of the most frequently asked questions to help you keep on top of your local listing management tasks.
Got a question not covered here? Send it to us via Twitter, or ask in our Facebook group, The Local Pack.