Online Reputation Management (a.k.a. Reputation Marketing) are strategies that help businesses improve and respond to online reviews customers leave about their business on popular review sites like Google My Business, Yelp, Angie's List and others. Online reputation management typically involves:
An online reputation management software program that allows for easy collection of online reviews and distribution to popular review sites
Adding review schema markup to your website
Business owners proactively asking customers to leave online reviews about their business (7 out of 10 customers will leave a review if they're just asked to by the business!)
Alerts or notifications to business owners when any reviews – good or bad — are left about their business on top online review sites
Ability to respond to both positive and negative reviews to either thank the customer for their great feedback or address the concern a customer has if they leave a bad review
Promote a company's 5-star reputation through social media, websites, banners, newsletters, paid ads, etc.
Reputation Management is one of the most effective digital marketing strategies you can use to get – and keep — more clients and customers.
Top Reasons Why Online Reviews Are Important To Your Business
Your business' reputation is your #1 asset. More than ever, potential customers go on the internet to look at online reviews so they can make decisions about which local businesses to patron, what products to purchase or which services to use. According to our recent survey, 57% of consumers will only use a business if it has 4 or more stars.
Despite the facts, many businesses still think they can ignore online reviews — and are secretly hoping that reviews will quietly go away. Many businesses have been burned by customers who left bad reviews online, and it's tarnished their view of the importance and credibility of online reviews. To many of them reviewers are just grumpy people complaining, but as a digital marketer, your job is to explain to your clients why they need to proactively protect their reputation.
Reviews Show Up Front-And-Center On Google
When you search for a local business on Google, chances are you'll see the Google Local '3 Pack' towards the top of the search engine results: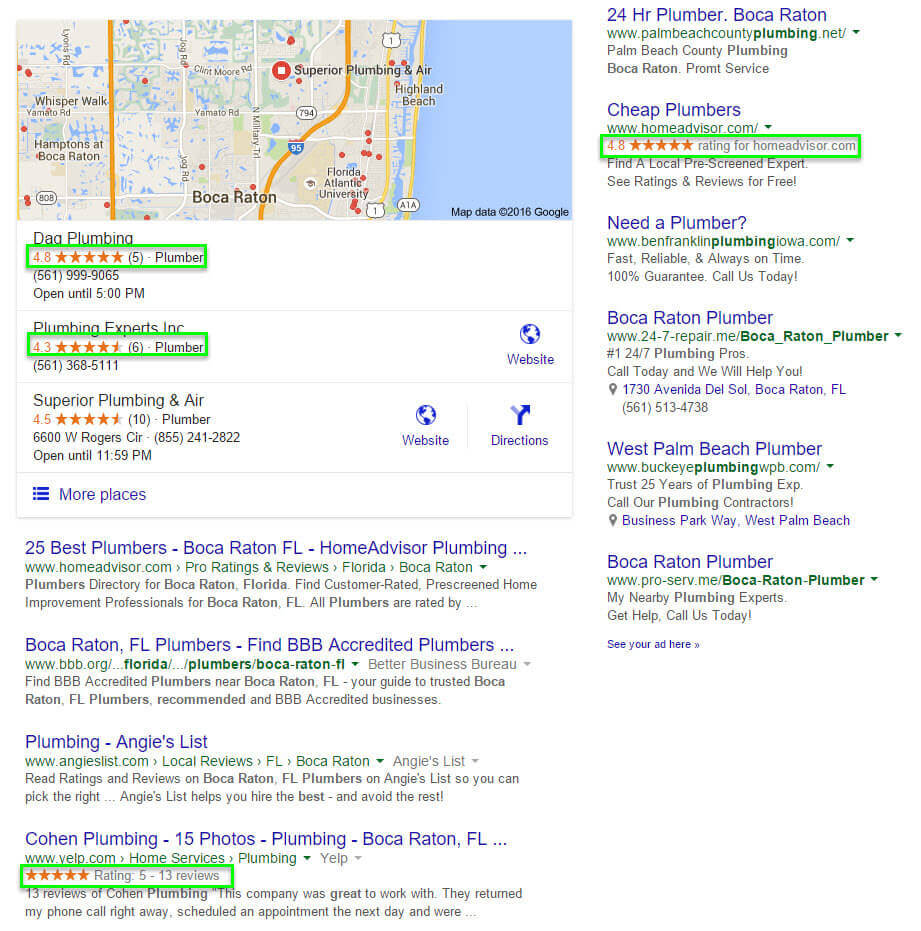 Google not only pulls in and displays Google My Business company reviews in the Local Pack, but it also shows star ratings in the organic search results whenever a review site, like Yelp, appears in the results. Reviews will also often show up in Google AdWord ads as well. This means that as a business, you simply can't hide from reviews – they WILL be displayed about your business online and you need to make sure that your reviews are as close to 5-stars as possible. To do this you need to have an online reputation management strategy.
Reviews Can Help You Rank Higher On The Search Engines
When local searches are performed, search engines want to provide their searchers with the best local businesses in the search results. One way the search engines can determine this is by the number of positive and negative reviews that are online about your business. Research has shown that online reviews play a part in where your site ranks against your competitors.
With all things being equal, if one business has no reviews, another business has five 3-star reviews and another business has ten 4-star reviews, which business would you choose? Your customers are evaluating the exact same thing when they try to decide if they're going to contact you – or one of your competitors.
One of the first (and best) ways to get your online reputation going is to claim your FREE Google My Business page. Once you claim your company's Google My Business page, encourage happy customers to leave reviews about you on your Google My Business page and on a variety of other review sites, like Yelp, Angie's List or Trip Advisor.
Not only can positive reviews help you rank higher, but it also builds trust with searchers. Once you get your business listed in the Google Local 3-Pack, your positive reviews can actually help with the click-through rate, too: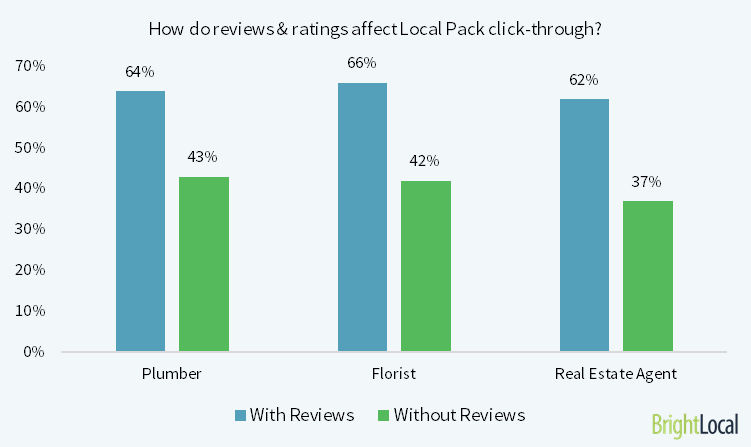 Future Customers Judge Your Business Based on Reviews
Most people know that everyone has a bad day. This means that customers typically don't expect to see all 5-star reviews about your company. It DOES mean, however, that you need to be vigilant and proactively ask happy customers for reviews, monitor reviews that are left online about your business and respond to reviewers to show that you truly care about their opinions—both the positive and the negative reviews.
In a recent survey, 68% of respondents said that positive reviews make them more likely to use a business and 40% said that seeing negative reviews makes want to avoid the business.
These numbers alone should tell you the importance that reviews about your business have on potential customers.
Social Media Is Now a Part of the Buyer Journey
People often go to social media channels, like Facebook, to ask friends or family members for business recommendations: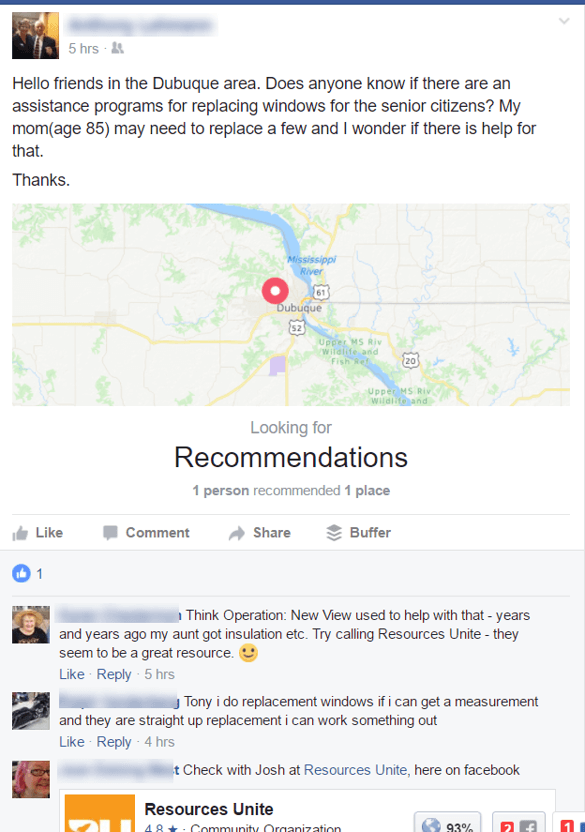 Social media is also quickly becoming a crucial part of a consumer's buyer process. People look to friends and family for advice on local products and services. Facebook even allows people to leave reviews about a business on their platform. Consumers also use social media sites as mini search engines to look for a business' social media page to find out more information.
Reviews are social proof of the quality of your business – and cannot be ignored.
Reviews Impact Buying Decisions
Think about it. When you want to purchase a product or service, what do you do first? Chances are you do online research and look at what other people are saying about the product or service you're interested in buying. Yes, you probably even read online reviews! And if you were to ask your clients how they personally buy products or services, chances are they're looking at reviews, too.
This means that your business must have a plan of action to garner positive reviews, monitor reviews that are being left about your business, respond to positive and negative reviews and then promote the positive reviews all over the place!