If you've been doing SEO for a while you've probably heard the terms local citations or local business listings (these terms are often used synonymously). But what are local search citations? And why are they important to your local search success?
What Are Local Citations/Local Online Directories?
If you want to rank higher in organic search results for your local business, claiming and optimizing citations/online business directories is a necessity. These citation sites list your company's name, address and phone number — and sometimes even more information, like your business hours, what type of payments you accept, pictures and other details.
Local citations are basically any site online that displays a company's name, address and phone number (NAP). Think of online business directories and citation sites as the modern-day equivalent of the old-fashioned Yellow Pages. These online directories scrape the internet for businesses' information, sorting, categorizing, compiling and adding that information to their database. Their goal? For their local directory to become a quality resource that Google uses when it needs to find local business information. Think Yelp, Merchant Circle, Google My Business, Foursquare and others.
Business owners often ask, "Why do I need to get my business listed on Merchant Circle? No one searches on Merchant Circle to look for my business — they go to Google." You got that right, business owner! The beauty of getting listed on Merchant Circle (and other citation sites/online directories) is that if your business is listed on Merchant Circle, and Merchant Circle shows up in the first page of Google search results for your business category, then you're more likely to get displayed when people click on the directory link.
Often these online directories and citation sites show up on the first page of Google when a local search is done. In the example below we did a search for "architects san jose" and you will see that a variety of online directories show up on the first page of Google: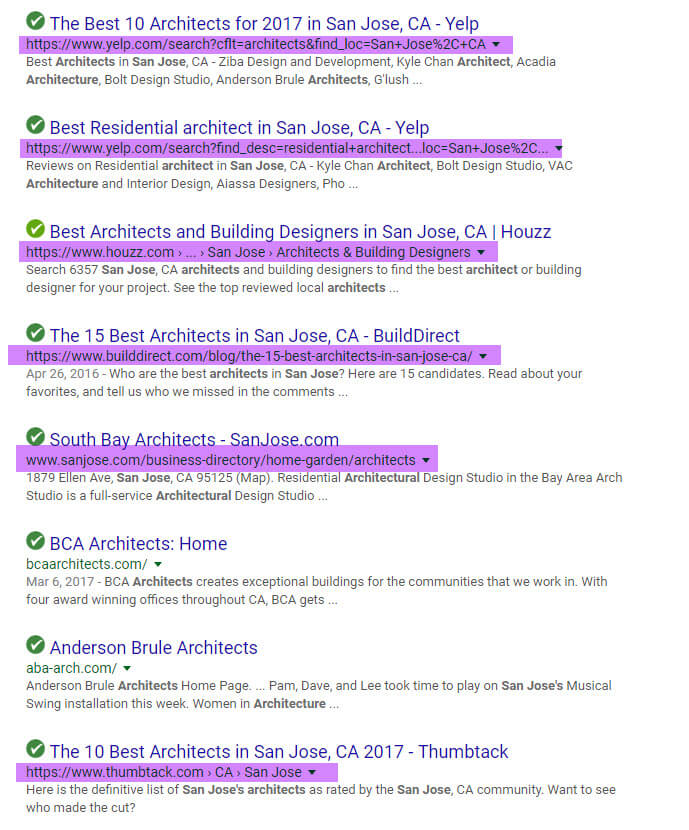 There are countless citation sites online, but you don't want to get your business listed on the low-quality directories — getting listed on spammy or low-quality directories can actually hurt your search results or relationship with Google. Focus on quality online directories and citation sites. To make it easy for you we've created a list of the top citation sites.
To find out more about how to optimize and rank locally with the help of online directories and citation sites, check out our article on how citations can help you with your local SEO campaign.