How to Optimize Your On-Page Signals for Local Search
Shane Barker is a digital marketing consultant who specializes in sales funnels, targeted traffic, and website conversions. He has consulted...
You want to take your local business to the next level. And you know that local SEO can help get you there, but you don't know where to begin. According to Stephen Covey, you should always "Put first things first." That means starting with what's most important.
When it comes to local SEO, your on-page signals are most important, because they impact your local search rank the most. Based on research published by Whitespark, on-page signals are the joint third factor in local search ranking at 15%; it shares the position with link signals, which also comprise 15%.
To improve your local search rankings, focus on improving your on-page signals first. Once you master them, you can move on to other local ranking factors.
In this post, you'll learn 5 ways to optimize your on-page signals for local search.
1. Add Accurate NAP to Your Website
NAP stands for Name, Address, and Phone Number. Google takes into account whether or not your business' name and info are properly listed on your website. Double check to ensure that the name of your business is correct. Do not add any extra keywords or adjectives if they're not included in your actual business name.
For instance, let's say your business name is "Bob's Cleaners," but your website lists it as "Bob's Cleaners – Cleaning Services." This could be a problem because the search engines could see those as two separate businesses because the names don't match. This could negatively impact your ranking. The same goes for your address and phone number. Make sure your website lists your physical address and phone accurately. The NAP on your website should match the NAP on your Google My Business page and in all other listings of your business online.
In the screenshot below, look at how Freeport Bakery lists their NAP on their website. On the bottom of their home page, they've set aside a section for their contact info. It includes their physical address as well as the phone numbers and email addresses for two different departments.
2. Optimize Meta Content and Title Tags with Relevant Local Keywords
When you're striving for better local ranking, you need search engines to crawl your website and associate your business with the geographical location(s) you're targeting. You also need searchers to immediately take note of your website's relevance to their search query. This means you need to make the most of relevant keywords combined with geographic location names.
For example, you might offer pizza delivery in Sacramento. Your target keywords should contain "pizza delivery" and "Sacramento." The target keywords need to be present in your meta content and title tags, too, so they're visible in search results. Both the meta description and title tag should include the relevant location name. (Don't keyword stuff, though. The search engines don't like it and it looks "spammy" to the searcher.)
Look at the meta descriptions and title tags for the following search results for "computer repair services in El Paso TX." The first result is of an online publication showing a list of repair services in El Paso. The second is a service company that has a title and description tag using relevant keywords — ("computer repair") and the location name ("El Paso TX").
3. Optimize Images with ALT Attributes
On-page SEO involves making your site more crawlable for search engines. You may be able to do this more easily with text content, but it's a different story with images. Search engines can't "read" images and can't see what the image is a picture of. They will be unable to crawl your image content unless you include ALT attributes. These are the alt text tags where you describe what the image is and includes relevant keywords.
For local SEO, you should include the city/locality/region you're targeting when creating the ALT attributes. This will help search engines associate the image with the relevant geographical location. Here's an example of an image alt tag from California Pool Service, Inc.:

As you can see, the alt tag includes both the location ("Long Beach, CA") and a relevant keyword ("Pool Cleaning"). This can help increase your odds of showing up in search engines for those local keywords.
4. Optimize Your Landing Page Content
When ranking your site for search, Google takes into consideration the number of people who go to your site and then quickly leave. The more people that do that, the lower your site will rank. Why? Google only wants to show search results that are of interest to the person searching. If they click on your site and don't stay long, that's a bad sign.
So once people click on your link and land on your site, your next job is to make sure they stay. This means enriching your website with valuable content that is relevant to the search terms visitors used to find you.
Here are a few tips to optimize your landing page content for visitors:
Come up with unique, high-quality content using correct spelling and grammar.
Break up long chunks of text into shorter paragraphs and/or bullet points to make them easier to read.
Avoid stuffing keywords into your content. Instead, spread keywords and phrases evenly throughout, so that it doesn't look spammy to the reader.
Take a look at the example below from Chula Vista Pool Cleaners. They've broken up text chunks by using a maximum of four lines per paragraph. They have even added a short list, which makes the text much easier to read.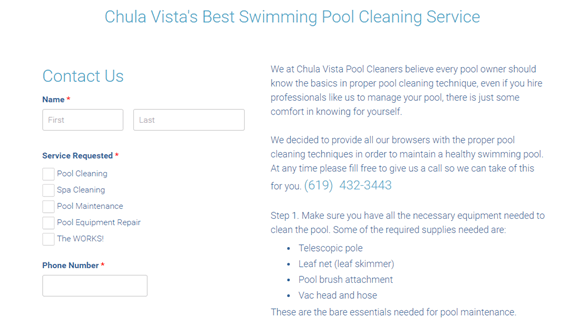 In addition to optimizing your page content for visitors, you also need to optimize it for the search engines. Use keywords relevant to your business and your target location to help search engines understand that your website is about that business and that location.
For example, if you optimize your content with something like "custom cakes in San Francisco," Google will understand that your business is about baking custom cakes and is located in the San Francisco area.
5. Optimize Landing Pages Based on Site Structure
When building or redesigning your website, one of your first priorities should be to plan your site structure. You need to decide whether or not to create a separate page for each of the services you offer. And you need to plan whether you want to create a different page for each of the cities you service.
If you are building a separate page for each city you service, then you need to optimize each page with the city name. For example, you offer pool cleaning services in Northern California and you plan to create separate pages for each major city in the region. Your keywords will vary from "pool cleaners San Francisco" to "pool cleaners San Jose." Make sure each page URL contains the city name as well.
California Pool Service, Inc. does a great job of this by building keyword-optimized pages for the different locations they service. As you can see in the screenshot below, they have built a separate page for Bellflower, CA, and optimized the URL with the relevant city name.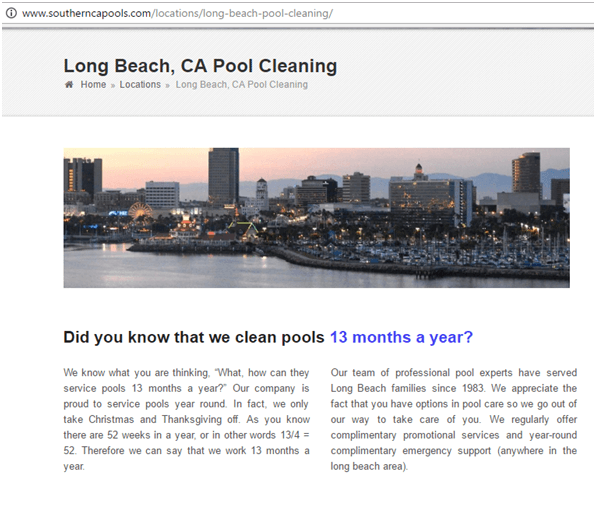 They did the same thing for each of the other cities within their service area, including Long Beach, CA. As you can see in the image below, the content, image and URL are all optimized for the relevant city name.
Conclusion
These are some of the most basic, yet important tips for improving your local search ranking by optimizing your on-page signals. Once you master these, you can start working on other aspects of local SEO.
Which of these tips will you be trying first? Let us know in the comments below.