BrightLocal's Local Search Grid tool takes valuable data from Google Local Finder to provide insights that can be used to enhance your online presence. Here are some essential actions that you can take based on the data you find in your Local Search Grid reports.
1. Adjust Your Google Business Profile Categories
Adapting your Google Business Profile category can significantly impact your local search visibility and rankings. If your business category isn't performing well in Local Search Grid it's worth taking a look at the Overall Top Ranking Competitors table and seeing what your competitors have selected as their category. If your category is different then changing it could help to improve your rankings.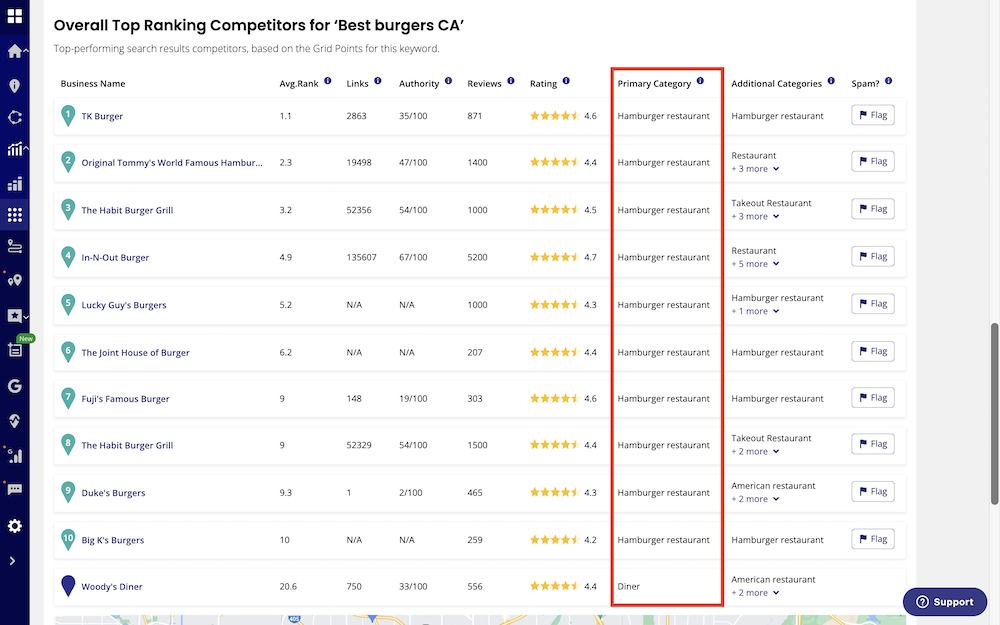 If the category you have selected is the most appropriate for your business and you don't want to change it, then you can use the Overall Top Ranking Competitors table to check what secondary categories you and your competitors have selected and make changes there.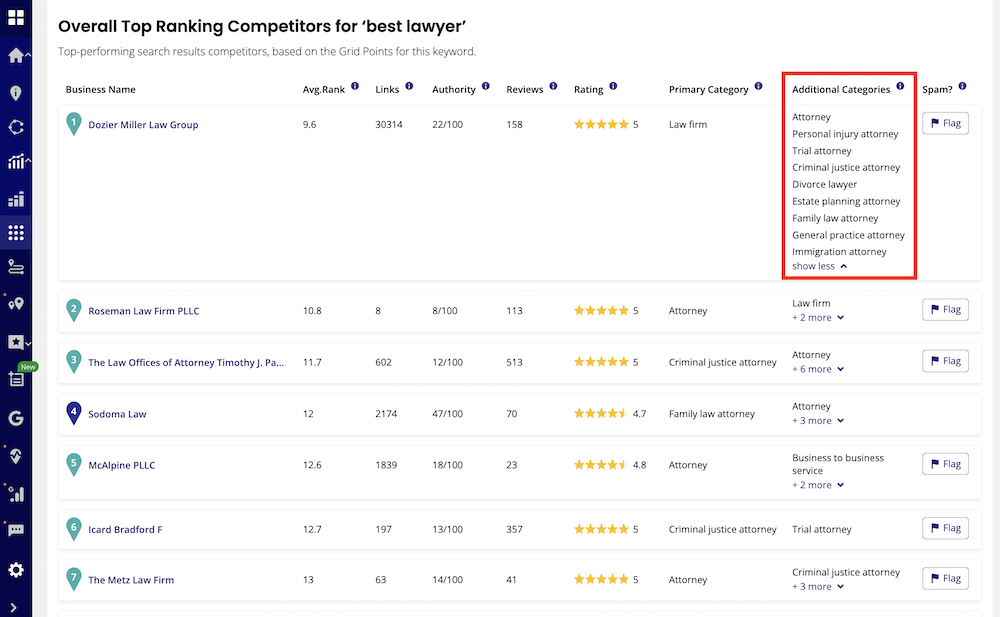 2. Increase Your Reviews and Star Ratings
If you notice that your reviews or star ratings are lower than competitors within the Overall Top Ranking Competitors table, it's time to take action. Try implementing a review generation campaign to encourage more positive reviews. Positive reviews can boost your online reputation and attract more customers.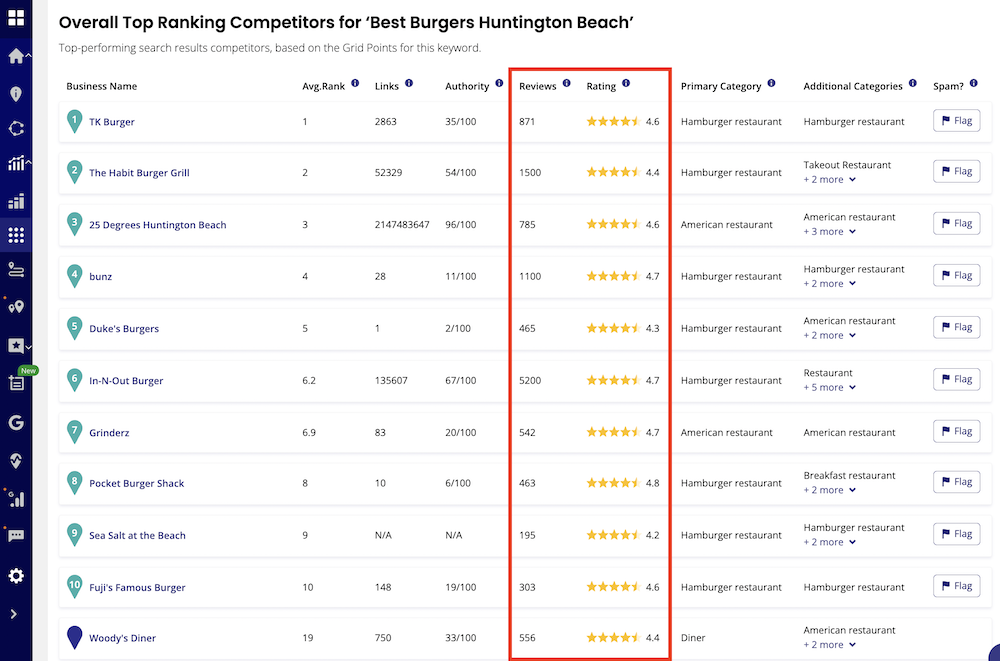 You can use our Reputation Manager tool to dig deeper and learn which platforms you need to gather more reviews on and easily create a review generation campaign. Find out how, here.
3. Boost Your Links
Links are a critical factor in SEO. If you notice in the Overall Top Ranking Competitors table that your website has fewer links than your competitors, invest in link-generation strategies to improve your online presence. Quality backlinks can help increase your authority and search rankings.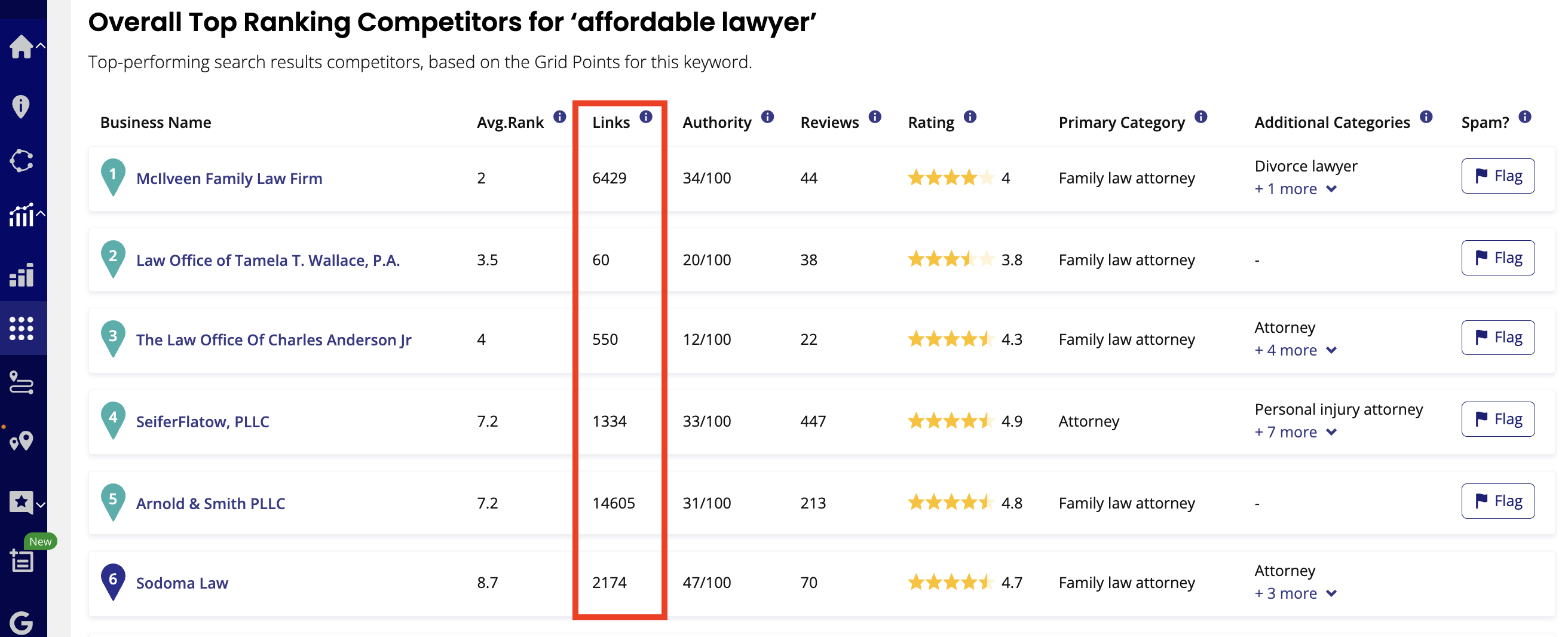 4. Address Location-Based Filtering
If your business isn't ranking at its actual location on the geogrid (indicated by a blue pin), it may be subject to filtering by Google. This could be due to various reasons, including issues with your Google Business Profile.
Sterling Sky has written a great article about how to tell if your Google Business Profile is being filtered and what to do about it.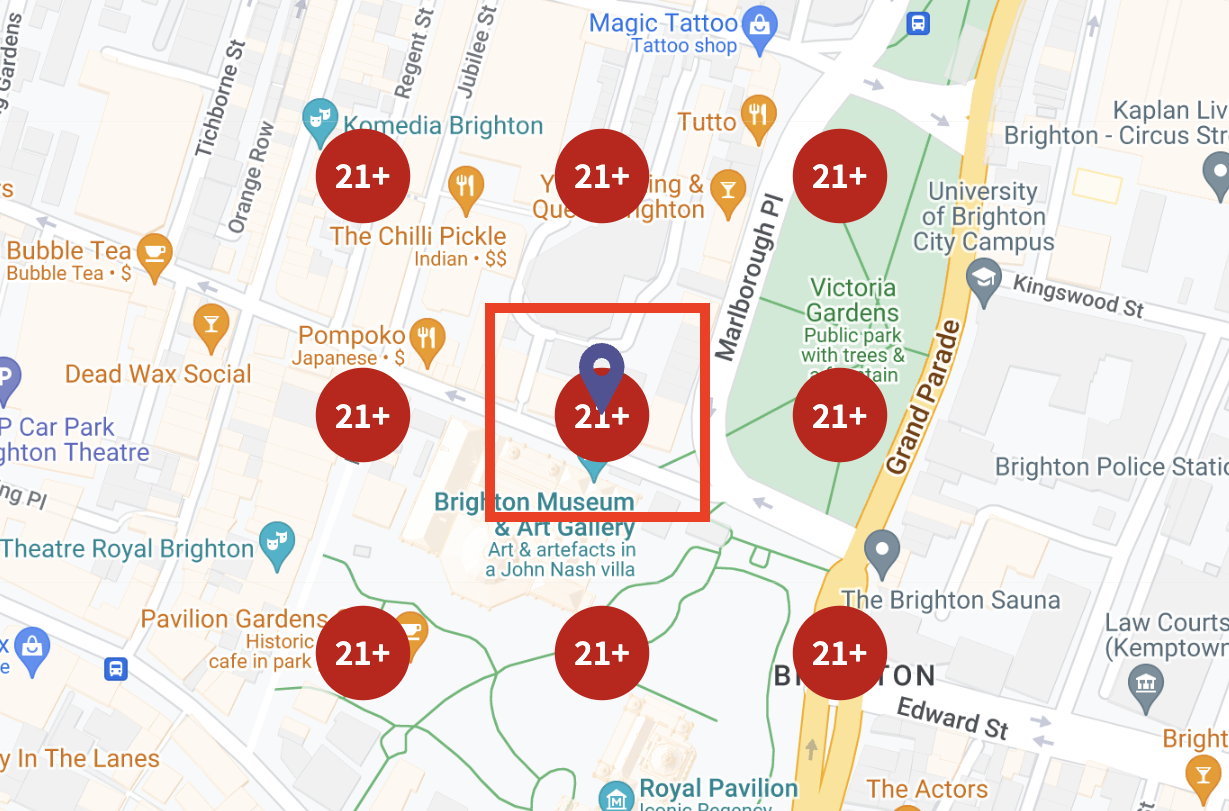 5. Address Google Business Profile Conflicts
Suppose you notice that your business isn't ranking at its address because other entities within your organization, like individual practitioners or service providers, are ranking higher. In that case, this could be due to sharing the same Google Business Profile category.
To resolve this, optimize the individual practitioners' Google Business Profiles for different keywords or specialties. This can help reduce conflicts and improve your overall visibility.
6. Report Keyword Stuffing
Lastly, keep an eye out for keyword stuffing. If you notice any suspicious businesses using unfair tactics, utilize the 'Flag' button which takes you straight to Google's Redressal Form to report them. This will help maintain fair competition and ensure that search results are more accurate and reliable.

BrightLocal's Local Search Grid is a valuable tool if you're looking to enhance your local SEO efforts. By analyzing the data and taking these actions, you can improve your online visibility, reputation, and overall search rankings, ultimately driving more success for your business in the local market.