If you do local Search Engine Optimization (SEO), you've probably heard the term "local citation sites" or "local online directories." (NOTE: These two terms are often used interchangeably.) Local citations are websites that list information about thousands and thousands of local businesses. Typically the citation sites allow users to search and sort by city, state, company name or business type. These online business directories list a company's Name, Address and Phone Number (NAP). Some also include more detailed information about local businesses, like a business description, hours of operation, types of payments accepted, etc.
Basically, local citations are sites where local business information is featured. These sites contain pages that search engines use to better index your business for local searches.
Think of citation sites/online directories as the modern-day equivalent of the old-fashioned printed Yellow Page phone books.
Why Are Citations Important For Local Search?
Local citations are an important part of a successful local SEO strategy. According to Moz:
"Citations are defined as mentions of your business name and address on other webpages — even if there is no link to your website…Citations from well-established and well-indexed portals (i.e., Superpages.com) help increase the degree of certainty the search engines have about your business's contact information and categorization."
Getting your business listed on popular (and quality) citation sites is a great first step in your local SEO strategy. Why is getting listed on citation sites so important to local SEO? Well, it's not because searchers go to these sites to search for businesses, it's because Google trusts these popular citation sites, so these local directories often dominate the first page of Google search results when a local business search is performed: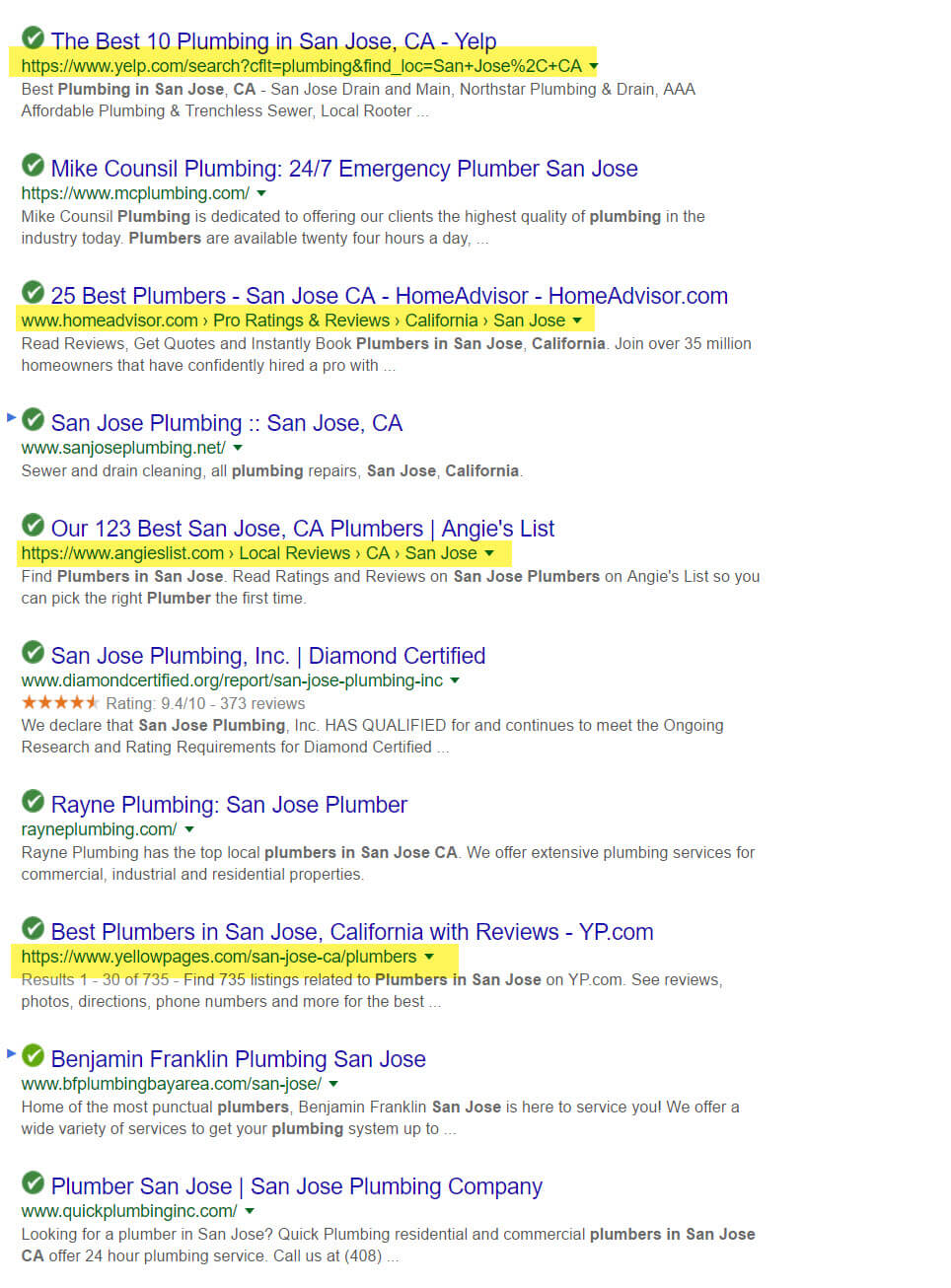 You'll notice that on the first page of Google for a search for "plumbers in san jose," online directory sites like Yelp, Home Advisor, Angie's List and Yellowpages dominate that first page of search results. (Now, many people DO go directly to popular online directory sites like Yelp, Angie's List and Home Advisor to search for a local business, but typically the local search is done on Google or Bing and these citation sites appear very high in local search results.)
That's why getting your business correctly listed on citation websites can help boost your local search engine rankings in search results on popular search engines like Google and Bing.
Your Company's Name, Address and Phone Number (NAP) Must Be Consistent
When you're checking your business listing or want to claim your listing on a citation site, it's important that your company's Name, Address and Phone Number (NAP) be consistent on as many online directories as possible. For instance, Google would see these two addresses as completely different locations:
201 1st Street NE vs. 201 First St. NE
When your business' information isn't the same in online directories, the search engines get "confused" and don't know which information (in this case, the physical address of the business) is correct. Since search engines only want to show users quality and correct information, this "confusion" of having inconsistent addresses on a variety of citation sites could prevent your business from showing up in local search results.
We recommend that you get together with your team and determine:
What is the "official" name that you will list on online business directories? (i.e. Roger's Realty LLC or Roger's Realty)
What is your address? (i.e. 101 Blairsferry Road or 101 Blairsferry Rd.)
What is your phone number? (It's best to use a local area code versus a toll-free number on citation sites – since these sites are all about local businesses.)
(NOTE: It's often best to first look and see how Google has your business' NAP information listed and use that format for all the other online directories. It's also wise to check to see how your post office has your address listed and use that variation.) The main goal is to get your company's NAP information consistent on as many of the popular online citation sites as possible – so there's no confusion.
How Can You Tell Popular and Quality Local Directories?
There are a lot of quality, trusted citation sites – but there are also plenty of crappy online directories that have no credibility with the search engines and getting listed on those "shady" directories could actually harm your local search rankings. There are several ways to find the quality citation sites.
One way is to download Moz's toolbar for Chrome:

This tool allows you to see the Page Authority, Domain Authority and Spam Score for any site you visit. You want to look for a high Page Authority and Domain Authority number and a low Spam Score.
You can also just do random searches on Google for a variety of business types. The citation sites that show up on the first few pages of Google's search results are generally quality online directories that you should strive to get your business listed on.
BrightLocal has also done extensive research and provide lists of top-quality citation sites that you can trust.
For instance, we recently published our top 50 online directory sites for the USA, UK, Canada and Australia — showing the domain authority for each of the citation sites. You can even download the list to make it easy to check them off as you check and claim your business listings.
In addition to "general" online business directories, there are niche/industry-specific citation sites that you should get your business listed on if appropriate. BrightLocal recently published a list of more than one thousand citation sites by niche – all of which have been vetted for quality. You'll find popular citation sites for a variety of industries like insurance, healthcare, real estate and restaurants. If your industry has quality citation sites online, make sure your business is listed correctly on as many of those niche online directories as well.
How Many Local Citations Links Does a Local Business Need?
The answer to this is simple: as many as possible. The more high-quality citation sites your business is listed on, the better. It can be a long and tedious process to claim these online directory business listings, so you can use services like BrightLocal's Citation Burst to do the work for you.
Our in-house team can handle the creation and updating of your SEO citation listings which can help boost your local authority in Google:
Manual citation clean-up (fix NAP errors)
Build new, accurate local citations
Distribute data via Local Data Aggregators
Create Google My Business and Bing Places for Business local listings
Remove duplicate citations
The more consistently you list your business's NAP on quality online business directories, the more you provide search engines with credible backlinks to rank you with.
When you create relevant, credible and localized citations on local online directory websites, it increases the odds of your site ranking higher in local searches – which can help generate more leads and ultimately more sales!