SEO citations are any place online where your business' name, address and phone number (NAP) is listed. One of the reasons citation sites are so great for local SEO is because the search engines, like Google and Bing, trust the quality citation sites – which can help you get shown higher in the search engines.
When you do a local search, you will typically find that citation sites/online business directories, dominate the first page of search results: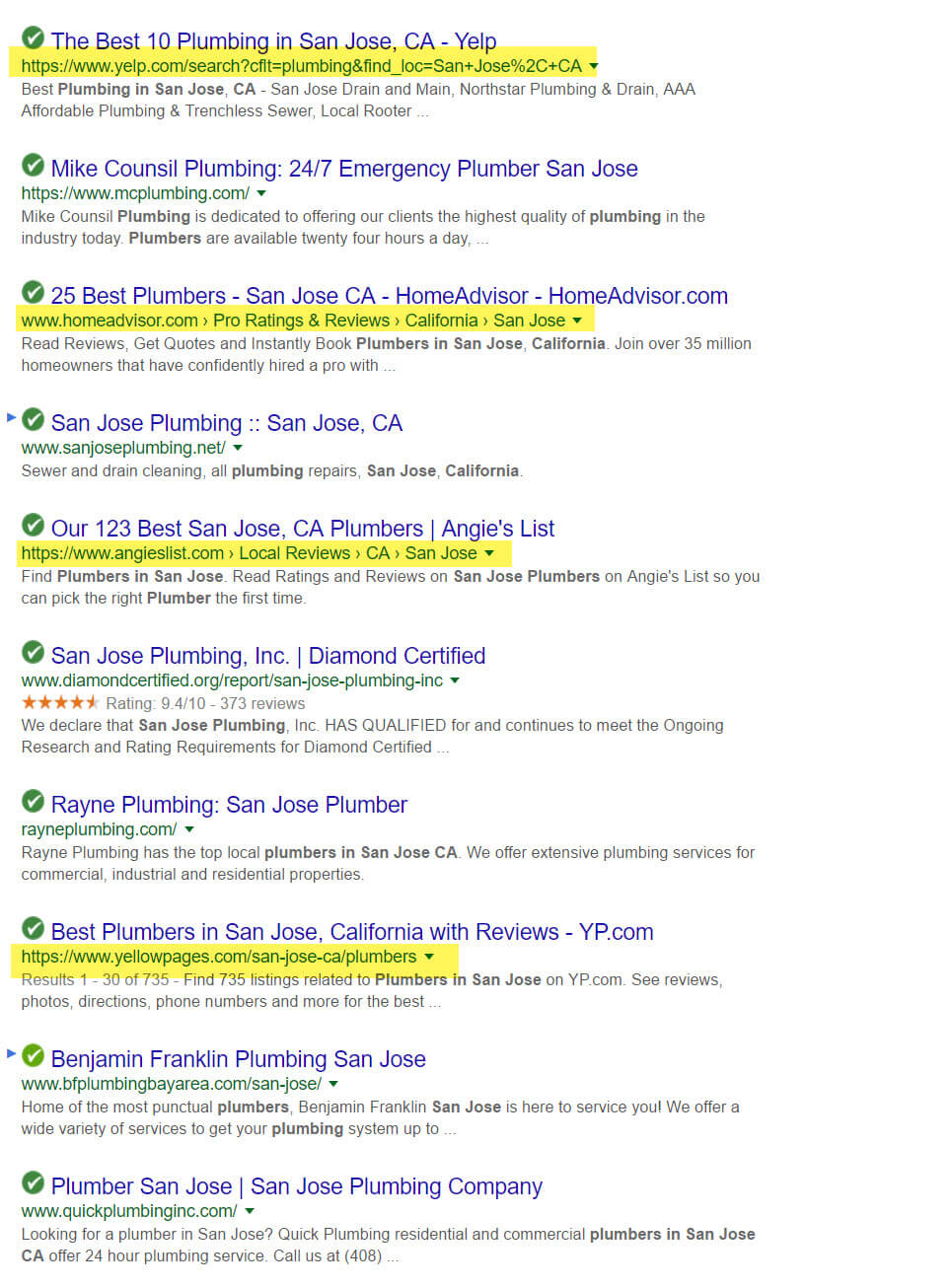 A typical citation site will contain minimal information – like your business' name, address and phone number (NAP). Ideally it should contain all three pieces of information together for maximum effectiveness. These citations are sometimes referred to as 'full citations'.
When getting your business listed on citation sites, you want to ensure that your business' name, address and phone number is in the exact same format on as many citation sites as possible. (e.g. 201 1st Ave NW vs. 201 First Avenue NW)
It's also possible and common for these citations to include a link to your website. Full SEO citations like this are often found on online directories, like Yelp, Google My Business, Merchant Circle and Superpages. These citation sites offer a free and/or paid submission service which is one way of generating a valid local SEO citation listing for your business.
If you want to see more examples of quality citation sites, check out our list of Top 50 Local Citations Sites. It's also important for you to get listed on niche directory sites that relate to your industry. If you want to dive deeper, we also have our list of Top Citation Sites by Business Category.
The citations found in online directories are almost always well-structured to include all the information of a full SEO citation and are often referred to as 'structured citations'. They're called structured because of how the information is displayed but also because it is common in directories for citations to be grouped either by industry type or geographic local area. The citation sites that list by city or location are more credible when it comes to them being considered 'local SEO citations'. A 'partially structured citation' is often more casually presented and you're likely to find these on blogs or in forum threads.
Generally, partially structured citations are less powerful for improving your local SEO rankings. (This is not a hard and fast rule though.) Even a partially structured SEO citation can be compelling for a search engine if that citation is on a local website or an industry-specific site. Getting your business listed on high-quality citation sites/online business directories can boost your credibility depending on the SEO performance and authority of the citation site.
When you look for a citation site to get your business listed on, make sure it's a quality citation site. To check and see the quality of a site, install the Moz Bar and check Page Authority and Domain Authority. You want to get listed on citation sites with high Page Authority, high Domain Authority and low Spam Score. (Don't list your website on low-quality citation sites – it could backfire and hurt your rankings.)

The main reason the search engines like citation sites is because they help confirm that a business is genuine, that its address is correct and its industry or service is valid. Seeing matching citations around the web for your business helps the search engines determine that you are a genuine business and a reliable source for content within your local area. If two businesses had matching SEO performance in all other areas but one had a high number or quality of recognized third-party citations, then this business would ultimately rank higher than the other.
Though local SEO citations are not necessarily considered one of the most prominent local SEO factors, it is a useful strategy when you're trying to break into the top Google 3-pack for local SEO listings.
If you want help building up your company's presence citation sites/online directories, check out BrightLocal's citation service.