What Is a Local Citation, and Why Do These Matter?
Local citations are the backbone of any good local SEO strategy, but… What are citations in SEO, and how do they affect local search?
A local citation (also known as a business listing or online directory listing) is any place online that shows the following facts about your business:
Name
Address
Phone number
Together, this information is known as NAP (and sometimes NAPW, to include Website URL) and getting this in the right places online isn't just something that's useful, it's a foundational building block of Local SEO. Effective citation building is today pretty much 'table stakes' for local search. If you don't have the right citations, you can't play the game.
Here's what local SEO citations look like on Yelp (with NAPW highlighted):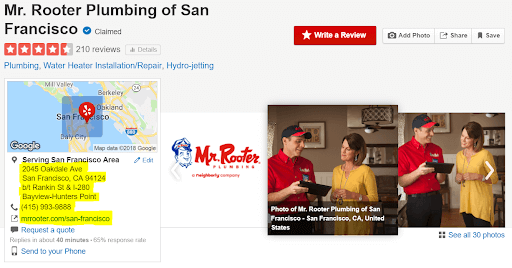 The more niche local business citations sites can vary from country to country, but some examples of the most popular and influential websites and platforms that display citations are:
Google My Business
Facebook
Apple Maps
Foursquare
Mapquest
Yelp
Angi (formerly 'Angie's List')
TripAdvisor
As you can see, even Google has local citations, in the form of Google My Business (possibly the most important SEO citation out there).
When searching for local businesses online, you may have noticed that a lot of the organic search results on the first page are hogged by online directories. Take a look at this SERP for 'plumber san jose' to see what we mean:
This demonstrates the importance of getting your local business citations into these popular and frequently-searched online directories. It can be tough for local businesses to get their websites into the ultra-competitive first page of organic search results, but if your business is just a step away, featured in one of these directories, you have a good chance of getting in front of potential customers looking for businesses like yours.
In local SEO, there are two types of local business citations:
Structured Citations: This is the most common way to see NAP presented on a page, with name, address, and phone number listed by each other, in a format consistent with the rest of the listings on the site. These come as a result of submitting business listings via specific fields, so it makes sense that they show up this way.
Unstructured Citations: Far less common, but no less valuable, are citations in which the information is spread across a web page. This includes things like blog posts, forum threads, or press mentions, in which the story might say 'You can find Joe's Plumbing on Hill Street in Vermont' and then later add 'Got a plumbing problem? Just call 555-456-765 for a quote'. You'll see that all the necessary information is on the same page, but not all together. This requires a little more effort for search engines to scrape, but, as mentioned before, this doesn't make them any less valuable.
Speaking of value, let's take a look at what your business will get out of building citations. If you're already asking 'What is citation building?', we've got you covered with this detailed article on how to build citations.
How can local citations on online directories help my business?
Numerous and relevant citations get your details in front of the consumers looking for you
Putting SEO to one side for the moment, it should be highlighted that consumers in the research phase of their buyer's journey frequently use local search citations within business listings to find products and services.
Regardless of what citations can do for your rankings and online visibility, doesn't it just make sense to get your business listed in the places people are hunting for you?
Accurate citations can boost your organic and local pack rankings
Though not quite as powerful a ranking factor as they once were, citation signals still have an impact on your local pack and organic rankings. This is because search engines trust the key business listings sites and online directories to provide accurate information, and if this information is consistent and accurate across numerous trusted sites, search engines will give more prominence to it in SERPs.
You'll be one step away from the first page of organic SERPs
As mentioned earlier in this article, directories make up a significant proportion of organic search results for local business types. In fact, local SERP click study showed that the majority of clicks on the whole first page (including PPC, local pack, and more) go to these business directories when consumers search for local businesses covering a service area. When asked why they clicked where they did, 31% said 'because it was a list of businesses'. This gives you an idea of how important directory listings are to local business visibility.
More links back to your website from authoritative and trusted sites
We all know that getting links back to your site from trusted and authoritative websites are important for any kind of SEO, and this is where citations come in really handy. These days, pretty much every business listings directory will contain a 'Website URL' field. The great news is that some of these sites even display these as 'dofollow' links, meaning that search engines can use them to pass link equity on to your site, further boosting your SEO.
Opportunities for third-party reviews
One of the three core pillars of ranking well in the Google Local pack is 'prominence', and this is defined by a positive online reputation and positive mentions across the web. So it's very useful that many citation sites double up as review sites, allowing consumers to grade and describe their local business experiences.
As long as you're delivering truly great customer service, this added business listing feature will be of huge benefit, especially as the importance of review signals to your position in the local pack is growing.
Why is it important to keep my citations up to date?
Inaccurate or inconsistent data across citation sites harms your SEO and rankings
You may have noticed above that we mentioned that accurate citations can help your rankings. Well, the inverse is true if you don't keep them up to date. Search engines regularly crawl these sites to build an accurate picture of your business, so if they find that names and addresses in particular are inconsistent, they'll struggle to know how reliable your business is when it comes to deciding where to display your websites in SERPs.
This leads to only the businesses with the most accurate and consistent citations ranking well in search. If you're a single-location business, updating your citations whenever a location, name, or contact number changes is fairly easy, but larger brands with multiple locations have a larger job on their hands when changes are required.
Consumers distrust businesses with incorrect or inconsistent listings information
As a recent study shows, 80% of consumers lose trust in local businesses if they see incorrect or inconsistent contact details or business names online, and 71% said they'd recently had a negative experience due to inaccurate information. Trust in business is difficult to build these days, so it's disheartening to see so many businesses get it wrong.
The study also showed that, when faced with incorrect information, consumers are more likely to blame the business than the directory. That's a lot of potential customers lost just because you didn't clean up or update your citation profile in time!
How can I build local citations for my business?
Well, we've covered the 'what' and the 'why', so let's get to the 'how'. There are three approaches to practicing local citations SEO, each with their own strengths and weaknesses:
Manual Citations Submissions:

This is where someone enters data into the business listings site by hand. With this approach, you can reach some of the more niche directories, and also you have the added benefit of a human eye, leading to fewer submission errors. The downside is that if you aim to do this yourself, it could take you a long time.

Automated Citations Submissions:

As the name suggests, this approach uses a citation building system to automatically fill in submissions forms on citations sites. Unfortunately, unlike manual submissions, this often leads to errors, and automated systems also don't have as wide a reach as you would if you built the citations manually.

Data Aggregator Submissions:

This is a far more accurate way of automatically building citations across the most important business listings websites and online directories. There are four big data aggregators in the USA: Neustar Localeze, InfoUSA, Foursquare, and Factual. Each of these has a widely used, automated process for submitting citations to their trusted partners.
* [Update 12/19/2019: Acxiom has officially retired its directory, meaning we no longer submit to it as one of our big four data aggregators. Foursquare has taken its place.]
Simply submit your data once, and the aggregator will push this data out to the main citation sites. You won't get all the citation sites you need with this approach, though, so it's best to start with data aggregation before moving on to manual submission on the more niche sites.
With such a wide range of citation sites available online today, and with some of them free and some of them requiring payment, it can be hard to assess which are worth the effort of submission. This is where we have you covered. Just take a look at the bottom of this post for a range of resources to help you pick the right citation sites for you.
If you're wondering what the average number of citations is for a business in your industry, or how citations impacts local rankings, take a look at our wide-ranging SEO Citations Study, which covers 26 industries and can help you benchmark your business against competitors and develop your citations strategy.
How can BrightLocal help me build or clean up citations?
BrightLocal has been expertly handling the creation and updating of local SEO citations for local businesses, multi-location businesses, and agencies for nearly a decade. Our team of citation builders is solely dedicated to manually updating or cleaning up listings, meaning that accuracy is high and speed is unrivaled in the industry.
Find out more about BrightLocal's Citation Building Service
Not only can our citation-building service submit manually and via data aggregators, but Citation Tracker actually shows you the citations your competitors have and that you don't, showcasing opportunities to compete in citations and also giving you an overview of your citations profile.
Find out more about BrightLocal's Citation Tracking tool
The coupling of building and monitoring citations with BrightLocal means you can be fully confident that your all-important citations profile is growing while ensuring that it's up to date and accurate.
List of Useful Resources for Citations