When you're an SEO professional, knowledge is power (and a necessity!) The search industry changes so fast, and if you're going to be successful you need to keep up. That means using online resources — like blogs — to stay informed on what's happening in the local SEO industry.
Every year we poll our subscribers to find out what they feel are the best local SEO blogs. We asked for input and gave our readers a choice of 41 of the top search industry blogs that regularly publish relevant, high-quality local search content. With this information we pulled together a list of essential reading that we can all use to keep our SEO skills honed.
All poll participants were given the chance to vote for a maximum of three of their favorite SEO blogs. We received a total 210 individual entries.
Thank you to everyone who took part in and shared their opinion in the poll! Now on to the results…
---
The Top Three Local SEO Blogs of 2016
Congratulations to Moz, who was selected as the Best Local SEO Blog in 2016! Many of you know Moz for their Moz Pro software and their local citation service, Moz Local, but The Moz Blog is where you can find some of the best industry information covering a wide range of SEO topics. To many SEOs, visiting the Moz Blog is a regular, daily occurrence. Whether you're a pro at SEO or a newbie, Moz has the information you need to help you succeed in the SEO industry. Their popular Beginner's Guide to SEO is a must-read if you're interested in getting started in search marketing. Moz also attracts top SEO industry leaders to contribute to the Moz blog, including Joy Hawkins, Mary Bowling, David Mihm, Miriam Ellis, Casey Meraz, Mike Ramsey, Jennifer Slegg and many more!
In second place this year we have Search Engine Land. Their daily news coverage includes breaking stories, industry trends, feature announcements and product changes at popular platforms used by search marketers. Founded by search industry veteran Danny Sullivan (Chief Content Officer & Founding Editor), people have been relying on Search Engine Land since the 1990s for SEO information.
In third place is Google My Business and Local Search Pro, Mike Blumenthal. Mike's blog, Understanding Google My Business & Local Search, has been in the top three best local SEO blog list three years in a row. Mike brings us the latest information on Google My Business, Local Pack analysis and provides full coverage in the changes to Google Maps.
BrightLocal does an amazing job of keeping their tools up-to-date. They are always releasing new features for customers that really help us in our day-to-day tasks.

Joy Hawkins
Toronto, CA
So there you have it — the top three best local SEO blogs as ranked by our readers. But who made the top 10?
---
The Top 10 Local SEO Blogs of 2016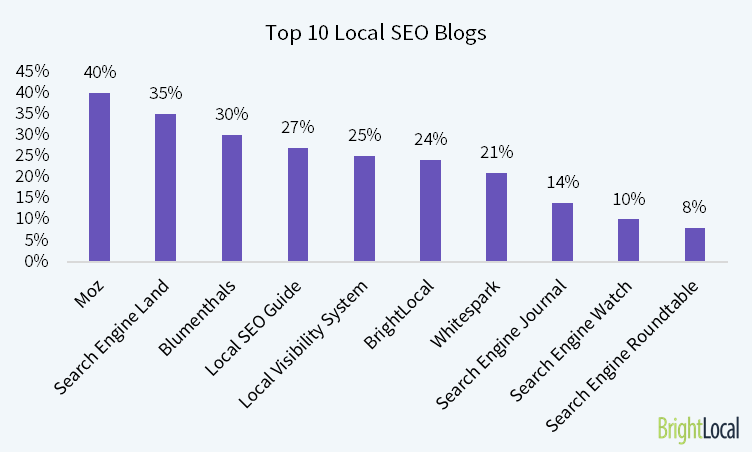 The top 10 Local SEO blogs of 2016 are listed above — and it's a who's who of local search experts!
Andrew Shotland delivers important Google and Apple industry updates and all things Local SEO at Local SEO Guide. Phil Rozek's Local Visibility System provides great local search analysis, particularly with online reviews and strategies. Whitespark has practical local search tips from experienced and well-known SEOs. Search Engine Journal and Search Engine Watch have been staples in the SEO industry since almost the beginning of SEO and Search Engine Roundtable reports on the most interesting threads at the SEM forums.
---
The Top 20 Local SEO Blogs of 2016
Below you'll find the top 20 most popular Local SEO blogs with links to their site (or local search channel if applicable.)
Tip: Use an aggregator like Feedly to make it easier to keep up to date on what's going with these blogs. These blogs also typically have sign-up forms to their individual newsletters/blog updates directly. You can sign up to BrightLocal's here!