Search engines are using schema (or structured) markup more and more, not least in featured snippets and voice search results, and so to future-proof your site for new search features you'll need to have a plan in place for marking up your on-page content correctly. Get it wrong and you might face a Google penalty, so it's key to get it right first time.
Contents
In our May 16 webinar, host Myles Anderson was joined by two SEO experts, Martha van Berkel and Gyi Tsakalakis, to discuss what tactics work best when optimizing your site for a local audience.
Our webinar recap includes the full webinar recording, the live poll results, all the resources the panel discussed, and highlights from the text Q&A. If you've got any thoughts or questions, please share these in the comments below.
---
Video: How to Optimize your Website to Maximize Traffic and Convert New Customers
Using Schema
For an overview of the use of schema, take a look at Martha's blog, 'What Is Schema Markup and Why Is It Critical to Local Business?'
Only 30% of websites are using schema markup. Plenty of opportunity to get ahead of the competition if you implement it soon! #OptimizeLocal pic.twitter.com/OaZbiEDFDS

— BrightLocal (@bright_local) May 16, 2018
Martha told us that only 30% of businesses are currently using schema, with just 5% doing it well—so using it properly is a great way to stand out from your competition. In relation to snippets, Gyi believes we're at the tip of the iceberg: with the Internet of Things growing ever more important, making your site easily readable by machines is critical.
"Review snippets tend to be the most impactful, so AggregateRating schema is definitely the first one to focus on." – @gyitsakalakis #OptimizeLocal

— BrightLocal (@bright_local) May 16, 2018
Poll one: How confident are you in your knowledge and use of schema markup?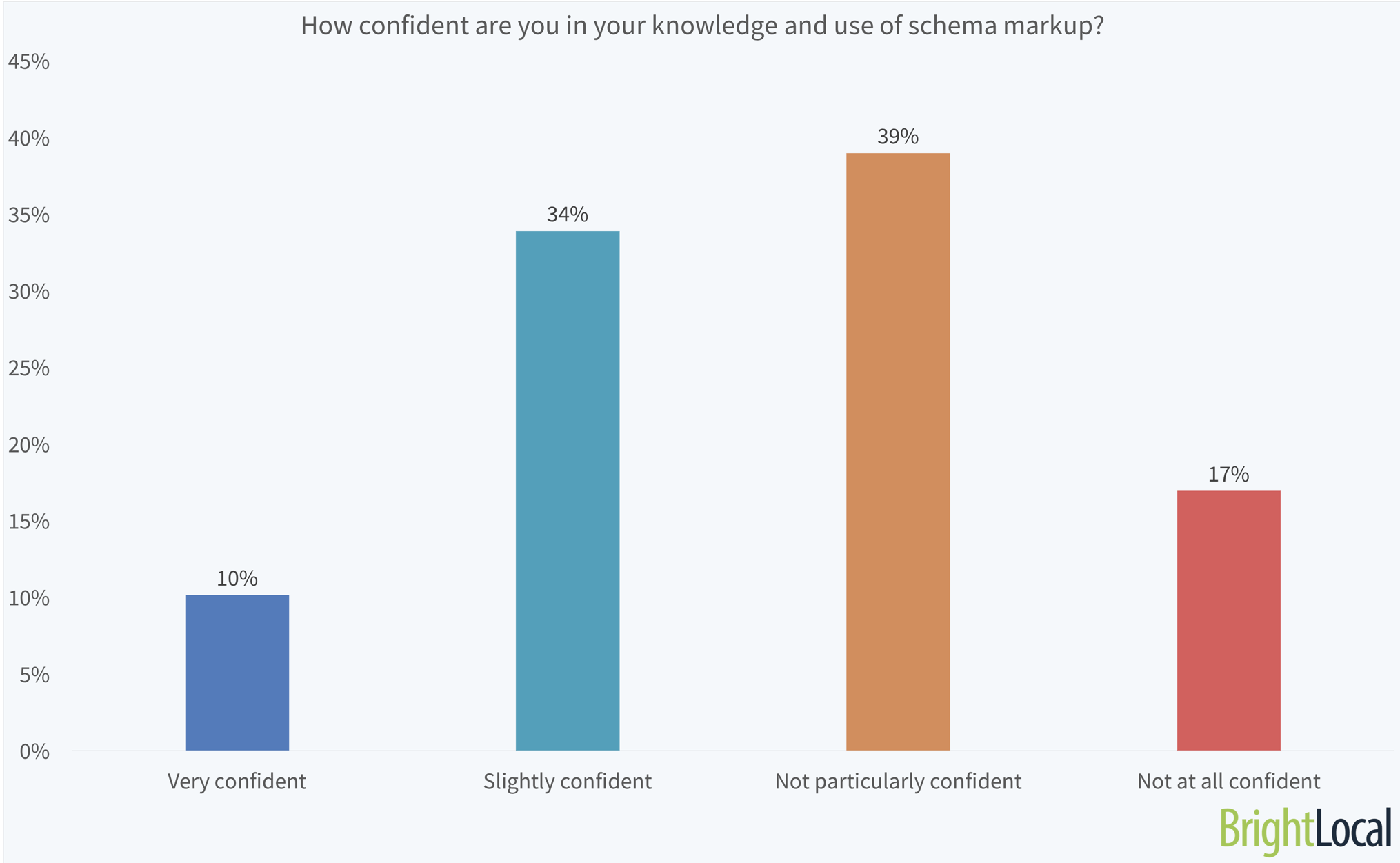 Just 10% are very confident
44% said they were confident
56% aren't confident—with 17% saying they weren't confident at all
Local Business Websites
The panel discussed the importance of local business websites—with Gyi saying companies such as law firms were more likely to continue to need a great local website than restaurants. Martha believes websites remain important today—but in 5-7 years time, businesses may see consumers interacting in alternative ways.
Poll two: What percentage of time do you spend on content creation and management for a typical SMB?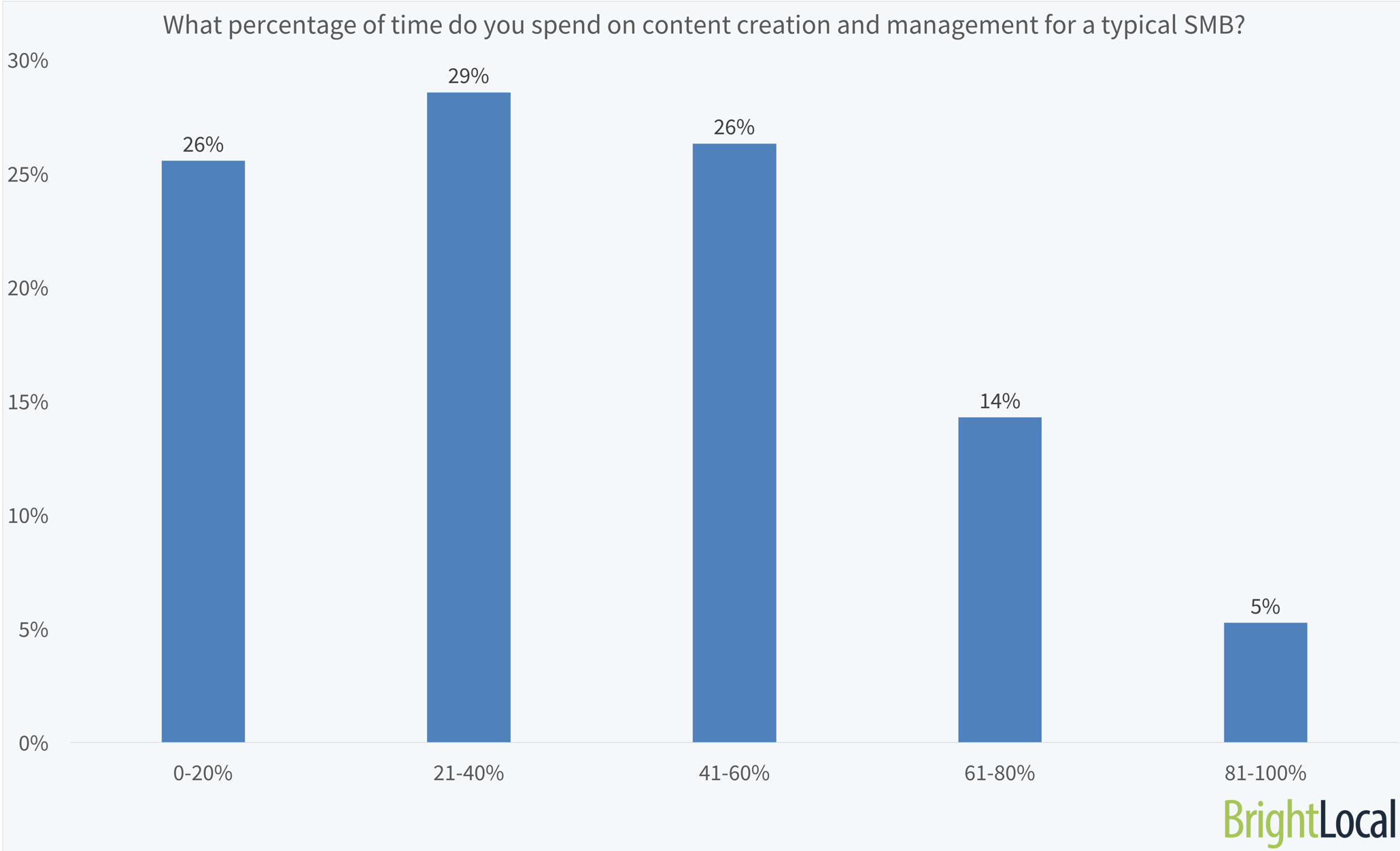 55% spend up to 40% of their time creating SMB content
19% spend more than 60% of their time on this
Respondents spend an average 39% of their time on SMB content
Structured Data and Content
Gyi discussed which content he believes is most important to regularly be updated for professional services firms: professional bio pages, testimonial pages, and FAQs.
Content should respond to users' needs, and this is normally research-based. Don't worry about creating different blog posts for every possible question that a user may have, he says. Martha recommended Q&A schema markup for FAQ pages.
Gyi says, if you have the opportunity to use a feature that Google has created documentation on, you should try to implement it: "They're telling you what's important, and what they're going to reward you for. But don't abuse it—don't create recipes for your law firm."
Martha then shared the current list of possible features, and noted that there were plenty more not highlighted by Google here: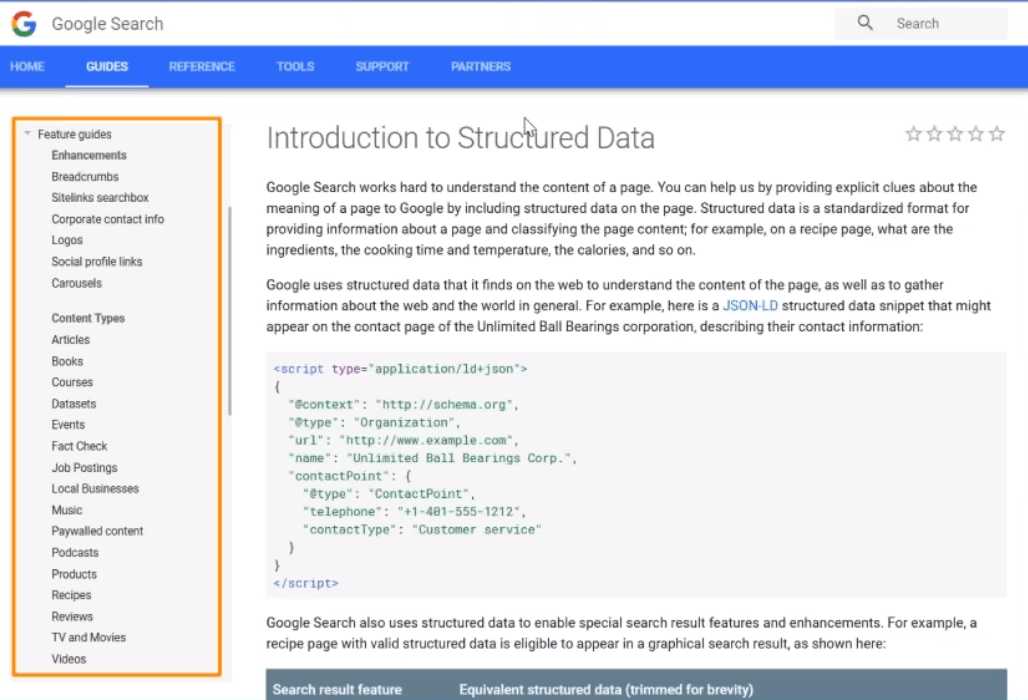 Gyi provided a great tip about understanding how your target audience uses search to find answers. "The way that the business owners talk about their business and what they do is often vastly different from how their clients or customers describe what they do. Ask customers or others in the community to find out how your target audience uses search = and once you have that, go and structure your site."
"For local businesses, the language people use on a local level is very specific to a geography. If you introduce the language specific to a vertical, it's clear that you can't just be broad, you have to understand location/industry & use the right language." – @gyitsakalakis

— BrightLocal (@bright_local) May 16, 2018

Links in content remain important, according to Gyi. He recommended creating content that attracts local links, and talks of how this continues to move the dial for legal businesses.
Multi-Location Businesses
For multi-location businesses, Gyi treats every location like a different business when developing content: "The language your customers use, the streets and zipcodes, the businesses in the community, and the journalists that cover the topic are all different. Each location needs to have its own section for targeting local queries: local content, local resources, and local questions, each with its own structured markup."
Martha shared a useful schema tip for linking services and offers for different locations. For more information on how to do this, see How-to Create Services Schema Markup for Businesses.
The Future
Gyi Tsakalakis: "The search engines want to go towards providing end journeys on search results. The more they can help users find what they're looking for, the better. Think about the impact of voice on your content. But for now, you still should be focusing on identifying the opportunities for featured snippets and search features, and building content and marking up pages that address features of today."
Martha van Berkel: "I really believe that we're going to have to start managing our brands for consumption by machines. We need to create content and describe things for humans, but also make sure we're acknowledging the machine layer we need to understand. Assistants are only the beginning, the Internet of Things will be every single thing connected. We'll have to be able to ask our car where we're going to go, or who's the best lawyer in this area? Our fridge will be able to answer questions. Today, think of it as translating page-by-page and connecting the dots between things. And in the future, this should be your strategy from the get-go. I'm a big believer in finding ways to automate things."
---
Resources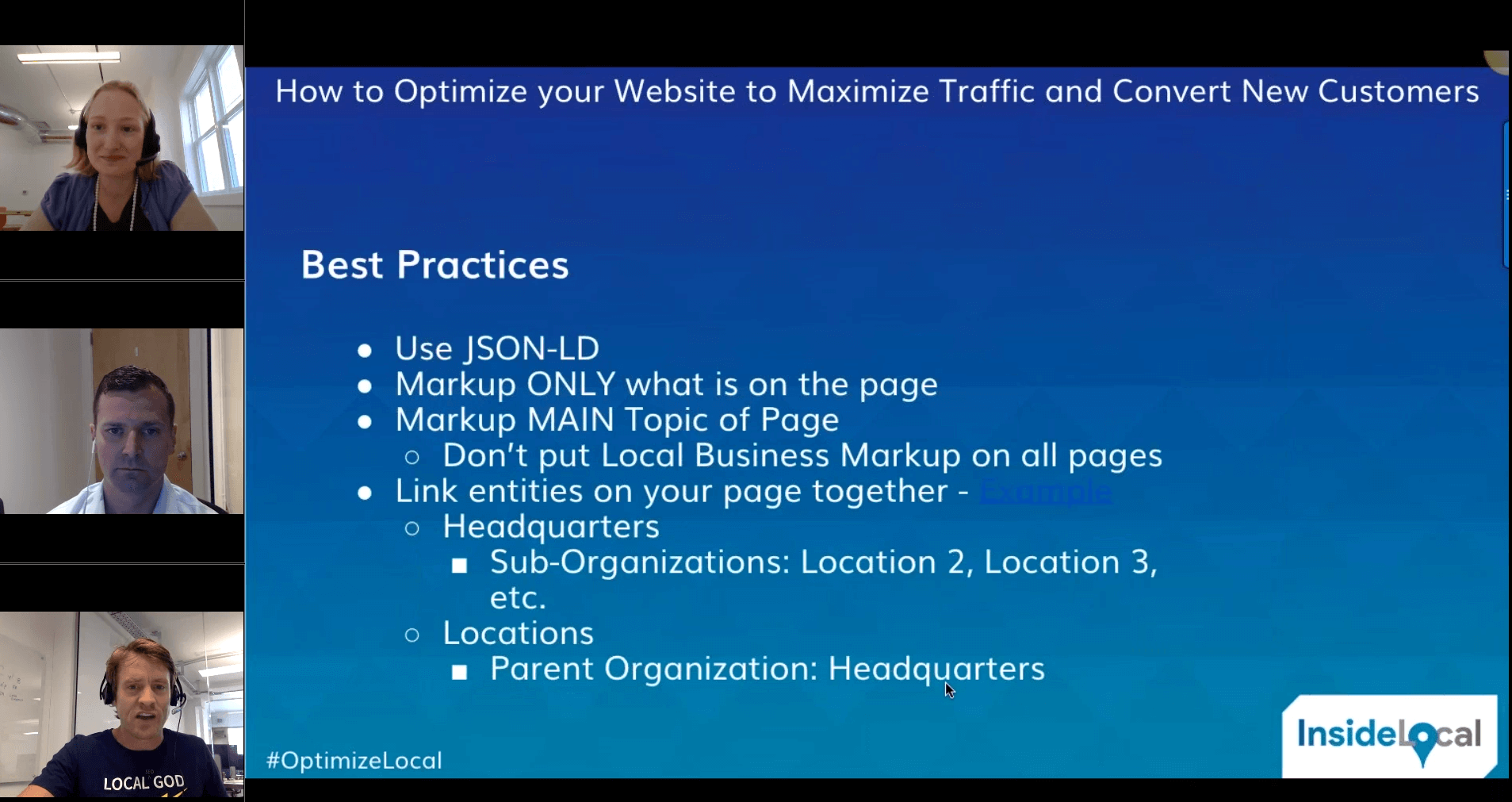 ---
Q&A
Q. Can I add schema markup to Wix and Square Space?
A. Wix = Yes, SS = Yes And I believe SchemaApp has solutions for both.  – Colan Nielsen
Q. We see many businesses "abusing" aggregateRating by making up a value. Does the panel have a position on the ethical application of this Schema?
A. Google is very clear that you should only markup what is visible on the page. For reviews, you have to be able to show where the reviews are in detail. In the recommendation (https://developers.google.com/search/docs/data-types/review) they state that the company should own their reviews. This means they should only show reviews they have collected and not reference reviews that are on a 3rd party (such as Google, Facebook, etc). However, we have seen companies be able to get an aggregate review if they show a sample of the 3rd party and a VERY clear link to where the third party reviews sit. You should only show the review on the page they are shown, NOT every page. Finally, the reviews should be about the primary topic of the page, such as the Local Business, Service, or blog post. – Martha van Berkel
Q. We've seen a couple of Schema plugins for WordPress. Do you recommend using them or add the code manually? Or can you even recommend a good plugin?
A. I'd suggest using a plugin for larger, enterprise websites. But for a typical SMB website, depending on your goals, you can get away with manual implementation. SchemaApp has a solid WP plugin. – Colan Nielsen
Q. Does the same schema markup go on every page or does it get customized per section of the website, for example: contact, products, services, FAQ, etc?
A. Typically schema is unique to the page, an example of this might be a review score of a specific product which is dedicated to one page. But there are other exceptions like name, address and phone number which might be on every page tagged in schema in the footer of the site. – Matt Coghlan
Q. I have several Plumbing & HVAC clients. Schema markup forces me to choose just one category. I haven't seen a plumbing & HVAC company that wants to get listed as just one of these categories. What to do?
A. Pick one for the homepage and some of the more general pages. And use the specific category for the specific service pages. You can also look into the "Services" schema – https://www.schemaapp.com/how-to/services-schema-markup-schema-org-services/ – Colan Nielsen
Q: How do you do 'founded in' and what does it look like in Google?
A. 'Founded in' is a property in LocalBusiness schema markup. It just informs Google, no rich result. You can see it listed as a property on Schema.org/localBusiness – Martha van Berkel 
Q. I tried some of these rich results snippets, added the code, tested it (Using Google Testing Tool and it checks out), but it still does not produce a rich snippet. Is there a specific step I have to do after adding the code to get a rich result?
A. Sometimes it takes 6+ weeks to see results, and sometimes you never see the rich result. Having the schema markup makes you eligible for the result. In the end, it is up to Google. – Martha van Berkel
If you've got any more questions, please leave a comment below. We hope to see you at the next InsideLocal webinar!
Martha van Berkel
Martha van Berkel is co-founder and CEO of Schema App, which empowers digital marketers to create, manage, and leverage schema markup with no dependency on IT.
Martha spends her days with digital marketers from enterprises and digital agencies discussing the value of schema markup and strategizing on how it can bring the most value to their clients and companies.
Gyi Tsakalakis
As a founder of AttorneySync and EPL Digital, Gyi has come to learn what really works online. He regularly speaks and writes on SEO, and is particularly interested in local SEO.
He also has a somewhat unhealthy relationship with Michigan football and coffee. If you're ever in Chicago, he's happy to talk shop.
Myles Anderson
Myles is Founder and CEO of BrightLocal. He has worked in the local search industry since 2009 and has been a major contributor to the Local Search Ranking Factors Study.
Myles has also written a regular column for Search Engine Land and has spoken at SEO conferences such as BrightonSEO and Inboundcon (Toronto).