At the start of August, Google confirmed they were rolling out a broad core algorithm update. This seemed to focus on YMYL websites with low E-A-T.
Now that algorithm and SERP analysts have had sufficient time to investigate who the real winners and losers were, we brought together three of the most experienced local search analysts to discuss what really happened.
In our 'Google Algorithm Update Postmortem' webinar, Myles was joined by Sterling Sky's Joy Hawkins, Local SEO Guide's Andrew Shotland, and Marie Haynes, of Marie Haynes Consulting. For those who missed it, the video is available to watch below.
Contents
Video – Google Algorithm Update: How Did It Affect Local Businesses?
What Was The Medic Update?
Google's Medic Update impacted both organic rankings, and local rankings. It affected a range of industries, with major changes seen in so-called 'Your Money or Your Life' sites. There was also an adjustment around September 8-11, where local businesses saw further changes as the algorithm settled in.
Coined by Barry Schwartz, the update had a broader impact than initially thought. Marie Haynes believes the update is about trust – some sites that dropped had poor reviews, while others weren't honoring refunds – but the businesses centered around helping people make important life decisions (e.g. medical, financial, or legal). Google's Quality Raters Guidelines were recently updated that said they wanted to "protect the safety of users". Marie recently discussed the Guidelines in-depth at BrightonSEO.
Understanding Organic and Local Rankings
Marie Haynes sees the organic and local changes as two separate changes, and that she believes Google is further separating these algorithms. Joy Hawkins agreed, saying: "I see them as completely separate, but share some of the same factors. This is why people often think local is just organic plus reviews, and a few other factors. I've seen cases where factors that do not impact organic rankings do impact the local results. I think they're more different than they used to be."
Joy recommended the Barracuda Panguin tool – a free tool that shows how your business has been affected by an algorithm update.
Andrew discussed how Google decides the quality of a website – "You have to assume Google is creating a formula to decide what's a good website. It's up to us to guess at what that is, and try to account for this."
Authority Sites
Marie discussed the importance of the authority of an author – "Authors need to be known as authorities in their spaces, and in my opinion, published in other places. Put as much as you can on an author bio, and also have a page specifically about the author that brags about why you should trust the information. Say, 'We've been quoted in these authoritative places', or 'She regularly gets published on these authoritative sites'. It's not human nature to brag, but that's what we need to be doing. Say why you're the expert, and why a reader should trust their insights."
Decrufting Duplicates
Andrew shared an example of a business whose traffic dropped, but conversions have grown. He believes that Google has changed to direct traffic to a website's best pages – improving the conversion rate. He discussed in depth his 'decrufting' strategy – removing content overlaps, and focusing on linkbuilding.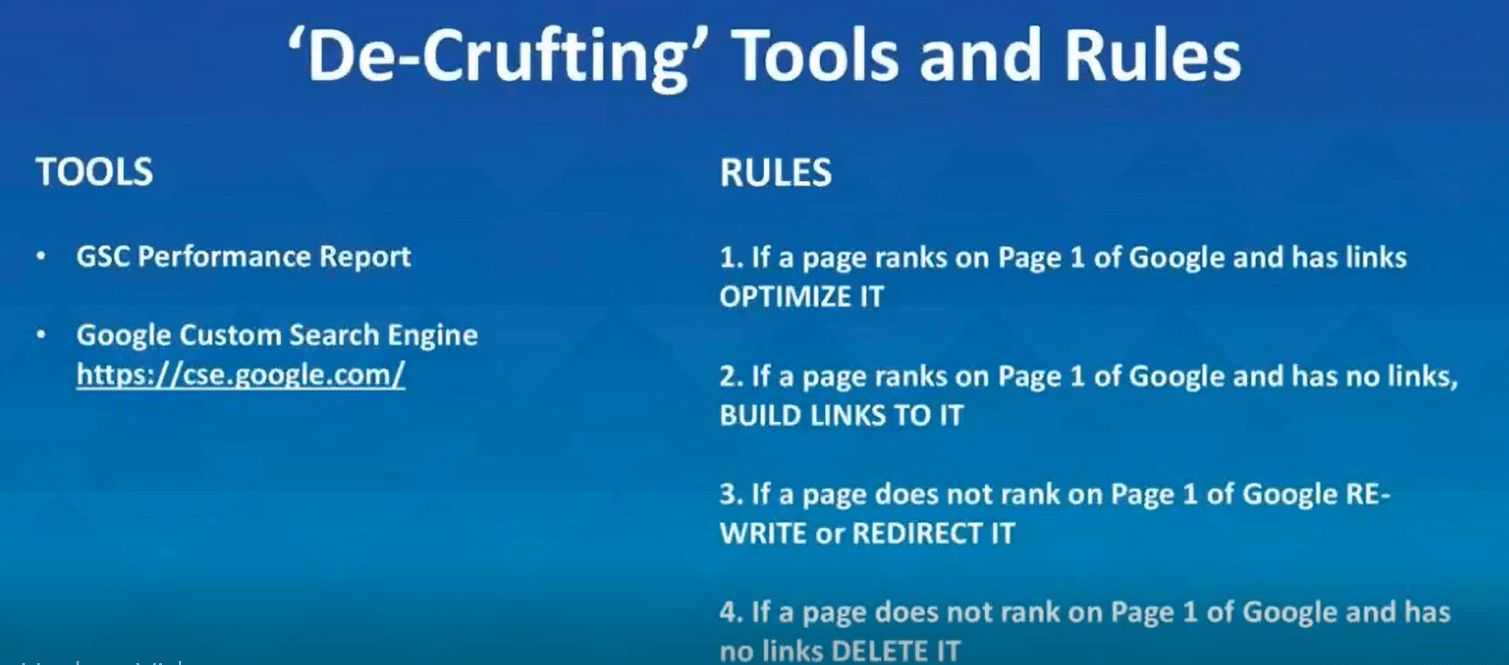 Useful Resources
Q&A
Thank you to Sterling Sky's Colan Nielsen and BrightLocal's Matt Coghlan for their help on the Q&A. You can follow Colan on Twitter here.
With our snazzy new webinar provider, there was a lot of excellent chat from the attendees. If you have any feedback on the latest webinar, please let us know on content@brightlocal.com.
Q. From the "Medic Update", are you finding both a drop in traffic and rankings?
A. Rankings and traffic are synonymous, where a client has seen a dip in rankings the traffic will soon follow. The same is true with the winners from this algo update update there's an increase in both ranking and traffic. – Matt Coghlan
Q. So if there was an organic increase and local decrease what steps do we take to regain rankings?
A. Focus on building local relevance for the business, think more reviews, more local links, more local content, and fixing citations. – Matt Coghlan
Q. What about sitemap submission? Is that helping with the URL rankings?
A. It can help. The easier it is for Google to find and crawl your website the better your visibility and rankings will be.  – Colan Nielsen
Q. How in the world are these 3-pack listings getting in there WITHOUT a website?
A. Great discussion about that here – https://www.localsearchforum.com/index.php?threads/why-am-i-seeing-more-and-more-no-website-businesses-rank-in-3-pack.53138/ – Colan Nielsen
Q. What are the requirements for a "Good" author bio? Do you have any examples?
A. Marie mentioned not being afraid to brag. List awards, credentials, education. Anything that speaks to your E-A-T. I've seen some bio pages for physicians that list their entire CV (resume). Link out to LinkedIn and any publications you have contributed to or published. – Colan Nielsen
Q. I read that responding to reviews (regardless of age) is important in terms of building trust. Is it possible the quality raters are "judging" a business's review history and giving them more weight if there are responses to client reviews?
A. I do think that review responses are a small factor from a ranking perspective but a high impact business and customer service process. I would say the most important places to respond to reviews are Google (the reviewer now gets a notification when you reply) and BBB. The Quality Raters Guidelines specifically mention that it can be a negative thing to have complaints that aren't responded to on BBB.  – Colan Nielsen
Q. With the medic update and the mobile indexing first enabled, is the mobile side a possible area of improvement as well?
A. The Mobile First Index is really not connected to Medic. Google will move you over when your content is equivalent across mobile and desktop, but it's not about quality at all. – Marie Haynes
Q. I am a solo attorney in a niche market – social security disability. Have been hammered by the Medic Update. 2//3 reduction of traffic. My organic ranking very down from 2-3 to often 2nd page. Snack pack ranking remains good. Organic ranking is very unstable. There are a lot of Authority type things available to attorney. Is there any way to discern what Google really finds to be authority signals for lawyers?
A. I would start with a content audit and look to see what pages were affected. Then you can make a decision on if you want to remove the content, redo the content, or merge it with other related articles. I found more blog articles is often not better if they end up being repetitive.  – Joy Hawkins
Our Expert Webinar Panelists